Today I'm going to talk about a base makeup product that has been my long time favourite! Though Lakme has introduced and has been introducing many foundations, the Lakme Absolute White Intense Skin Cover SPF 25 Foundation holds a special place in my vanity. Despite having its own set of cons, it is a foundation that is still sort out by many oily skin types. Read on to know more about it.
Product Description:
Show off your glowing skin with Lakme Absolute White Intense Skin Cover Foundation. This perfect foundation leaves your face enriched and your skin luminous. The Lakme Absolute White Intense Skin Cover SPF 25 Foundation contains vitamin B3 to nourish and keep your skin cells purified. The water based formula of this foundation spreads softly over your skin and blends in with your complexion to give you glowing fairness. The mousse sets on your face, ensures that your pores and fine lines are concealed, to give you a smooth final finish. The foundation lasts up to 16 hours and with its SPF 25 and protects your skin from the harmful effects of the sun.
Ingredients: Not mentioned.
Shades Available: 6
01 Ivory Fair
02 Rose Fair
03 Golden Medium
04 Golden Light
05 Beige Honey
06 Almond Honey
Price: 700 INR for 15 ml. But is always available on discount. Buy it HERE.
My take on Lakme Absolute White Intense Skin Cover SPF 25 Foundation:
Packaging: The product comes in a black plastic bottle with a pump dispenser. The bottle has a metallic look to it which is very stylish and sophisticated. Though subsequent launches had a similar packaging and now we are kind of bored with the look, if I can remember this was the first foundation to have such a packaging, so I was really liking it when I first bought it a few years ago.
The bottle is opaque hence it is difficult to see the left over product and the cap that has to shut the pump, comes off easily; so it is not that travel-friendly. I've always found the cap to have fallen off in my bag if I had carried it somewhere. The bottle has details like expiry date, shade name mentioned except for the ingredient list which is pretty common for Lakme products. They rarely state the ingredient used in their makeup products.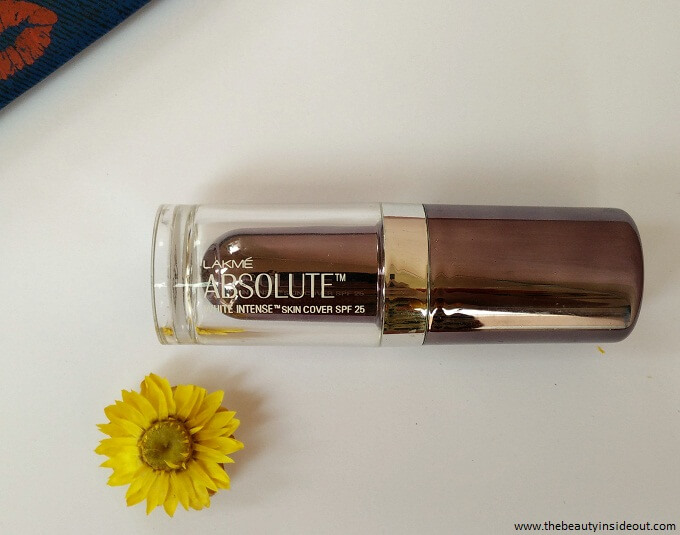 Fragrance: The foundation has a strong citrusy fragrance which disappears as time goes by. Still it might be a nuisance for sensitive skin.
Texture: The foundation has a semi-thick consistency which needs to be blended quickly as it dries up super fast. The formula is oil-free, water based having a smooth creamy texture.
Shade: I picked the shade 03 Golden Medium. I hardly find shades that match my skin tone but this one! Its perfect. It has adequate yellow undertones that is apt for my warm skin tone. It did not oxidise on my skin even after hours of application. This particular shade will suit most fair to medium Indian and Asian skin tones.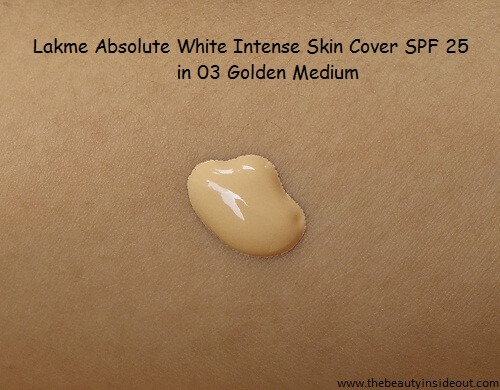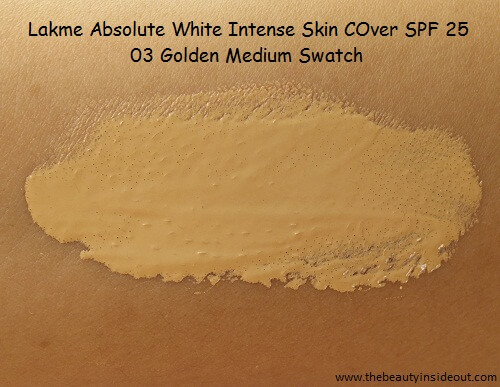 Application: I usually require one and half pump to cover my face and neck. Its blending ability is not that great and it requires some effort to achieve a flawless finish. I suggest working in smaller sections and using a damp beauty sponge for smooth application and an airbrush finish. Brushes and fingers tend to give a slightly uneven and patchy finish. On well prepped skin, moisturized and primed, application gets a lot easier.
Finish: For the oily skin that I have, this foundation mattifies my skin beautifully. The finish is not flat matte like the L'Oreal Infallible but is more of a satiny matte. It gives a nice natural looking finish. The foundation has an SPF of 25, hence leaves a white cast and flashbacks in photographs too. This foundation is great for everyday wear as it does not look too made up, but certainly not for bridal photography.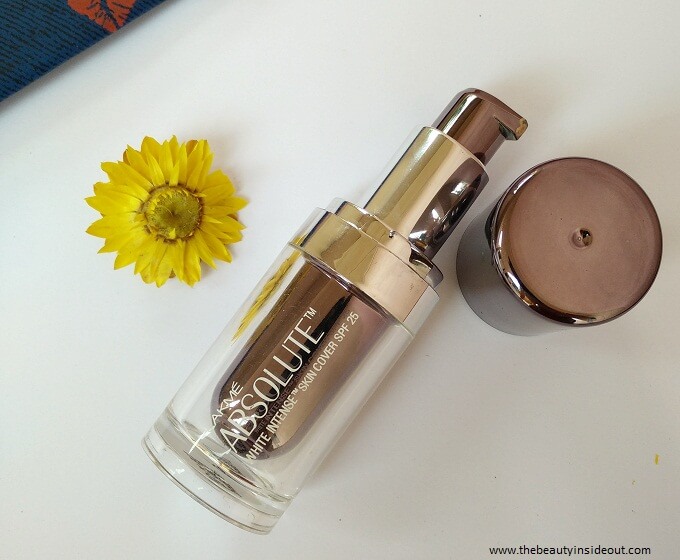 Coverage: This is a medium coverage foundation that would cake up if layered upon. It covers minor blemishes and acne marks to a great extent. Unless you have severe pigmentation spots or dark marks, you can easily skip a concealer with this foundation.
Longevity: Although I haven't tested wearing it for 16 hours, the foundation certainly stays put for the whole day. Sebum does not come through the skin for atleast 5 hours which is very rare for any foundation. I had the need to blot and re-touch using compacts once or twice when I wear it throughout the day.
Pros:
Good quality pump packaging.
Oil-free formula.
Medium coverage.
Covers blemishes and marks significantly.
Amazing staying power.
Gives a natural matte finish.
Smooth and flawless look.
Has SPF 25.
Did not break me out even once.
Does not oxidize.
Great for oily and very oily skin types.
Cons:
Not a transparent packaging.
Missing ingredient list.
Average blendability.
Leaves a white cast and hence not suitable for photography.
Not for dry skin types.
Quantity is less for the price.
Rating: 4.5/5
Recommendation: Yes, it's an amazing drugstore foundation for oily skin type.
I hope you find this review helpful. Have you tried this? Share your thoughts.
Also check out
Until Next Time,
Stay Beautiful♥