Body washes are one thing which a lot of people ignore and don't give a lot of fuss on the brand, ingredients etc. etc. while buying it. I am certainly not one of those and hence I want my body wash to be really good because I firmly believe that if your day starts with a refreshing bath, then you are genuinely sorted for the entire day. I don't use soaps anymore! Whom are we lying, we all have used it throughout our lives and it's just that people have become more aware these days regarding their hygiene levels and hence have moved on to body wash from soaps, which earlier the entire family used to use together. Even writing about this fact is now grossing me out, forget switching back to those old school stuff we used to do. Its been so many years now of using body washes and I personally love cream based body washes and have always indulged myself into them, because they keep my dry skin hydrated and moisturized. Now, recently, I bagged few plum products and ordered their gel based body wash also. Read below to know how the Plum Shower Gel worked for me in detail.
Product description:

How to use:

Ingredients: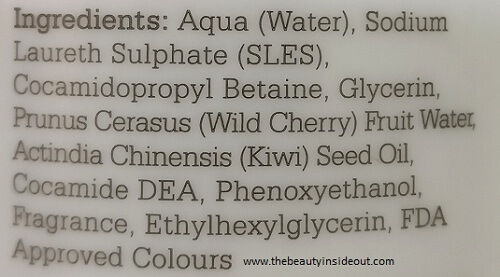 Shelf life: 2years
Price: 370 INR for 200 ml. I feel it's very decently priced, you do get non branded body washes as well around the same price, so why not invest in a good reputed brand which gives you paraben free products. You can buy it at a highly discounted rate HERE.
Other Variants available:
2 Gel Based
Wild Cherries & Kiwi Juiced-Up Shower Gel
Green Tea Renewal Shower Gel
2 Cream Based
Choco Latte Creamy Body Wash
Vanilla & Fig The Rich Shake Body Wash
My take on the Plum Shower Gel:
Packaging: It was just right and nothing could go wrong with this one. It's basically a plastic bottle packaging with a pump on top, which can be locked when rotated slightly on the other side. This feature makes it a really travel friendly option. Best part is that since it has a pump, you don't have to pick up the bottle every time while taking bath and just push the pump, take the product on your loofah or hand without touching the bottle. This really helps because it saves time to flip open the bottle like other body washes and then keeping back the bottle. In all this process, the bottle becomes greasy or soapy and tend to slip off from hand.
The only con with the packaging is that, it doesn't have a transparent packaging and so, you can't really see how much product you have used. But, it's no big deal. If it was a transparent packaging, it would just have been a little more top notch. I am giving it a pass on this. So, overall this product rocked in packaging.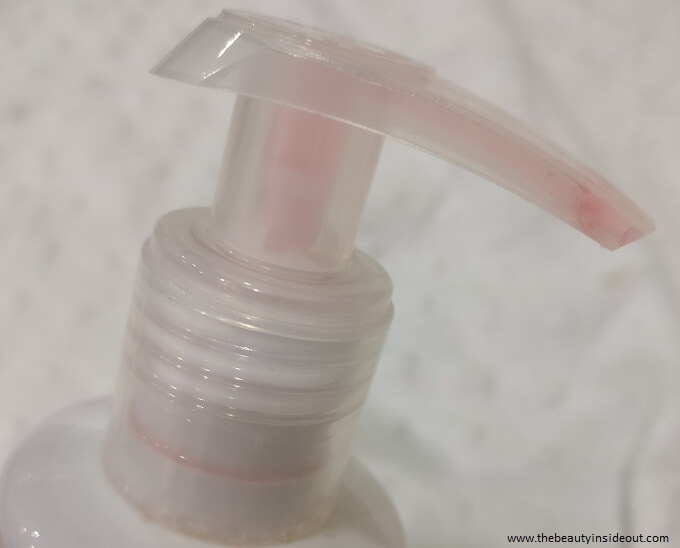 Color: The color of the body wash is such a pretty light pinkish color just like cherries and looks so pleasant; not that the color matters a lot, but for few crazy people like me, who wants their body washes to look amazing, this is just wow!
Fragrance: This is amazing as well. It smells so much like cherries and fruits that you would want to eat it. Having said that, it can be a little bothersome to few who are allergic to strong fragrances. Once, it starts lathering, the smell gradually faded away. So, I still feel, it won't bother anyone. I personally love it's fragrance.
Texture: It's a gel based formula and it's not too thick nor too runny. It has just the perfect consistency for a shower gel.
Performance: It's quiet nice and lathers well, but since I have also been using another brand gel based body wash simultaneously, I like the other one better. If I wouldn't have used it, I am pretty sure I would have fallen in love with this one. I just miss the enormous amount of lather it could have made and since it doesn't produces crazy amount of lather, I tend to use a little extra product than required. Considering this, the chances of using up the product too fast is quiet high. It does keep my body moisturized in a subtle way that you don't feel dry, that's it. It won't make you feel like cream based body washes do.
Also, I like it when the washroom smells heavenly once you are done with your bath, this shower gel doesn't do that as well. And this, surely is not an issue for majority. As I told you, it does it's job of cleaning the body, keeping it hydrated, making lather and smelling good, but all of that is in a subtle manner. Nothing is over the top with this product.
Pros:
Affordable.
Perfect packaging.
Smells great.
Lathers well.
Leaves a fresh feeling.
Paraben and Cruelty free.
Cons:
Non transparent packaging which truly can be ignored.
Might get used up fast since it lathers slightly less than how much it should.
Rating: 4/5
Repurchase: For the price point, yes I will. I generally keep two body washes and use them alternately or depending upon my mood and even on occasion if there is any. So, this once can be my everyday routine kind of body wash, when I am just sitting at home and not planning anything fancy for the day. I am pretty sure a lot of us do that right or I am the only weird one here????
Anyways I hope you found this review helpful. Let us know if you have tried this Plum Shower Gel and your experience with it in the comments section below.
Also check out
Until Next Time,
Stay Beautiful♥
Guest Author: Gunika