L.A. Girl have impressive products in their portfolio performance wise and price wise. I wanted to buy one of their products and particularly I had my eye on their Pro HD BB Cream. I had heard good things about it and as soon as I ran out of my BB cream I ordered it quickly. One of the great things about L.A. Girl products is that they have always introduced lot of shades and variants. Therefore, this brand has always attracted me because we Indians have lot of variation in skin colour across our country and you can't just release foundations or BB creams or concealers in only dark or only fair tones. This BB cream is available in 8 shades and I bought the LA Girl BB Cream in Light/Medium shade. Lets see how this fared for me.
Product Description:
LA Girl BB Cream is formulated without parabens and made fragrance-free to pamper sensitive skin and lavishly nourish skin with added Vitamin B3, C and E. The silky formula covers a wide range of skin tones with eight diverse shades. This is your all-in-one skin beautifier that primes, moisturizes and enhances skin tone.
Ingredients

:
Price: Rs.700 for 30 ml.
My take on LA Girl BB Cream:
Packaging: Packaging is a very standard and routine affair of black tube and black cap. So standard and boring that you will probably think twice before buying it if it is kept on display. It has a transparent line on the tube through which the colour of the bb cream shows. The cap is also simple screw and thread-based cap so make sure you tighten it securely other wise you will have product oozing out of the tube. If you carry sharp things in your bag, then don't carry it or keep it in another compartment. If you want to travel with this product it is better that you keep it in your travel vanity.
Shades: LA Girl BB Cream comes is 8 variants:
Dark: Yellow undertone and dark skin.
Deep: Yellow undertone and dark to dusky skin.
Medium-Deep: Yellow undertone and dusky to medium skin. On websites it appears lighter than medium shade
Medium: yellow undertone and medium dusky skin, appears darker than medium-deep shade.
Neutral: mix of yellow and pink tone and fair to light colour
Light-Medium: yellow undertone. Though it says light medium, on the websites it appeared darker than medium deep
Light: Yellow undertone with fair to light skin.
Fair: pink undertone with fair to light skin
This range of shades is by far one of the very extensive ranges. Some of them appear to be misnomers but as I haven't purchased them yet, so I can't say for sure. I bought the shade Light-Medium after spending lot of time staring at the colour blob the websites have. It is a closer match to my skin (I shall probably use this for my summer skin which gets a bit of tan) if not accurate and after applying this I believe that Light or neutral shade will match my skin better, so I think you should go for a shade bit lighter than what it appears on the websites if you belong to light skin category. Dusky beauties should start going from neutral to dark tones obviously but look out for misnomers. As I have mentioned earlier some shades appear lighter or darker than their description so take your time before ordering the product.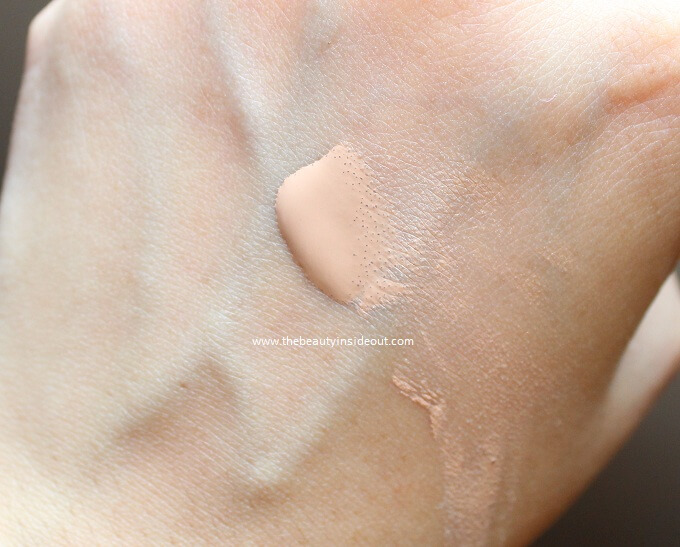 Fragrance: It has a mild synthetic-vanilla like fragrance which goes away after you apply it.
Texture: It is not too runny and not too thick either, this product has achieved the golden middle. It is thicker than other BB creams like from Maybelline or Ponds but thinner than foundation. It is very easy to apply and does not feel heavy at all on skin. You can spread this evenly with fingers if you are in hurry, and by brush when you want smoother more even application. When I was using a wet beauty sponge, BB cream got absorbed by the sponge and did not come out evenly, also it left stamping marks which made me wonder that my sponge was getting worn out. But when I used my regular foundation, it did not leave any stamping marks, so I guess the LA Girl BB Cream can't be applied evenly with a sponge.
Coverage: It gives excellent coverage for mild to medium acne scars or pigmentation. You can in fact apply it on dark circles and then apply concealer for greater results. It also gives a blurry effect that you get on selfie settings, which makes skin look exceptionally smooth and polished. Because of the priming effect it has, it will also hide any bumps or pores you have for an even surface to apply other layers of make-up. If you have mild scars or pigmentation, one layer will be enough for you otherwise this offers buildable coverage. You can apply 2 layers without that cakey sort of look on your face. Of course, it wont hide extremely dark spots with one layer but it will do the work for a light natural make-up. If you want a model like finish, you can first apply thin layer of this bb cream and apply a thin layer of your foundation over it (preferably water based) and get oh-so-flawless look.
Finish: LA Girl BB Cream gives a satiny finish which is between matte and dewy. You can make it matte by setting it with powder (translucent powder will be better), but I like the way it sits on my skin and prefer a dewy look. I always take a little pea sized amount at first since it is high coverage and you don't need to use it like regular BB creams. It has a moisturizing effect but if you have dry skin then it is better to moisturize your skin first and then apply this BB cream.
Staying Power: It stayed creaseless for good 6 hours and even after that I did not notice extensive creasing. It stays put on the skin because of the priming effect and moisturizing vitamins in it. I guess and it will not leave streaks if you use a face mist or splash some water. Since it is extremely lightweight, you won't sweat like crazy if you step out in the Sun. It has no SPF so those who want SPF based Makeup this may not work out for them.
Pros

:
High coverage.
Satin finish.
Buildable coverage.
Priming effect.
Moisturizes because of Vitamin B3, C and E.
Lightweight feel.
Extensive range of shades so high chance of getting a correct shade for you skin.
Cruelty-Free and Paraben Free.
Cons: 
Mild fragrance unlike the claim of no fragrance.
No SPF.
Rating: 4/5
Would I recommend? I highly recommend this product and I am going to buy this again as soon as I run out of it. You can rarely find BB creams or Foundations that give such natural finish and still make no dent on your pocket. This worth all the hype and I think all of us should do a ourselves a favour and buy this.