Dandruff is a recurrent scalp problem that is most common among many of us. Unfortunately many of us fail to realise that dandruff might be the root cause of severe hair fall. Dandruff can occur due to various factors and like most of us think, it is not just limited to dry scalp. Oily scalp also causes dandruff. The key is to keep your scalp clean and balanced without leaving it be too oily or too dry. Some common home remedy ingredients to eradicate dandruff are Lemon juice, Apple cider vinegar, Tea Tree Oil to name a few. And when it comes to an anti-dandruff Shampoo, the ingredients you need to look for is either zinc pyrithione or selenium sulfide. Both are known to be excellent to fight dandruff. Today we have a newly launched anti-dandruff shampoo from the house of Hindustan Unilever, the same manufacturers of Ponds, Citra, Dove, Lifebuoy, etc etc. It's from a new brand PureDerm, you might have seen Anushka Sharma endorsing this brand. PureDerm has exclusively launched anti-dandruff shampoos in three variants and I picked up the Dandruff Protect variant as I was having mild dandruff to tackle with. Keep reading to know more about the Pure Derm Anti Dandruff Shampoo.
Product Description:
Pure Derm Anti Dandruff Shampoo generates micro-sized bubbles which contain Anti-Dandruff active ingredients. It purifies the scalp and hair, and removes dandruff. Pure Derm's patented dual active technology keeps the scalp purified with continuous use and prevents dandruff from coming back.
Variants:
Damage Protect – For Dandruff Prone Scalp
Mint Cool – For Dandruff and Greasy/Oily Scalp
Anti-Hairfall – For Dandruff and Dry/Itchy Scalp
Ingredients:

Price: 65 INR for 80 ml, 135 INR for 180 ml, 250 INR for 340 ml, 435 INR for 650 ml.
My take on Pure Derm Anti Dandruff Shampoo:
Packaging: Pure Derm Anti Dandruff Shampoo comes in a white plastic bottle. The Damage Protect variant has pink color detailing whereas the Cool Menthol and Anti Hairfall variants have green detailing, furnished with all necessary details about the product. The dispenser is not the usual flip types. You need to press on one side of the top and open up the dispenser to take the product out. (Refer the picture for more understanding). Although this type of dispenser does not add much value to the whole packaging, I did find it different and also convenient to use in a single hand.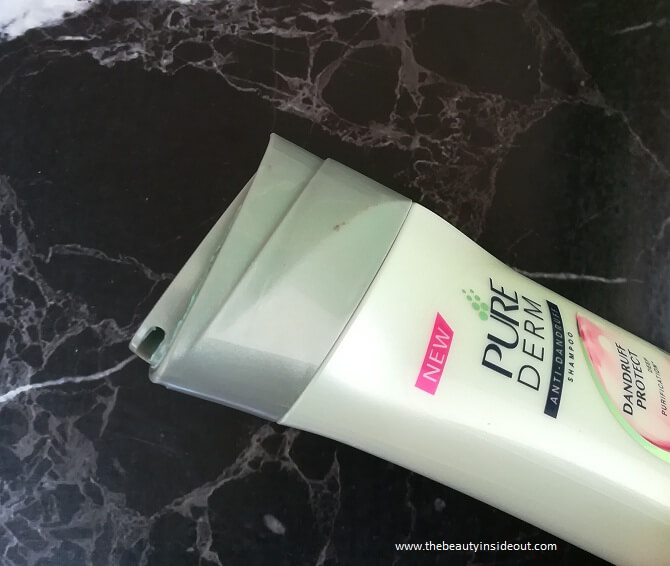 Fragrance: Ok its artificially scented and has a basic shampoo smell. But I'm happy that it's not very strong and minty like most Anti Dandruff Shampoos.
Color: This shampoo has a beautiful sea blue color. The color is very alluring to my eyes.
Consistency: The consistency is medium, leaning towards semi-thick. It is not at all flowy, hence easier to control the amount of product and also only a little of the product is required for each wash making it cost effective.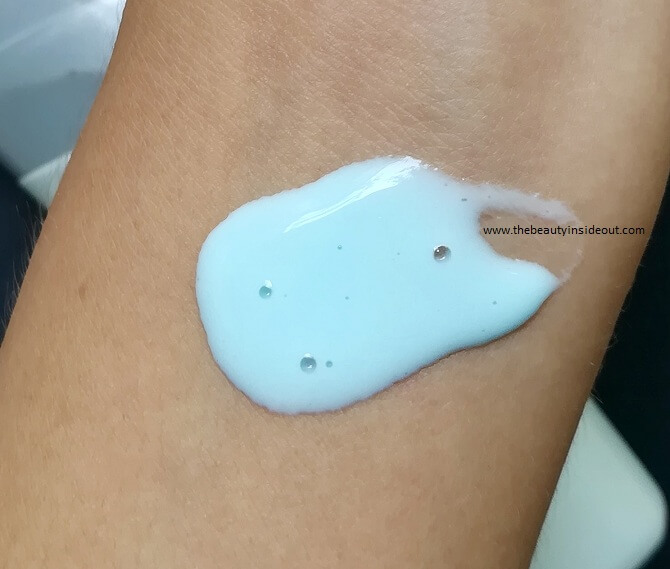 Effectiveness: Let me come straight to the point. Does it remove dandruff? Yes it does. I could see that it cleaned up my scalp thoroughly and got rid of dandruff in the first usage itself. As expected, the shampoo lathers well (it contains SLS) and rinses off like a breeze. This variant does not give any cooling or tingling sensation on the scalp which I'm completely ok with it as I'm prone to get cold if I use cooling products on my scalp. If you prefer otherwise, you can try the Cool Mint Variant.
Post cleansing and air drying, my hair does not feel silicone-y, but is left quite soft and smooth. The shampoo does not dry out my scalp but do dry out my ends if I had not oiled or pre-conditioned with a hair mask. In that case, I need to use a conditioner to avoid dryness, tangles and unnecessary hairfall due to breakage. The shampoo neither adds any bounce nor weighs down hair heavily. But ladies with thin hair may surely miss the volumizing effect.
Initially I started off using it twice a week and then reduced to once a week alternating with my regular shampoo. It did help to keep my dandruff under check. Now that I've completely stopped using this shampoo, I haven't seen my dandruff coming back yet whilst I keep following a proper hair care routine.i.e. keeping the scalp clean, avoiding product buildups with unnecessary hair care products and most of all having a healthy diet. In short, this shampoo does help with dandruff to a great extent.
Pros:
Affordable.
Available in various sizes.
User friendly packaging.
Good consistency, easy to work with.
Lathers and Rinses Off easily.
Gets rid of dandruff in one go.
Does not dry out or irritate the scalp.
Paraben Free Shampoo.
Cons:
Not Sulphate Free.
Dries out ends and leads to tangles. Conditioner becomes necessary.
May not be a permanent solution for dandruff.
Rating: 4/5
Would I recommend? Yes for temporary usage I would recommend this. The shampoo is quite effective in getting rid of mild to moderate dandruff. This is not a miracle product as such. You can find such similar Anti Dandruff Shampoos everywhere in the market. But for the price it retails and the result it gives, I think it's not a bad buy. Try it if you have dandruff problems.
Looking for other shampoos?