Hello beauties! This is my first ever review on the blog and I am really excited to share it with you guys. Lakme is undoubtedly No.1 Indian makeup brand and is loved by everyone, even our grannies and mommies swear by it. It's that old! And I don't really think that there exists a girl or woman in India who hasn't used any of the Lakme products at least once in her lifetime. I am personally a very big fan of Lakme products, especially their lipsticks. I recently bought 3 Lakme Enrich Lip Crayon in the shades Cinnamon Brown, Peach Magnet, and Pink Burst from Nykaa and I am totally in love with them already. These are available in total 10 shades and are the only affordable lip colors available in the Lakme range as of now. I know I am a little late to buy them since these were launched almost a year ago and have become already so popular amongst women. But, since I was already into their 9-5 and Absolute range,  I decided to finish them up first and get my hands on these cute little lip crayons after them. And, they are finally here now! So, let's get started!
Product Description:
Embrace the all new formulated lip colour crayon by Lakmé and use your lips like a canvas to create a vibrant look. Get smooth and matte finish lips with Lakme Enrich Lip Crayon that is infused with mineral powders. It has a soft texture and is available in 10 gorgeous shades that suit all Indian skin tones. It also has a rich blend of olive and jojoba oil that simultaneously conditions your lips.
Lakme Enrich Lip Crayon Shades available: 10
01 Berry Red
02 Red Stop
03 Candid Coral
04 Mauve Magic
05 Peach Magnet
06 Pink Burst
07 Shocking Pink
08 Baby Pink
09 Cinnamon Brown
10 Blushing Pink
Price: Rs.185 for 2.2 gm each, which is super affordable and available easily across all stores.
My take on Lakme Enrich Lip Crayon:
I'll be reviewing three of these shades, which are 05 Peach Magnet, 06 Pink Burst, and 09 Cinnamon Brown.
Packaging: These lip crayons are really cute at looking and look similar to the crayons we used to have way back in the schools. Considering the price at which these are being offered, the packaging is really good and sturdy. These are color coded with shade names mentioned on the outer label, so you can see the actual color even from the outside. The other Lakme Lipsticks are not all color coded but have the shade name encoded at the bottom of the bullet. The lip crayons are sleek and come with a black cap, which is pretty good and makes them travel-friendly as well. Lakme was even offering free dual sharpeners with each lip crayon till a few days back, but the offer had already ended by the time I bought these so I had to purchase the sharpener separately. The Lakme Dual Sharpener comes with 2 sharpeners in a single body which makes it pretty easy for you to sharpen both your lip liners and crayons from one single sharpener.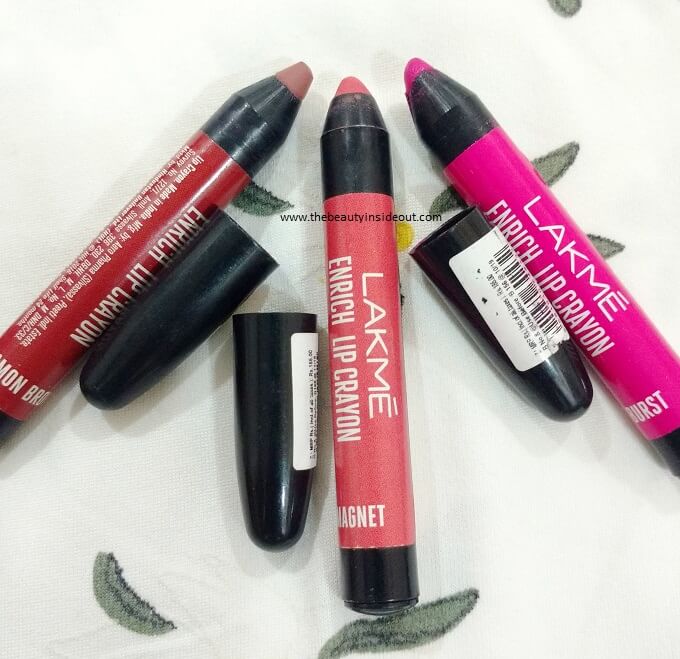 Shades:
05 Peach Magnet – This is a very pretty peachy color. Something ideal for summers for fair skin tones, however, medium skin tones can also pull this off really well. It is good for everyday wear.
06 Pink Burst – This is a universally flattering color and I think this is something which will work across all complexions. This is a beautiful bright pink color, more of a fuschia color that you can wear throughout the year. It also has a bit of shimmer in it.
09 Cinnamon Brown – This is my personal favorite and I just love it so much. This is the only nude in the collection and is just so lovely. It is soft brown in color. This shade would work well for fair to medium skin tones and looks absolutely natural when applied. Suitable for everyday wear.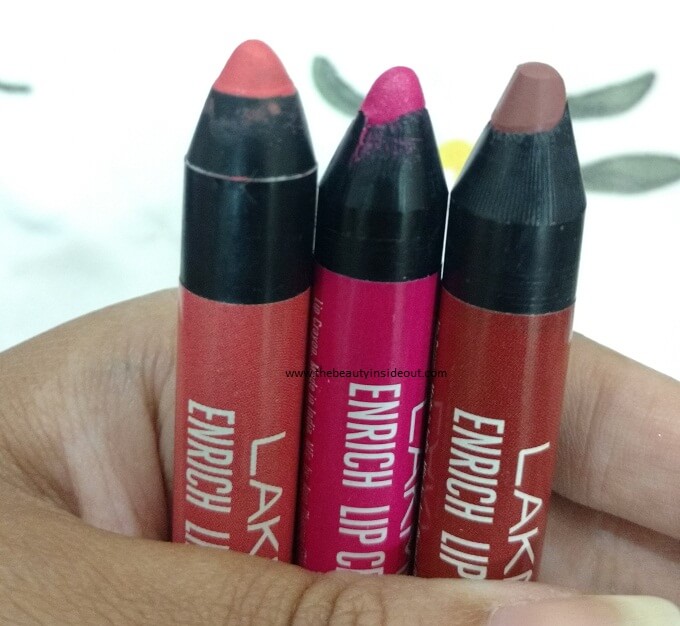 Texture: The lip crayons glide on really well on the lips. They are very light when you put them, you hardly feel that you are wearing something on the lips. They keep your lips hydrated, feel really soft on the lips, and do not dry up. I won't say they are completely matte, these are semi-matte and feel comfortable.
Pigmentation and Staying Power: All three of these shades are not completely opaque, a little bit of your actual lip color is visible through them. These are decently pigmented and might require 2-3 swipes if you want more pigment. They don't bleed out from the lip line and are transfer-proof. Staying power is 3-4 hours, does not leave any stains and are easy to remove.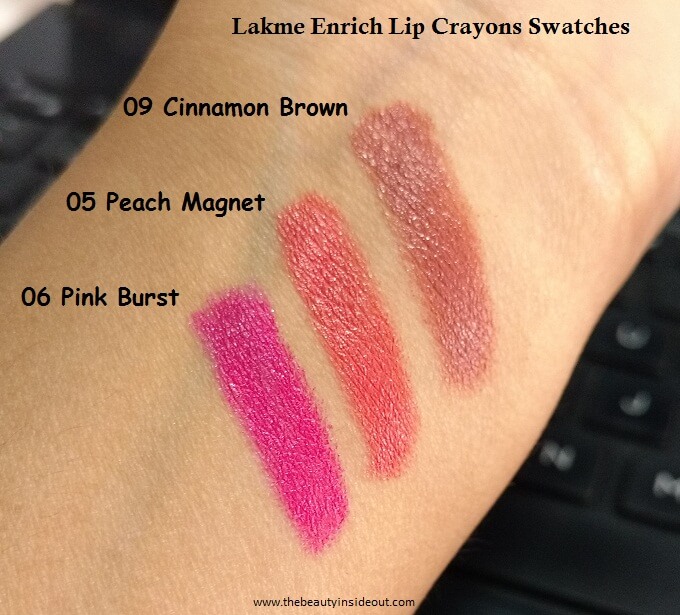 Pros:
Good packaging considering the price for which it is being offered.
Available in 10 shades.
Light and soft texture.
Easy availability.
Semi-Matte finish, non-drying.
Decent pigmentation.
Non-transferable.
Fine tip, can be used as a lip liner as well.
Cons:
A lot of product gets wasted when you sharpen it.
Staying power is average.
Missing Ingredient List.
Rating: 4.5/5
Would I recommend? Yes, I highly recommend the Lakme Enrich Lip Crayon to all the ladies. They are so light and comfortable on the lips and give a semi-matte finish. All the working women and college going girls who are looking in for some incredibly affordable, decently pigmented, yet quality lip colors for wearing on a daily basis, then this is just made for you!