Being an owner of acne prone skin, I got acquainted with too many pimple products. Right from the age of puberty, till now, acne has been a part of my life, so I have tried many pimple products. Today I am going to review the Himalaya Acne-n-Pimple Cream which has been in my kitty for quite sometime now. I had previously used the Himalaya Clarina during my college days, which was almost similar to this cream in terms of formula as well as performance. Keep reading to find out more about this pimple cream.
Product Description: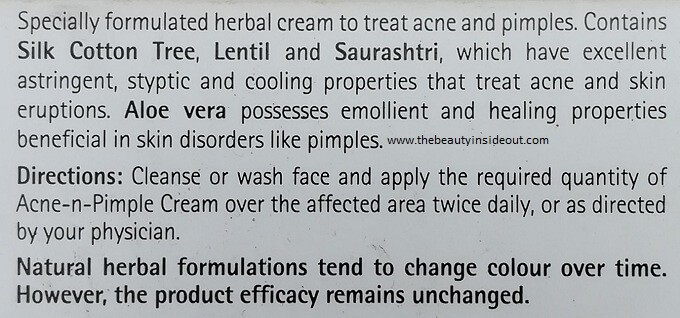 Ingredients:

Price: 45 INR for 20 gm.
My take on Himalaya Acne-n-Pimple Cream:
Packaging: Himalaya Acne-n-Pimple Cream is housed in Himalaya's typical opaque, white, squeezable tube packaging with a green screw cap. The 20gm tube is sleek and very travel friendly. The tube itself come inside a card box. Both the tube as well as the box has all details about the product mentioned on it. So you can very well throw away the outer card box. The card box carries some chromatographic diagrams comparing this pimple cream with aloe vera, showing that the results of this cream are much more better than the latter. Anyways, packaging wise there is zero complaints from me.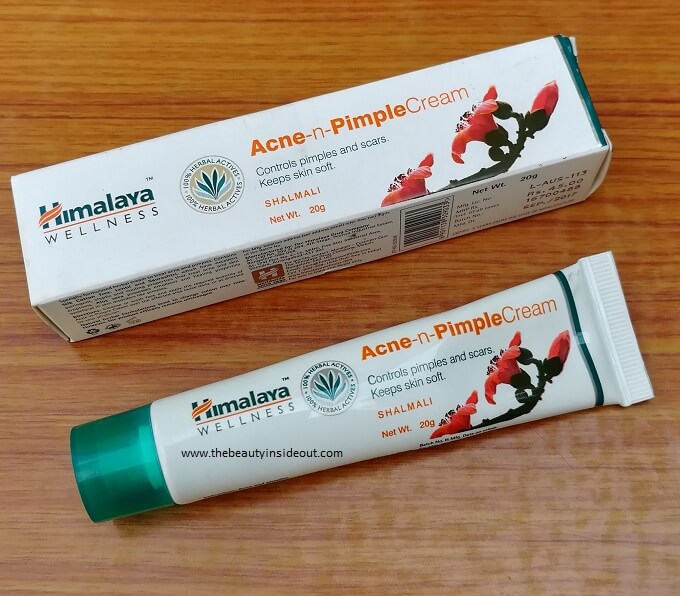 Fragrance: The cream has a unique herbal fragrance. It is not very overpowering but at the same time, it is not subtle. Personally I do not like this scent. Even so, the fragrance slowly dissipates as time pass by.
Colour: The pimple cream has a muddy, off white hue to it.
Texture: It has a very thick, creamy consistency with a soft, smooth texture. The formula is similar to Vicco Turmeric and other common fairness creams, meaning that once applied it mattifies the skin and leave it stretchy and dry. That is, if you apply it all over the face as a face cream. I generally use it only as a spot treatment!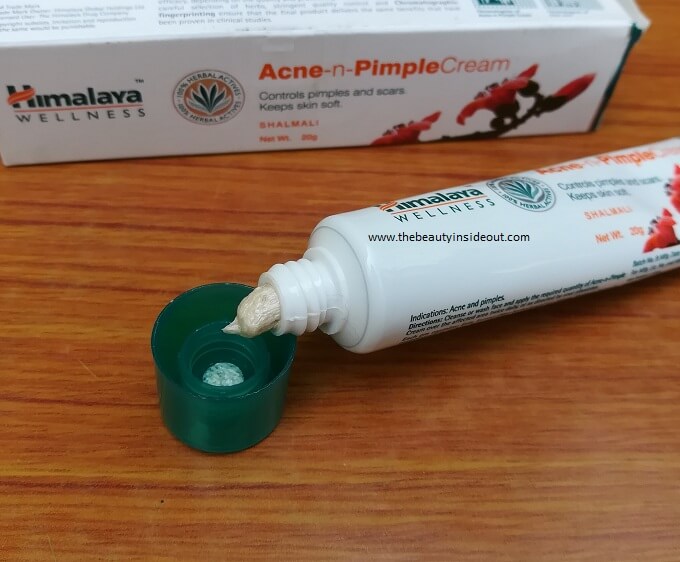 Experience: If you are wondering if this works for pimples, my answer would be No. I have tried this multiple times when I had acne outbreaks, be it on zits, small pimples or huge pimples, this doesn't do anything significant. I apply a blob of the cream whenever I see a new pimple forming, both day and night, still it didn't work. What takes from 5 to 8 days to heal when I use nothing, still took the same time. At the end, I am also left with a pimple mark.
The only thing it did was it helped with redness to a certain extent due its cooling effect. Other than that I do not see why anyone would buy this. Also it contains parabens, which is a major concern for natural skincare beauties.
I couldn't stop myself to compare this cream with Vicco Turmeric Cream as the formula, finish, price range is more or less similar to it. However, when it comes to its performance on acne, Vicco Turmeric Cream works much better than the Himalaya Acne-n-Pimple Cream.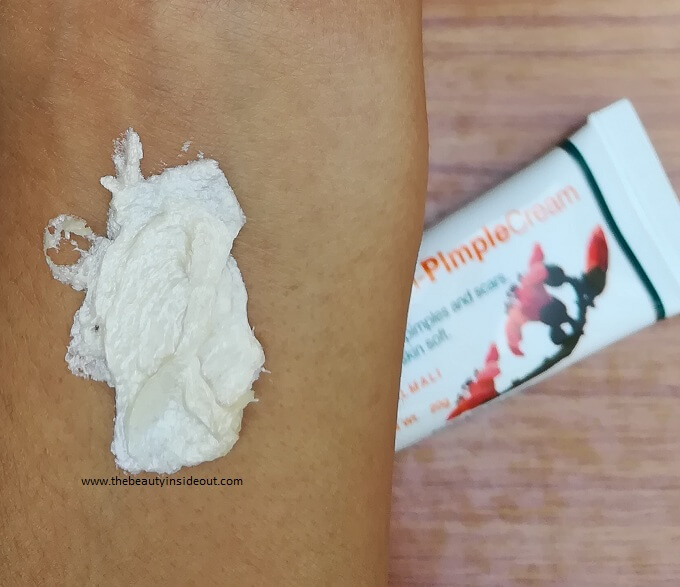 Pros:
Good packaging.
Budget friendly.
Calms redness of acne.
Oily skin types may like it as a day cream due to its mattifying effect.
Cons:
Does not work on pimples.
Contains parabens.
Fragrance is a turn off for me.
Rating: 1/5
Would I recommend? No! I would suggest trying out homemade face masks and spot treatments, rather than getting this cream. Or at the least, better get Vicco Turmeric Cream.
Looking for other acne products?