With an active toddler around, getting enough time to face mask has become a major problem for me. So in the recent times I have resorted to using sheet masks as they don't require rinsing off. But who won't agree that traditional face masks are a lot better than the one time use sheet masks. So I had to find a way to use my face masks, that's when I started using them in-shower. I apply it as the first thing, then take bath and finally wash off the mask. This way time is saved and I get the benefits of masking. Atleast for me, as a mom! Anyways coming to today's review, I'm going to share my experience with the Innisfree Black Green Tea Mask which was a part of the Innisfree Limited Edition Winter Kit.
Before going into the review, let me tell you a little about the product. Like all, I was curious about the name 'Black Green Tea'. Was it a new type of tea? So I surfed through Innisfree Website and came to know that it is only fermented green tea which gives the black color, hence the name Black Green Tea. The mask is made using pesticide free Green Tea Leaves picked up from Jeju Islands and then fermented and matured for 100 days throughout two stages. This Black Green Tea is rich in anti-oxidants delivering deep moisture and nourishment for clear complexion.
The Innisfree Black Green Tea Mask has 55% Black Green Tea Extracts which is pretty good compared to brands that market Green Tea Mask and has Green Tea as the last ingredient in point percentages. But one thing, Innisfree is known to be a natural skincare line in Korea, but in actual it is not a chemical free brand. It does have chemicals in it. This mask is free of parabens and silicones though. The Innisfree Black Green Tea Mask is also non-comedogenic, that is it is acne skin friendly. The CosDNA Analysis came up pretty clean with no acne causing ingredients and only one irritant. So it should suit all skin types.
Product Description:
Innisfree Black Green Tea Mask: The anti-oxidant effect of black green tea, a special type of green tea made from fermented and matured Jeju Green Tea nourishes your skin for a clear complexion.
Ingredients:

How to use Innisfree Black Green Tea Mask?
Clarify your skin with a toner after cleansing and gently smooth over the face, avoiding the eye and lip areas. Rinse with lukewarm water after 10~15 minutes.
Price: 1900 INR for 80 ml. Available at Nykaa.com
My take on Innisfree Black Green Tea Mask:
Packaging: Innisfree Black Green Tea Mask come in a cute little brown colored tub. It has a screw lid on top, in between them, the mask is covered with a protective plastic cover, which is a little difficult to replace once opened. Nonetheless, once the screw lid is closed, the tub is spill-proof and I can very well travel around with it. The tub do come in an outer card box with the ingredient list of the product. The only downside, tubs can be unhygienic to use and they should have at least included a small spatula to go with it.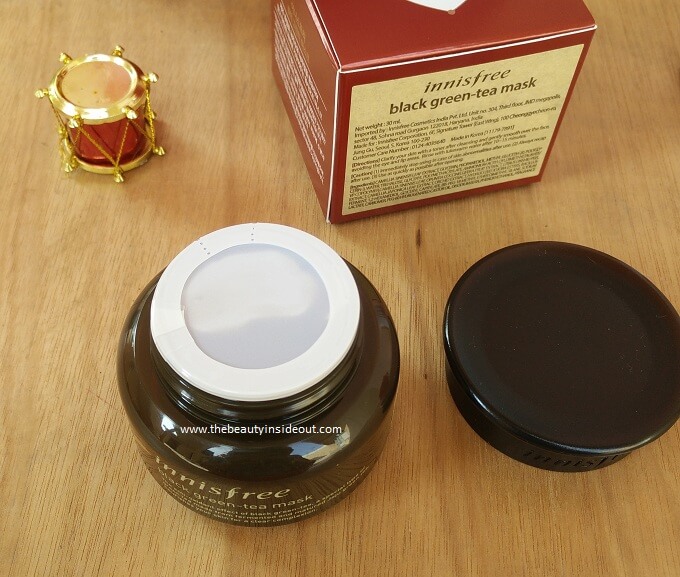 Fragrance: The Innisfree Black Green Tea Mask is not overly scented like other Innisfree products. This has a nice scent which has a mix of citrus and floral notes. It also has a faint fermented smell but nothing over the top like the fermented Forest Essentials Scrub.
Color & Texture : This is a gel based mask which has a beautiful amber brown color. The mask has some crushed black-green tea leaves dispersed in it. But that does not hinder the application and the gel mask has an absolutely smooth texture. The color and look of it is simply appealing. The formula is also perfect with its medium consistency.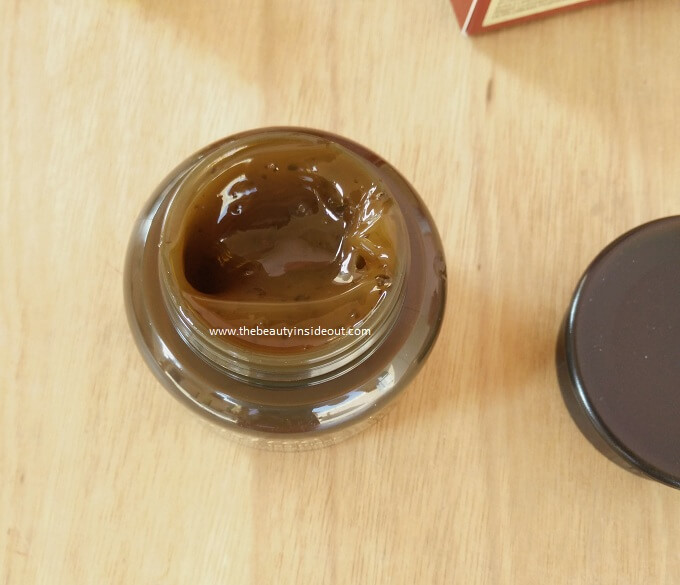 Experience: As I said, I mostly used this in-shower. After cleansing my face with a face wash, I took a teaspoonful of the gel mask and applied a thick layer of it. The mask spreads easily due its smooth texture, because of which it hardly takes seconds to apply this mask. After I'm done with my shower time, which is roughly around 10-15 mins, I rinse off the mask with tap water. The mask doesn't dry out by this time, also I prefer removing masks when they are still damp. Anyways, I don't think this mask actually dries down even after 30 mins or so, since I apply a thick layer and it is gel based. This mask gives a slippery feel while rinsing, so it is best to use a damp towel or sponge for effortless removal. Thereafter my skin is extremely smooth and hydrated. It is not even a tiny bit drying, like clay masks and gives a refreshed, tightened skin.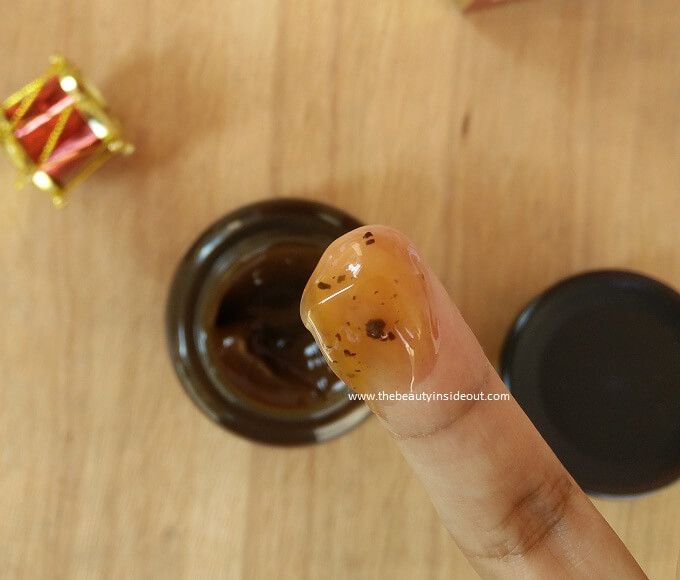 But that is all! I'm a little bit disappointed that for the whooping price it retails, it doesn't show any extra-ordinary effects. I mean the mask doesn't really help with acne, blemishes or what not. But that happens with many masks too. Or can any mask give more results than this! I wonder!
Using this mask before bed time really calms and soothes my senses. I wish I had ample time to mask 🙁 For better results, I use this after exfoliating my skin.
Pros:
Cute, travel friendly packaging.
Contains black green tea which is rich in anti-oxidants.
Perfect formula with nice texture and consistency.
Imparts a soft glow.
Smoothens and hydrates the skin.
Never dries out the skin.
A little goes a long way.
Great for all skin types.
No skin irritations or allergic reactions experienced.
Parabens & Silicone Free.
Cons:
Expensivvvee.
Does not do much for acne.
Rating: 4/5
Would I recommend? May be. I totally loved using this mask, but frankly if I had the chance to repurchase, I would not buy it again due to its hefty price tag. If you are into luxurious skincare and love pampering your skin, then I would say, go ahead and buy this Innisfree Black Green Tea Mask. This would suit all skin types, especially those with dry, aging skin as it restores suppleness and tightens the skin visibly.
Looking for other face masks?