Whenever I open up my social media, it's either Clean Beauty or Korean Beauty. I can see that it has become a trend nowadays to follow either of these. Sometimes both! Whatever it may be, it's no doubt that using Beauty Products loaded with toxic chemicals is going to have an effect on your skin and overall health in the long run. So its wise to chose non toxic products according to your skin suitability and skin concern. Thankfully there are many safe skincare brands in India, but when it comes to makeup, you can easily count the numbers. Today's post is all about skin safe, Toxic Chemical Free Makeup Brands or more so, brands that offer harsh chemical free makeup products in India. Let's begin.
Safe & Toxic Chemical Free Makeup Brands
1. Ruby's Organics
Ruby's Organics claims to be the first 'Made In India' Organic Makeup Brand whose products are designed to suit our Indian skin tones and textures. They have an extensive line of Paraben Free, Chemical Preservative Free, All Vegetarian and Non-Animal Tested Makeup. Their products use natural and organically sourced ingredients, and most of them are oil based which requires less preservation. The preservatives they use are EcoCert certified and all their products have a shelf life of 18 months. Ruby's Organics is quite popular for their 100% vegetarian, organic, chemical preservative lipsticks. They also have an intriguing range of products which includes 2 in 1 Concealer cum Foundation Mousse, Cream Blushes, Bronzers, Highlighters, Eye Shadows. Explore complete range of Ruby's Organics Products on Amazon.
2. Barva Skin Therapie
If finding safe, toxic chemical free makeup brands at an affordable price has been a hassle, then we present to you the Barva Skin Therapie. Barva Skin Therapie had its inception in a small village based out of Maharashtra. What attracts us to the brand is the brand's humble values in procuring organic ingredients to go into their products. Their manufacturers, Sprivil Healthcare Ltd., specialises in natural and organic cosmetics and strives to provide us risk free and non hazardous makeup. Barva Skin Therapie Makeup Range includes SPF Foundation, Glow Crème, Lead Free Paraben Free Lipsticks and Kajals. Explore more Barva Skin Therapie Products on Amazon.
3. Zuii Organic
Zuii Organic is an Australian Based, Organic, Toxic Chemical Free Makeup Brands that was recently launched into the Indian Market. Zuii Organics has a couple of globally recognized certifications such as BDIH (the same certification Soultree holds), COSMOS & NASAA Organics added to its kitty. Their products are Flora based, i.e. they use flowers like Jamsine, Rose, Chamomile as a base for their products. All Zuii Organic products are free of Talc, Petroleum Oils, Bismuth Oxychloride, Propylene Glycol, Soy and Soy Derivatives, SLS and other nasty chemicals. They ensure that atleast 95% are organic ingredients and the rest 5% are from natural origin such as minerals. Above all, they are cruelty free and some of their makeup are Vegan Friendly as well. Explore wide range of Zuii Organics makeup products on Amazon.
4. Organicmill
Organicmill is a Noida based Handmade Skincare Brand which offers chemical free and preservative free products. They have a couple of noteworthy makeup products, making it to this list of Toxic Chemical Free Makeup Brands. Since Organicmill is a home grown brand, their products are freshly prepared on order basis and can be customized as per requests. One of their most popular product is their compact powder, which has a unique mix of rich minerals along with natural SPF to give you sun protection. Apart from Compact Powder, Organicmill has Organic BB Creams, Blushes and Lip Glosses, all available in a variety of shades. Available on Organicmill Facebook Page.
5. Paul Penders
Paul Penders is the World's First Ever Organic Skincare and Makeup Brand started in 1900. Paul Penders uses their trademark LevensESSENTIE Gold, a traditional recipe containing extracts of 22 herbs in all their products. Paul Penders is popular for making lipsticks without any heavy metal chemical color ingredients. They are purely made with natural and organic pigments. Paul Penders is also 100% Vegan, Halal Certified, Cruelty Free, Paraben Free, SLS Free and Phthalate Free. Apart from natural lipsticks, they also have BB Creams and Foundations. Paul Penders is available on Nykaa.com.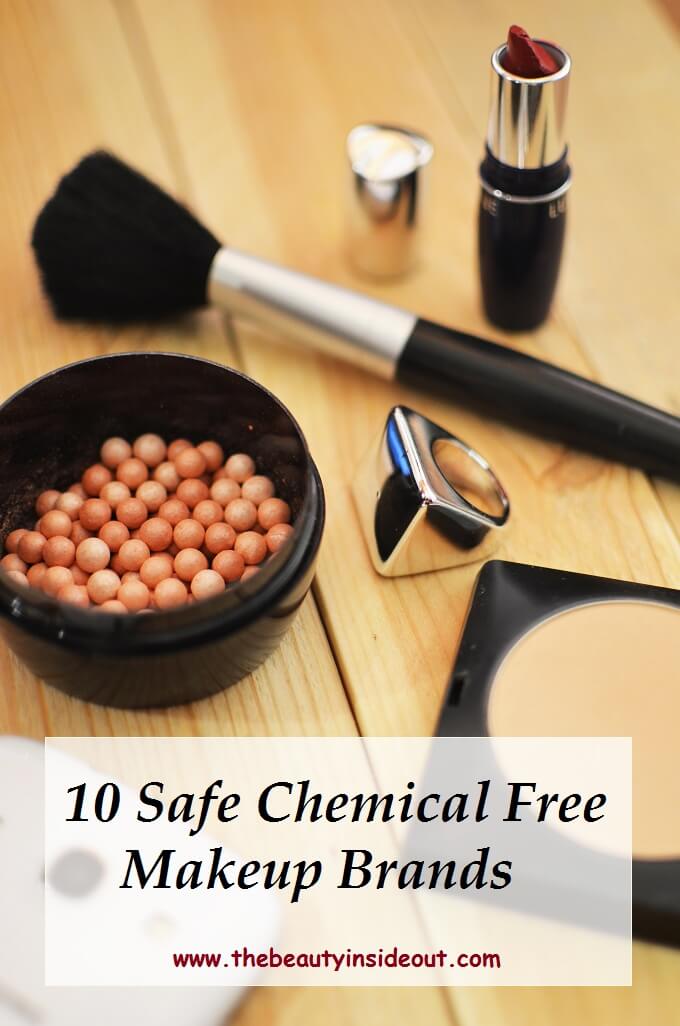 6. BON Organics
Bio Organic & Natural (BON) is a Certified Organic Skincare Brand based in Auroville, Pondicherry. Started in 1997, BON is one of the earliest brand that brought awareness on natural skincare in India. All their products are 100% handmade, hand filled, and packed by hand in small batches in order to keep the richness of the ingredients intact and effective. BON is cruelty free and environment friendly as well. BON Organics have Lip Stains and Eyeliners to their credit. But that's not only it. They are soon launching an entire range of organic makeup in the coming months. Bon Organics Products are available for purchase at Nykaa.com
7. Vert
Vert is a Vegan Friendly, Fresh & Handmade cosmetics brand that has an exclusive Makeup Range. All their makeup are in powder form and are prepared with self preserved formulations therefore no preservatives are added to them. Vert is also against animal testing, free of parabens and devoid of hazardous chemicals. Mineral Face Powder, Gold Highlighter Powder, Chocolate Bronzing Powder are some of them that you ought to try from Vert. Vert Products are available at Nykaa.com
8. Ecoberry
Ecoberry is yet another handcrafted natural skincare brand that makes harmless products. Having a nice range of skincare and cosmetics products, they prepare their products based on Sidha Facts. They assure us that only highest quality ingredients goes into their products and hence can be used without any concerns for side effects. Ecoberry has Natural Loose Mineral Foundation, Lipsticks and Lip Glosses, made out of safe, naturally mined minerals and FDA approved colors. Available for orders on their Facebook Page and Official Website Ecoberry.in.
9. Disguise Cosmetics
Disguise Cosmetics is a newly launched Cruelty Free and 100% Vegan Cosmetics Brand that strives to be as natural as possible. They are popular for their two range of Lipsticks, Satin Matte & Feather Light Lip Creams, both of which have an affordable price tag and a wide range of shades. Their lipsticks are enriched with skin superfoods like Almond Oil, Avocado Oil, Marula Oil, Shea Butter etc. If you are a lipstick hoarder, definitely check out Disguise Cosmetics Lipsticks.
10. Soultree
Lastly comes my most favourite natural beauty brand, Soultree. Soultree is certified Natural by BDIH Germany which requires renewal each and every year. This one aspect is enough to gain the trust of consumers. Soultree have a good range of natural makeup products including Natural BB Cream, Natural Lipsticks, Colored Kajals and Mascara that you might not want to miss out. Soultree Makeup is easily available online in various portals.
That ends the list of the Toxic Chemical Free Makeup Brands in India. I will be updating this post as when I come across such Chemical Free Makeup Brands, so keep subscribed to stay updated on this. Also if you know any such brands, feel free to comment down below.
Buy Chemical Free Makeup From Amazon