Ever since the day I developed interest in makeup and beauty, I was on the lookout for beginner friendly products on which I can try my hands on to learn the techniques and application methods without burning a hole in my pocket.  Who would be willing to learn with a high end product and waste so much for it. At least, I am not that kind !!! I discovered this Lakme Face Magic Skin Tints Souffle long ago and has been using it for more than ten months now. By now, I feel like I am a Pro to write a detailed review on this product as I hardly used any other product for such a long time. I easily get bored with beauty products so I'm a big time product junkie. Let's hear out what I have to say about this product.
Product Description:
Price :Rs.160 for 30 ml
Shelf life : 24 months .
My take on Lakme Face Magic Skin Tints Souffle:
Packaging: Lakme Face Magic Skin Tints Souffle comes in a hard glass tub which is not very travel friendly. But the screw cap is sturdy and doesn't spill off the liquidy foundation in any situation. The glass tub arrived in a card box package in which ingredients list are not printed, but other details like usage instructions are printed on the back.
Shades : Lakme Face Magic Skin Tints Souffle comes in three shades to suit Indian Skin Tones.
Natural Marble 
Natural Pearl
Natural Shell
The shade I use is Natural Pearl.
Fragrance: It has a mild fruity kind of fragrance which fades away soon after application.
Texture: The Lakme Face Magic Skin Tints Souffle has a semi-liquid consistency, more like water based foundations. It is not at all cream based which makes it much easier to work with it on the skin. As mentioned on the packaging, this is something that can be used like a daily cream rather than a foundation. It's very light on the skin and is easy to apply and blend. No specific application tools like beauty blender or a brush is really required. A very small amount is enough to give you brighter and instant glowing skin.
Coverage: This Lakme Face Magic Skin Tints Souffle gives a nice, bright coverage. If you have blemishes and dark spots to cover, you can layer up for an even better coverage. I have a non-problematic skin, so I liked the coverage it gave.
Staying Power: With just a moisturizer beneath, it stays for about 3 to 4 hours with the same freshness and brightness. With regular touch ups it can even last upto some more time. It didn't make my face oily or greasy. But heard many say its melts with sweat. I don't sweat easily unless I workout a lot, so I have nothing to comment on that aspect .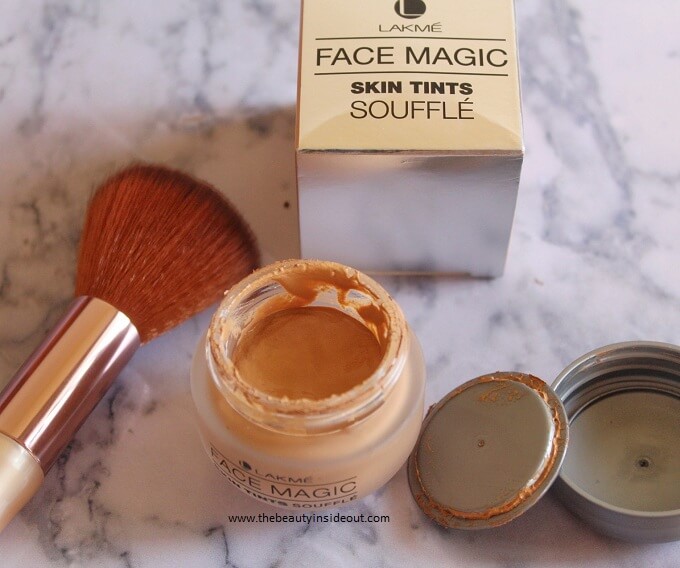 Finish: The finish it gives is more like semi-matte. It is definitely not on the dewy or oily side. I am so much in love with the flawless finish hence I would definitely sing praises for it. Personally, this is my favourite base cream nowadays and I have ditched all my BB creams. I use a very little for simple looks and a little extra than usual for special or occasional make up looks.
In short, Lakme Face Magic Skin Tints Souffle is a light weight water based foundation that can be very well used for daily or even for occasional make up which gives sheer to moderate coverage based on the amount you use and also has a decent staying power.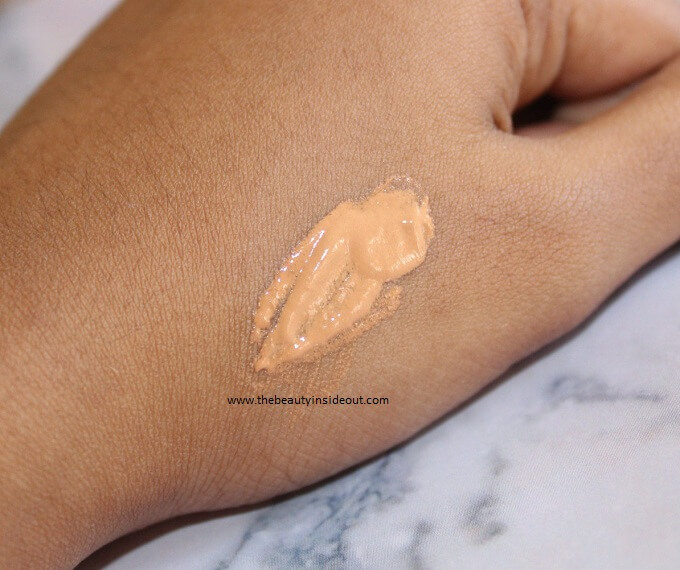 Pros :
Light weight and water based foundation.
Good coverage for its cost.
Easy application.
Stays fresh for a good amount of time.
Perfect to get hands-on for a  beginner and for college girls & for working women to get a daily make up look easily.
Cost effective-budget friendly.
Best alternative for BB creams.
Cute packaging.
Cons:
Honestly, I don't have any.
Rating: 4.5/5
Would I recommend ? Definitely for those who are looking to try hands on foundation and for ones who is on the look out for light weight base makeup at a very budget friendly range.
Looking for other daily wear base makeup?