I don't about you but I am so hooked up with subscription boxes and natural products and when both comes together, do you think I would miss it? So I ended up ordering the Blend It Raw DIY Beauty Box for the month of February. The first box came out in January and it was still available when I placed my order but I went in for the February Box as I wanted to enjoy the delight of receiving surprise elements. I mean I knew the contents of January Box so I went in for this. The February Box is all about 'putting your best face forward' indicating it contains skincare essentials. Before seeing what I got in the Blend It Raw DIY Beauty Box, let's briefly see about the brand as it is fairly new in the market.
About the Blend It Raw DIY Beauty Box :
Imagine receiving potent skin and hair care ingredients at your doorstep every month to indulge in a fun crafty activity along with pampering your skin with properly measured ingredients and step by step instructions to blend. For this subscription box, we source and deliver pure, organic, fresh skin and hair care ingredients from all over the world to assist you in making your own products. Each month, you get 5-8 ingredients along with recipe cards. And if you don't know the box is curated by Aarushi Singhal from Glitternaturally.com .
Price : Rs.1199 per month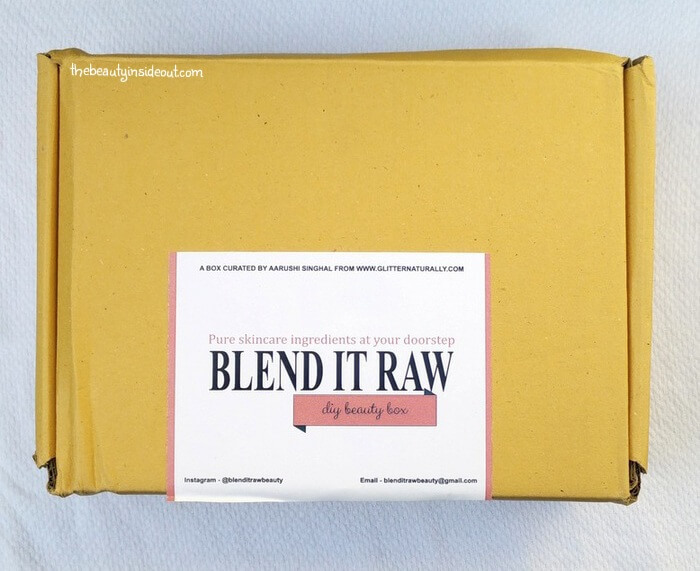 My take on the Blend It Raw DIY Beauty Box :
Ordering: Since this is a new kid on the block, they do not have their own website and ordering has to be done by filling up a Google Document Form and once done, they got back to me through email wherein payment details was provided. Payment can be made through either NEFT or Paytm. Once I was done with that, I was enquired about my skin type and issues so that ingredients that goes well with my skin issues would be sent.
Packaging: I received the beauty box securely packed. It was double packed. That it after the outer normal packing where you have your address details, there was a nice colorful yellow covering tied with a pink satin bow. I missed clicking them as I was in hurry to open it up as soon as it came. And then comes the cardboard box which is shown above. Even before I opened the box I knew that it contained lavender essential oil. The fragrance was so overwhelming that my whole room could get a whiff of the divine oil and as I'm writing my room still smells of lavender where I haven't even opened the bottle. Inside the box, the glass bottles were bubble wrapped so as to avoid breakage. All the other products too were very intact inside the box. Overall the packaging was really good. I just wish the box looked a little bit fancier.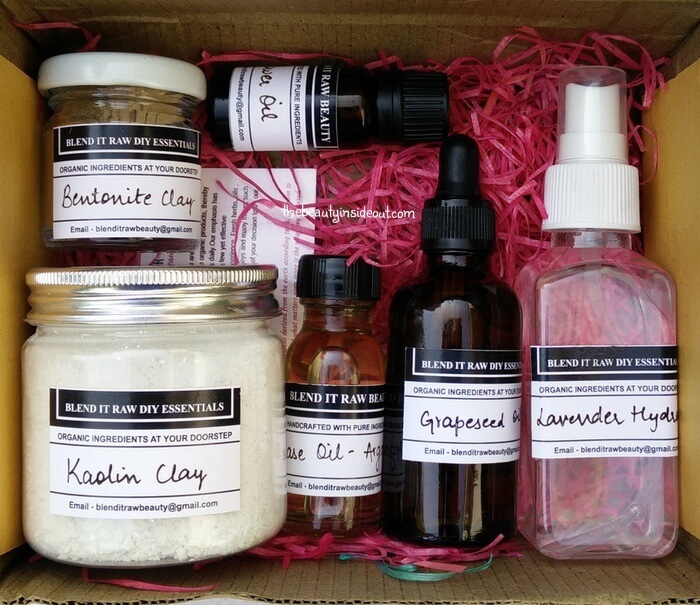 Contents : I received 6 ingredients along with 3 extra essentials. I'm really excited to try all of them as I haven't used any of the ingredients solely before and the thought that I'll be the one preparing it makes me even more delighted. So let's see one by one.
1.Pure Lavender Hydrosol
As I said the reason for that incredible scent is this lavender hydrosol. It is a 100 ml bottle which comes with a fuss-free spray nozzle. Extracted from the essential oil distillation process, lavender hydrosol is meant to cleanse skin, control excess sebum, hydrate dry skin, kill bacteria, tighten large pores, calm redness & soothe skin. This has a shelf life of 6 months and should be stored in refrigerator.
2. Organic Grapeseed Oil
This is a 50 ml product and comes in dark bottle to preserve its efficacy and has a glass dropper cap. I wasn't much aware of the uses of Grapeseed oil before until now, it's uses are specified on the description paper that came along.  Grapeseed Oil is known to have its benefits for acne, dark circles, clogged pores, scars and wrinkles.
3.Power Oil – Essential Oil Blend for skin
This is a blend of organic essential oils of Carrot Seed, Cedarwood, Frankincense, Lavender & Rosemary that promotes healthy skin by reducing scars, dark spots and brighten skin tone. This is a 10 ml bottle and has to be diluted before use.
4.Kaolin Clay
This comes in a generous 110 gm big tub. The white clay is the gentlest of all the cosmetic clays and does not strip skin of natural oils. It is ideal for all skin types and when applied on the skin, it purifies, removes black and whiteheads and softens the skin and when used on hair, it improves circulation in the scalp, removes the grime and strengthens the roots gently.
5. Argan Oil
This was sent according to my skin type, I got this for oily acne prone skin. Dry skin types would receive Avocado Oil, Damages/Matured skin types would receive Roseship Oil and Normal/Combination Skin types would receive Jojoba Oil. This base oil has to be mixed along with Grapeseed oil to make my own face serum. The bottle I received holds 25 ml of Argan Oil.
6. Bentonite Clay
This is a brown colored clay that is incredibly powerful possessing a negative charge. The clay is ideal for cleansing and detoxifying the skin. On hair, it aids in conditioning, adds shine, softness and definition to hair. The quantity of this is not mentioned anywhere but it is a smaller tub compared to Kaolin Clay.
The other essentials :
They have thoughtfully added these essentials into the box as they would be needed while preparing and using the recipes.
A face pack brush.
An empty dark glass bottle, to store the face serum that we would be making.
A head band.
And along with all these, recipe details were provided on the description paper. You can also customize it according to your wish and needs. One thing I noted is that the original price of each ingredient is nowhere mentioned on the packaging or anywhere but you can buy them individually through their instagram page if you want.
Overall, my first impression of the DIY Beauty Box was really great. I loved the ingredients as they are something new to me and I am assured that they are organic and natural, they would do no harm in the long run and are very safe for my skin. I would highly recommend skincare junkies and organic lovers to try this box.
So that was all about the Blend It Raw DIY Beauty Box. Have you tried this new subscription box? Share your thoughts in the comments section below.
Also check out my other posts on
It would take time to decide its efficacy, so I just decided to do an unboxing now and after trying out each one for a good amount of time I will post an update on this. So keep watching! In the meantime you can subscribe and follow me on all my social medias (find it at the top right corner) to know more about the recipes as an when I try them.
Until Next Time,
Stay Beautiful♥