The day I came to know about the Sugar Smudge Me Not Liquid Lipstick launch, I was so excited and couldn't wait to try them. And being a subscriber of Fab Bag, I definitely knew that they would be including this in their upcoming month, so I resisted my urge to buy them and waited patiently. After all, we all know that Sugar Cosmetics first came into India through Fab Bag and all of Sugar products are first available to their subscribers. As I expected it just arrived 🙂 So far I have got 4 of their products, all through Fab Bag and this is the 5th product I'm receiving. I have reviewed all of them, you can read it from HERE. I have loved most of them except for one and with this one I had high expectations. So let's see if it satisfied my expectations.
What the brand says about Sugar Smudge Me Not Liquid Lipstick :
If you've ever lusted for a "one-coat wonder" product for your lips, your search ends here. Get a full-blooded burst of pigment with just a single swipe of the Sugar Smudge Me Not Liquid Lipstick that will stay the day and right up till the night! Wine, coffee & date-proof – this is a matte lipstick that is guaranteed to last longer that your longest day. Available in 10 stunning shades that will make it difficult to choose – the question is, are you ready to commit to a lipstick that is built to last?
Ingredients :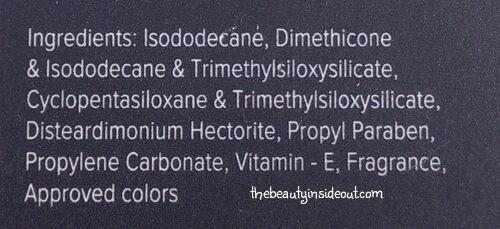 Shades Available:
01 Brazen Raisin (Burgundy)
02 Brink Of Pink (Plum Rose)
03 Tan Fan (Mauve Nude)
04 Plum Yum (Muted Plum)
05 Rust Lust (Red Terracotta)
06 Tangerine Queen (Orange Coral)
07 Rethink Pink (Fuschia)
08 Wine And Shine (Sangria)
09 Suave Mauve (Mauve)
10 Drop Dead Red (Red)
Price : Rs.499 for 4.5 ml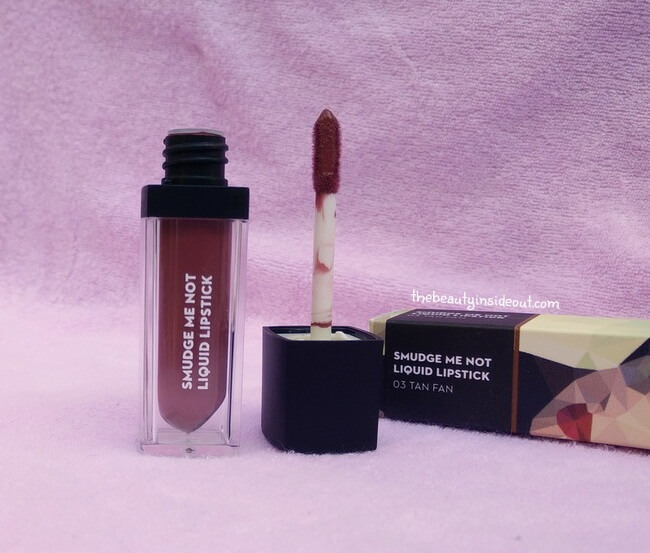 My take on Sugar Smudge Me Not Liquid Lipstick in 03 Tan Fan:
Packaging: The liquid lipstick comes in a small see-through tube with ' Smudge Me Not Liquid Lipstick ' written on it. Obviously these lipsticks are color coded so you don't have to hunt on to your stash if you have other shades. The sticker at the bottom of the lipstick holds the shade number and name. The lipstick itself comes inside a cardboard packaging that has the brand's signature graphics and details such as ingredient list. The wand attached to the top of the lipstick is a flat doe foot applicator. Even though the wand is small, it gives good control and aids in precise application effortlessly.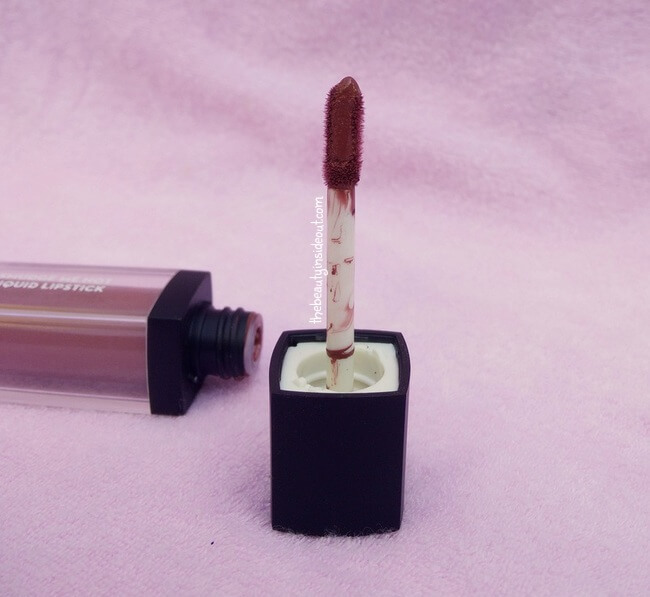 Texture & Application: The liquid lipstick has a creamy and medium consisitency that spreads easily without tugging or pulling. It takes less than a minute to dry and once dried, it sets into a complete matte finish. The lipstick is quite light and comfortable on the lips. The formula is brilliant with its smudge proof, water proof and transfer proof finish; it does not budge even an inch once it's set. Since this is a matte lipstick, it is a bit drying and tends to accentuate lip lines as time goes on, but it's nothing that can't be sorted out by prepping your lips. So ensure to prep your lips thoroughly.
Shade : The shade 03 Tan Fan is a deep mauve with red undertones. A lot of shades appear different in different lightening and it applies for this too. On my fair to medium skin tone, this shade exhibits a prominent reddish hue under direct sunlight/daylight whereas during the nights and in indoors it looks as a deep mauve. Nonetheless, the shade would universally flatter every skin tone and can be worn any day as it is not a brightening kind of shade that looks too over the top.
Pigmentation : The pigmentation is spot on delivering complete opaqueness in just one swipe. It easily covers heavily pigmented lips which is very impressive. This shade does not leave any stain behind.
Longevity: The staying power is very commendable. It is long lasting that it stayed on me for 8+ hours. Upon oily food intake, the color tends to wear off from the inner center of the lips otherwise it stays intact with food and water. At the end of the day, a heavy oil based remover is required as its tad bit difficult to remove.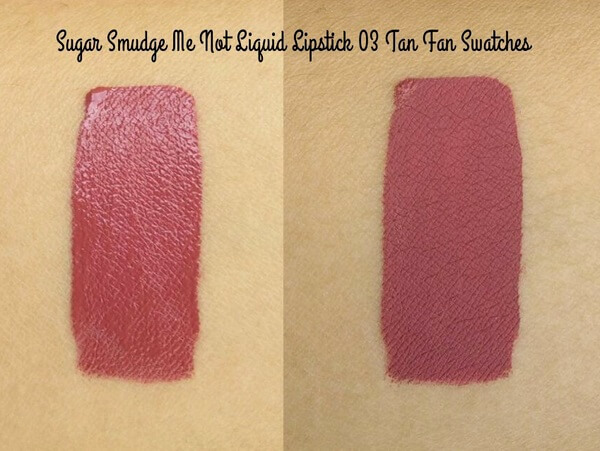 Pros:
Lovely shade range.
Good quality doe foot applicator gives precise application.
Creamy consistency glides onto the lips smoothly.
Sets into a comfortable matte finish.
Smudge proof, Transfer proof and Waterproof Formula
High color pay off in single swipe.
Long lasting.
Affordable price.
Cons:
Can be drying and accentuates fine lines.
Prepping your lips is mandatory.
Removal of the lipstick is difficult, requiring an oil based remover.
In short, Sugar Smudge Me Not Liquid Lipstick in the shade Tan Fan is a beautiful everyday mauve that would suit all skin tones. It comes in an affordable price range and the formula, color pay off and staying power is something that would lure lipstick lovers to go crazy over this even though it can be drying at times. I would highly recommend this for those who love liquid lipsticks. Worth giving a shot!
So that's all about the Sugar Smudge Me Not Liquid Lipstick. Have you tried these? Share your thoughts in the comments section below.
Also check out my other reviews on
Until Next Time,
Stay Beautiful♥