Recently I stumbled upon MC's Lunchbox, a food delivery service that provides home style cooked food at your doorstep. It is based in Chennai, and me being here, I thought why not try it and placed my order with them. Before sharing my experience with MC's Lunchbox, let me give a brief introduction about them.
About MC's Lunchbox :
Started by Kripa Devi Dharmaraj in 2013, MC's Lunchbox offers yummy yet healthy choice of food for all age groups. They have a wide variety of lunchboxes ranging from South Indian to North Indian and International Cuisines, all of which are available for breakfast, lunch as well as dinner. Orders for breakfast and lunch must be placed prior to the day of delivery whereas for dinner you can place at the day of delivery before 11 am. They deliver throughout the city for even a single box order. You can explore more about lunch box varieties on their official website .
My Experience with MC's Lunchbox :
So last Monday I placed an order for their Daily Different Lunchbox for lunch. They have options to choose a time slot, so I chose 1 to 1.30, still they delivered earlier at around 12.30. I was glad that at least it wasn't late. The box I chose costs 126 INR and I had to pay 157 INR of which 15 INR is for delivery charges and the rest is VAT and Service Tax. The delivery charge depends on your locality and number of box ordered. I went in for Cash On Delivery but they do have online payment options too. At the end of the day, the customer care person called and enquired about the food quality and for feedback.
Coming to the packaging, the food was packed in a disposable plastic tray kind of box which was covered with a transparent plastic wrapper. The wrapper was sealed in properly that I had to put some force to tear the wrapper. The whole box came in a normal white plastic cover with just my name, contact no and lunch box type written. No other thing was written on it, there was no logo or designs or anything , it was just plain. In all, I would say the packaging was user-friendly, nothing much to boost or complain about.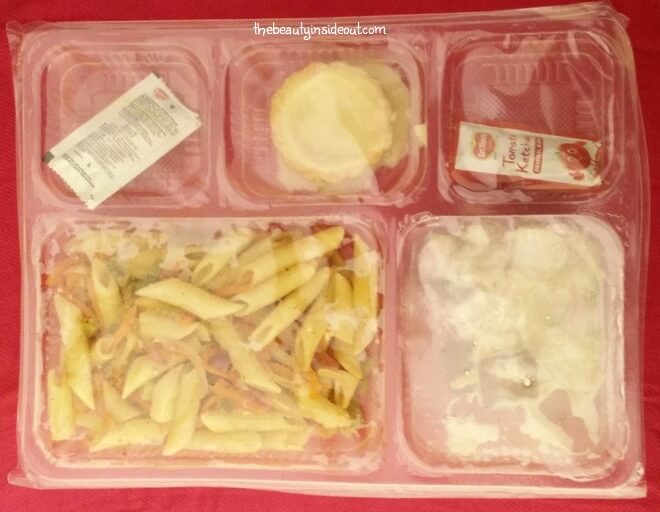 Coming to the food, Daily Different Lunch Box holds international cuisine food. In this type of box, the items change everyday so the day I ordered, the box contained three items.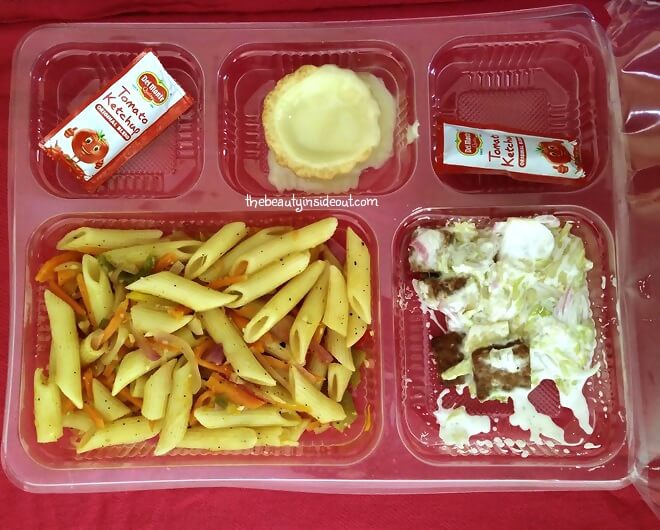 1.Pasta
Pasta was the main course of the box and I found the portion to be quite reasonable. Heavy eaters may beg to differ. The dish was made with penne pasta mixed with stir fried carrots and bell peppers. The pasta was cooked well, tasted flavourful and had a prominent oregano aroma. Two sachets of ketchups was given along with this. I was content with it.
2.Salad
This was my most favourite in the box. The salad tasted so heavenly and had Iceberg Lettuce, Onions, croutons and of course the mouth watering mayo dressing which made the whole salad so relishable. Being a salad, the portion was small but people like me who loves salads would crave for more.
3.Dessert
And the final item was the dessert. For the dessert, I got a tart. Some of the filling in the tart had been poured out into the box so I had to manage with the left over filling. I found the pastry to be a tad bit underbaked and the filling was nice and sweet, tasted like vanilla.
In all, with the daily different lunch box, I had a satisfied lunch. On the whole, I would rate the Daily Different Lunchbox as 3.5/5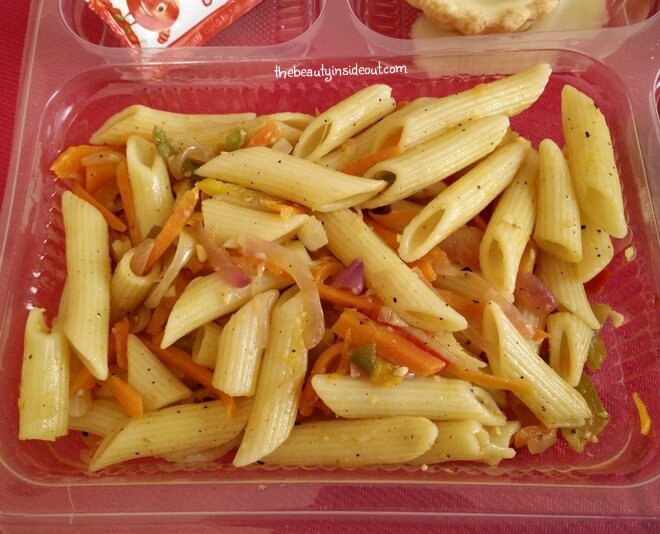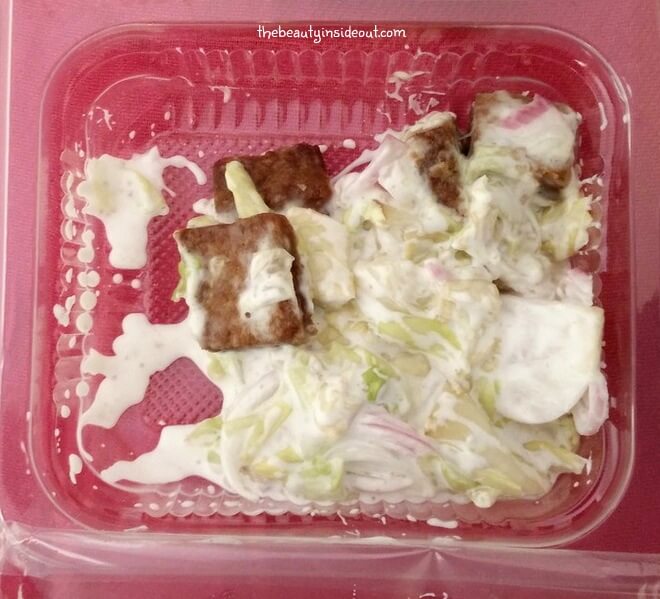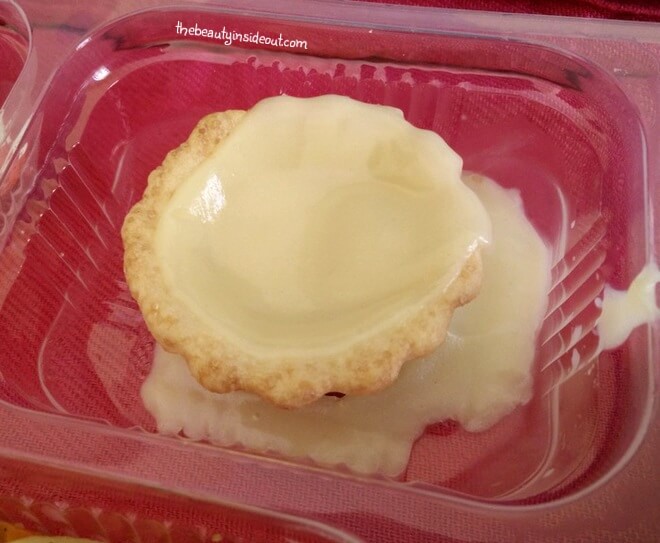 Before coming to a conclusion on their food and service, I wanted to try them again. I didn't want to judge them with just a one time meal. So yesterday I happened to try their South Indian Lunch Box. This box costs 112 INR and I paid 141 INR which included delivery charges(15 INR) + VAT + Service Tax. Again I received the box early, way too early at around 11.30 A.M which made me think why do they even ask for a time slot if they decide the delivery time.
Anyway coming to the food, the South Indian Lunch Box contained quite a few items.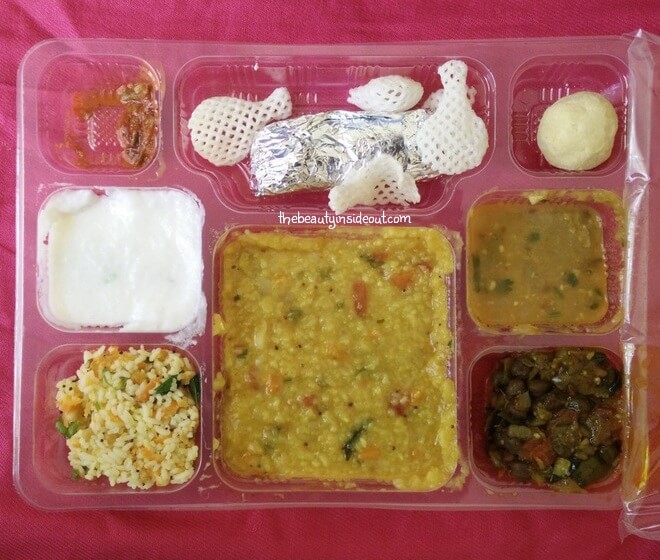 1.Bisibelabath
Bisibelabath which is nothing but lentil rice was the main course of the box. It tasted perfect with the right amount of spice, salt and flavor. Simply home styled.
2.Carrot Rice
This box holds one type of variety rice everyday and it was carrot rice on that day. I'm not a great fan of carrot rice still this one tasted good.
3.Curd Rice
I am a curd rice person and I would say the curd rice was perfectly made. It didn't taste too sour or too bland. I loved it.
4. Stir Fry Veggie

We call it poriyal. It was a mix of black chickpeas and brinjal and it tasted really good. It did go well with all the rice varieties. Loved this one too.
5.Chapathi
There was one medium sized chapathi which was soft enough and not heavily oiled. This one was good too.
6. Subzi
I was provided with a Moong Dal Subzi as a side dish for the Chapathi. I don't like Moong Dal much so this was my least favourite in the box even though it tasted decent.
7.Pickle
I had the chapatti with the mango pickle and the combination was much better than when had with the dal.
8.Dessert
It was a Moong Dal Ladoo that tasted sweet and savory. It was good.
9. Cracker type papad
In all, the South Indian Lunchbox was very filling for me and the portions were of decent size. On the whole I would rate the food as 4/5.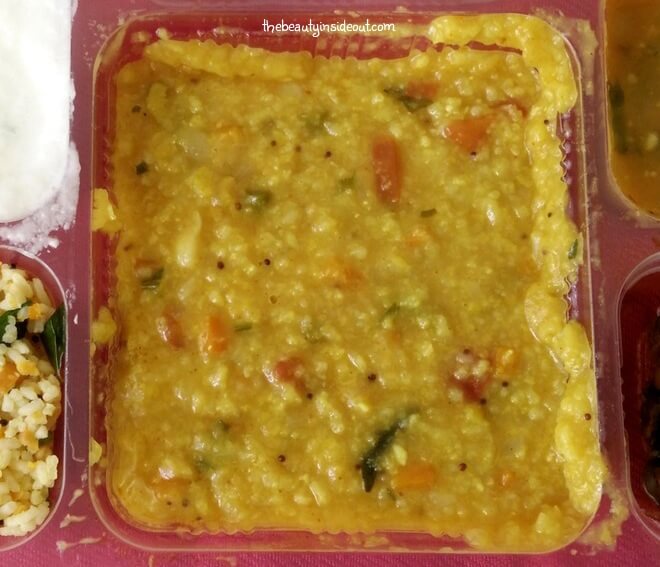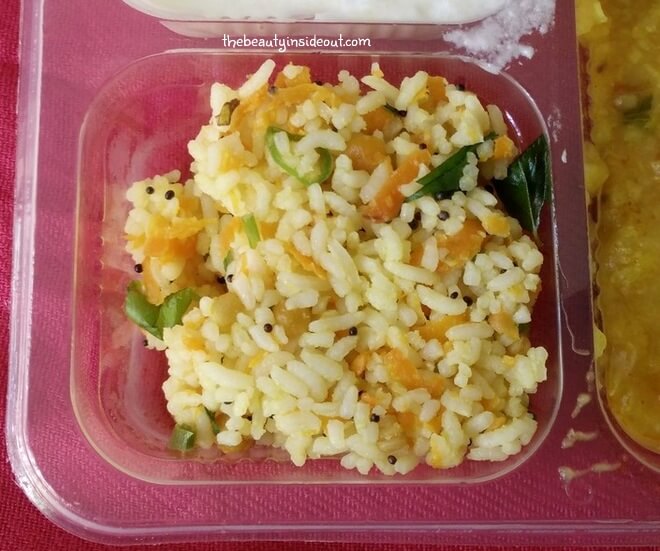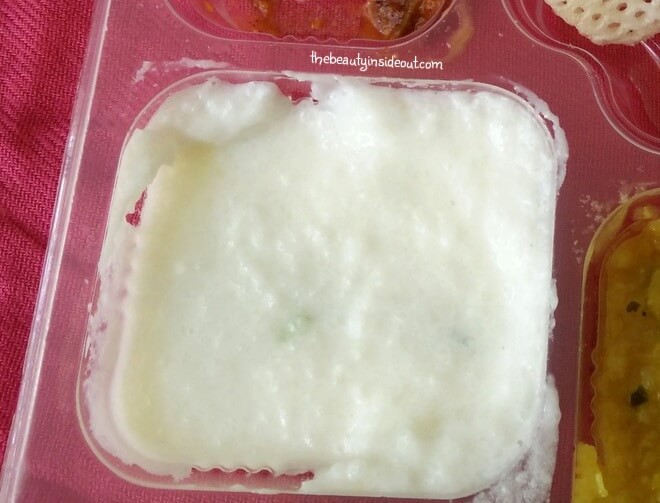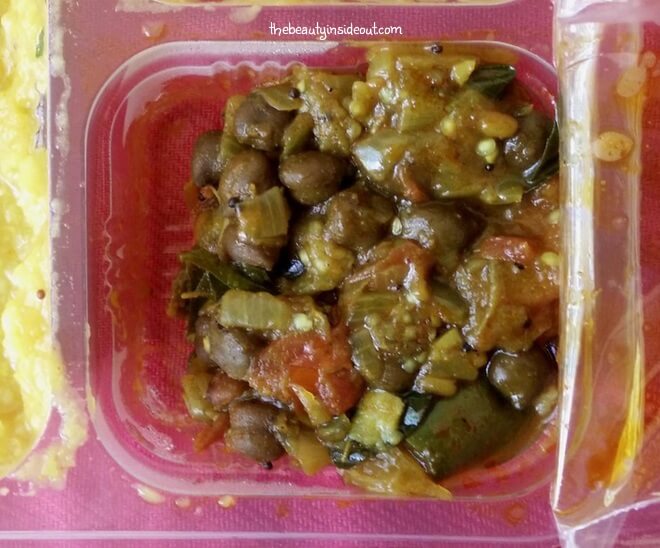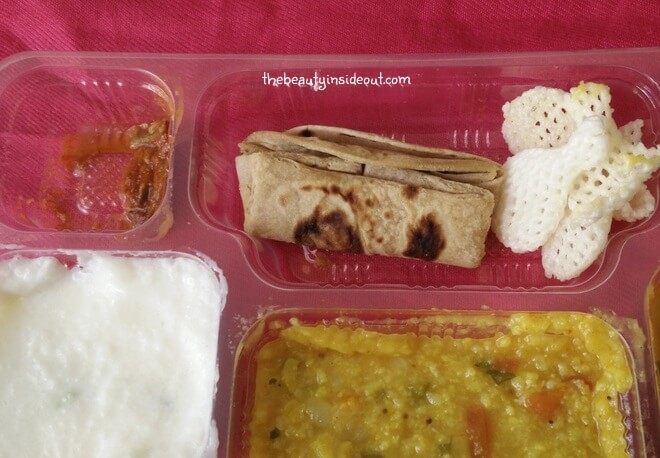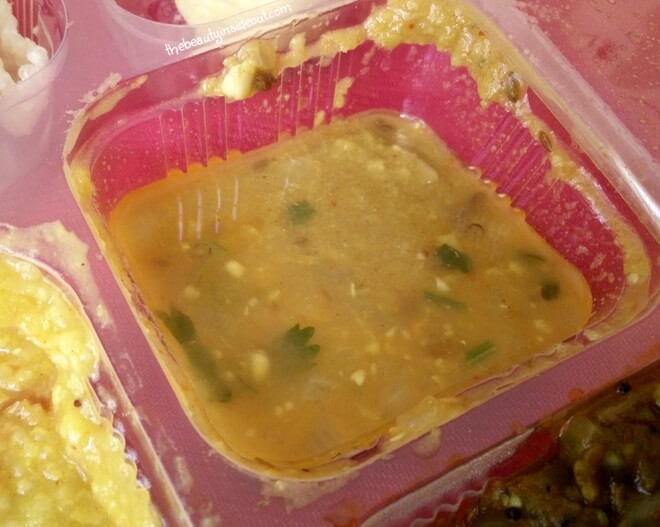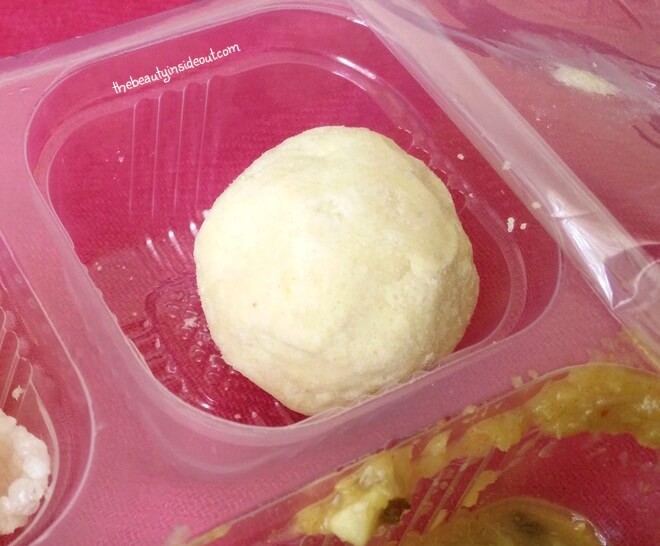 Summing up the pros and cons of MC's Lunchbox
Pros:
Healthy home style cooked food.
None of the food I tasted was too salty, spicy or oily. So it would suit for people of all ages.
Wide variety of lunch boxes to choose from.
Delivers throughout the city and not restricted to specific localities.
User friendly online portal makes ordering super easy.
Readily available customer care support.
Cons:
Order should be placed earlier and so you cannot just order when you are hungry or whenever would want.
No receipt was provided upon delivery.
Food is delivered at their own convenience.
Portions of the dishes are smaller for the price paid.
Delivery charges are calculated based on the number of boxes. I had to pay 30 INR for two boxes and 45 INR for 3 boxes and so on. Weird! Because the same person delivers all the boxes ordered.
In short, With the availability of different type of LunchBox varieties, MC's Lunchbox delivers healthy home style cooked food at your door step. The overall taste of the dishes I tried were good but nothing extra ordinary to go gaga over it. You can try MC's Lunchbox once in a while or if you are a student or working person who has no time to make your own food.
So that's it guys. I hope you find this post useful. Have you tried ordering from MC's Lunchbox? Are there any such service in your locality? Share your thoughts in the comments section below.
Until Next Time,
Stay Beautiful♥
*This was my experience with MC's Lunchbox. You may or may not receive the same service.