Clogged pores is a major issue for girls like me who are born with oily skin. Not that dry skin types won't have clogged pores, it just that our oily skin produces excess sebum which rapidly clogs pores and thereby causes more breakouts. In order to prevent this, it is much needed to follow a proper CTM routine on a daily basis. In addition to that, it is ideal to use a deep pore cleanser once a week to unclog pores and reveal the clearer inner skin. Today we shall see about a deep pore cleanser from Aroma Essentials that effectively works for blackhead removal.
Firstly, let's quickly see what the packaging says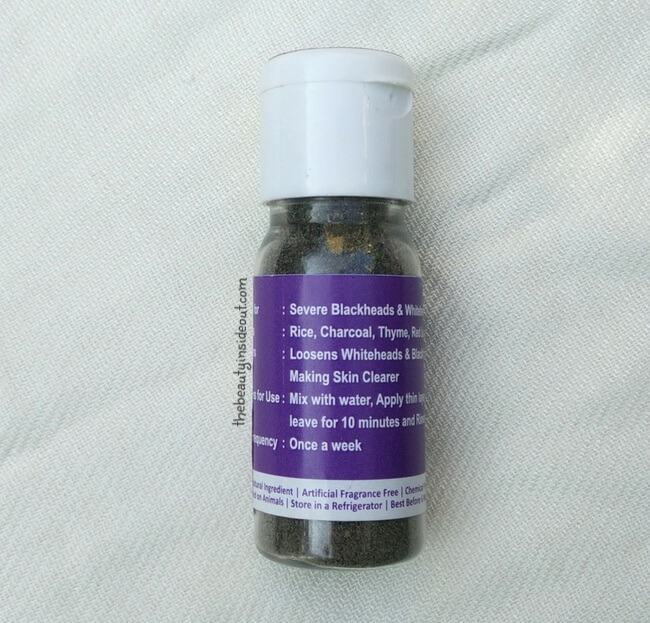 Suitable for : Severe Blackheads and Whiteheads
Ingredients : Rice, Charcoal, Thyme, Red Lentils(Masoor), Oats
Functions : Loosens whiteheads and blackheads making skin clearer.
Directions for use : Mix with water, Apply thin layer, Leave for 10 minutes and Rinse Off.
Frequency : Once a week
Price : 200 INR for 25 gm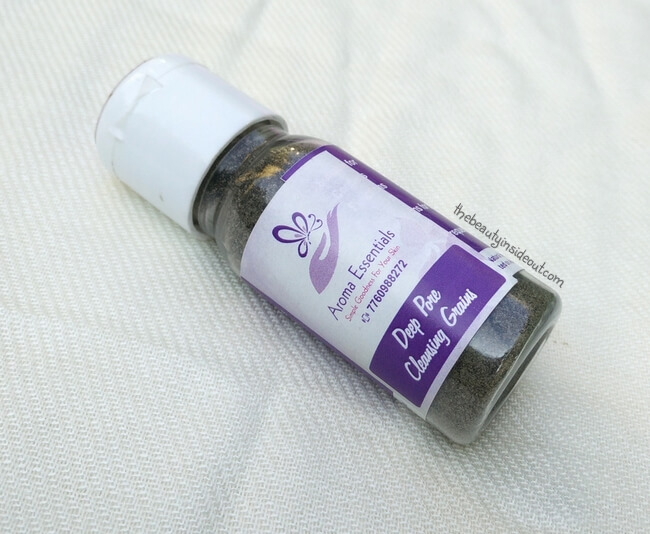 An All Natural Deep Pore Cleanser for Blackhead Removal
Packaging: Aroma Essentials Deep Pore Cleansing Grains are packed in a small plastic bottle with a flip top cap. It has an inner enclosing which secures the product even further. This kind of packaging is travel friendly, hygienic, convenient to use and also saves us from the need to use a spatula; I have seen most dry powder grains come in a tub form!
Fragrance : The cleansing grains has a strong aroma of thyme which does linger throughout the application as well as a few minutes post washing. The fragrance is soothing to my senses, yet it might be overpowering for some.
Texture : The deep pore cleanser is in a dry form and has an uneven texture which is neither too finely nor too coarsely grinded. Upon mixing with water, the cleansing grains does not melt and become a fine paste, instead it stays slightly coarse yet does not feel harsh on the skin.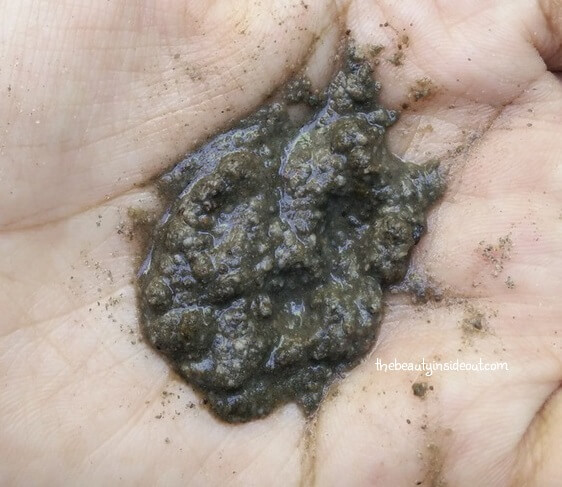 How I use it for effective blackhead removal?
Before telling you all how I use it, I'll tell you my skin type and issues so that it'll be easier to relate if you have similar skin type. At the moment, I have combination skin where my forehead, nose and chin gets oilier faster whereas my cheeks are so drier that I need to slather a good amount of moisturizer to keep them nourished. On to my other issues, I have prominent blackheads on my nose that needs to be taken care of regularly and a few tiny whiteheads above my chin.
Coming to how I use it, Once a week I apply this as a face mask after steaming my face for a good 10 minutes. I always prefer to steam before using any deep pore cleanser as they aid in opening up the pores and thus can be easier to remove my stubborn blackheads. Even though the cleansing grains are slightly bumpy, it does not feel scratchy on the skin and spreads very easily on moist skin.
Immediately upon application, my skin starts getting a cooling sensation that tends to intensify as time goes on and it might easily pass off as a tingling feeling if you have sensitive skin. After 10 minutes, if the face mask is dry I dampen my skin and start scrubbing, if not I still slightly dampen my skin and start scrubbing ;)It's very bad to scrub on dry skin. While scrubbing, I concentrate on my problem areas (nose and chin) and scrub in circular motion using a light hand. And then I rinse it off with normal tap water. If you can, use lukewarm water to wash off the mask and finish it off with cold water to close your pores. The cooling sensation still lingers for about half an hour post washing. Finally I apply a layer of Aloe Vera Gel to soothe my skin. You can use any moisturizer you prefer.
The end result is very commendable. All my blackheads and whiteheads were completely gone and I was left with a clearer and smoother skin. The face mask cum scrub is not at all drying and leaves the skin well hydrated and moisturized. Very oily skin types can even skip a moisturizer post washing.
Overall, I would highly recommend this for those with severe blackheads and whiteheads problems. It does it job effectively and efficiently that I might repurchase this once it gets over. Sensitive skin types might need to think twice before getting this, apart from that it would suit all other skin types, be it oily, dry or combination.
Summing up the pros and cons of Aroma Essentials Deep Pore Cleansing Grains
Pros:
Made with finest natural ingredients.
User friendly and travel friendly packaging.
Product is made in small batches to preserve its efficacy.
The cleansing grains are not harsh on the skin.
Efficiently gets rid of blackheads and whiteheads.
Skin looks clearer and healthier post washing.
Gives a soothing cooling sensation (that's a plus for me).
Dermatologically tested.
Cruelty-Free.
Cons:
Might not suit sensitive skin types.
Strong Fragrance might bother some.
Slightly expensive for a 25 gm product.
In a short, Aroma Essentials Deep Pore Cleansing Grains is an all natural deep pore cleanser that aids in effective whitehead and blackhead removal. Made with its finest ingredient, it stays true to its claim and exfoliates well making the skin clearer and healthy looking without causing any dryness. This is a product that is worth a try!
Rating: 4.5/5
So that was all about Aroma Essentials Deep Pore Cleansing Grains. Have you tried this? What methods do you follow for blackhead removal? Share your thoughts in the comments section below.
Also check out my other posts on