Today I am going to share my views on Wet n Wild Color Icon Eyeshadow Palette Comfort Zone. This is a warm-neutral eye shadow palette containing a total of 10 eyeshadows. No makeup kit is complete without a neutral toned eyeshadow palette because these nude palettes can serve many purposes. With just one neutral eye palette you can do your blush, highlight and contour. that is why I like to travel with such palettes instead of individual products for each step of makeup. I do not apply makeup on a daily basis so buying expensive face sculpting products often feel wasteful as I might never be able to finish any of them before their expiration time. The palette I am going to review today has warm undertone and this particular undertone complements Indian skin tones quite well. Here is my take on this product.
Product Description:
Wet n Wild Color Icon Eyeshadow Palette Comfort Zone is powerfully pigmented, buttery-soft and glides on like a dream. The reformulated color icon hues come in a mix of coveted colors, from shimmery daytime hues to sultry shades for cocktail hours-including new matte transitional shades for impeccable blending.
Ingredients: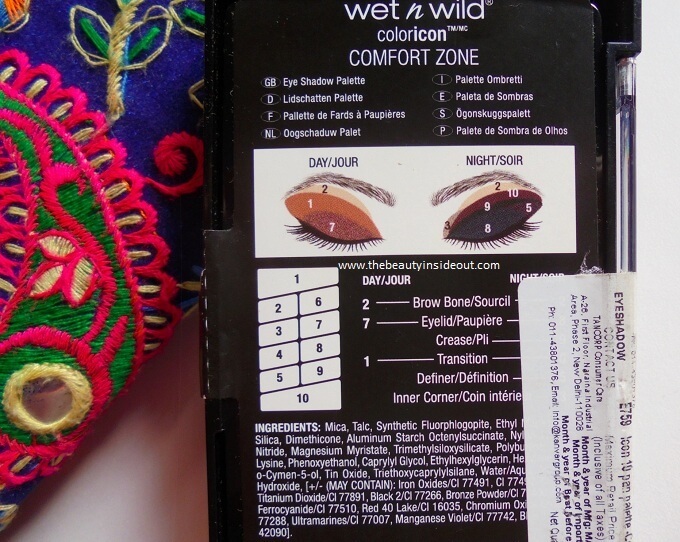 Price: Rs.499 for 8.5gm
Where to Buy? Wet N Wild products are generally available in various online shopping websites in India. You might also find it in some selected beauty stores but none of them are certified sellers of Wet n Wild in India as per my knowledge. I have bought this particular eye shadow palette from Amazon. You might also find it on Flipkart, Nykaa etc. Look out for sales if you want to avail discounts.
Wet n Wild Color Icon Eyeshadow Palette Comfort Zone Review
Packaging: This palette comes in a black plastic case with see-through lid. The packaging is sturdy but it might break if you drop it. The packaging is sleek and the lock mechanism is also strong. The complete ingredient list and a precise how-to has been provided by the brand which is great for a beginner like me.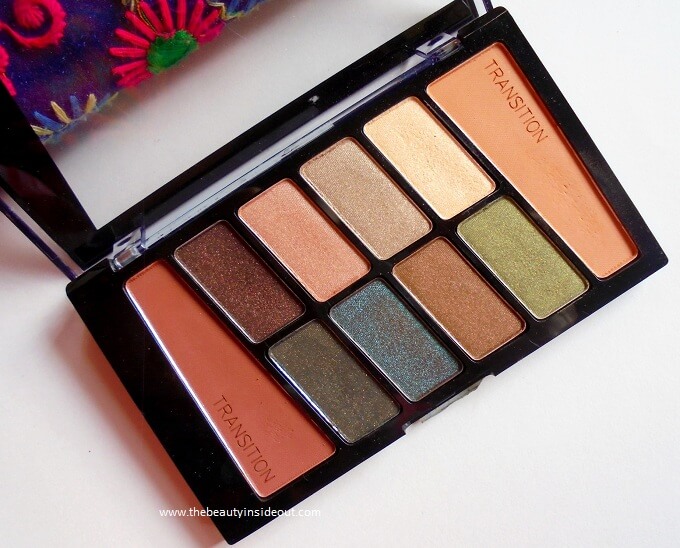 Shade & Texture: There are 10 eye shadows in the palette; 8 of them are shimmer shadows while the rest two are matte transition shades. Shades are numbered from top to bottom. That means, the transition shade on top is number ! and the bottom one is 10. The left column of shimmers are numbered from 2 to 6 while the right column contains 6-9. Let's talk about shades one by one;
Shades 1 & 10– 1 is a warm peach brown shade and 10 is a mauve brown. Both shadows are smooth and creamy, have minimum fallout and blendable texture. These can also be used as blush. These two are among the best shadows from the whole palette.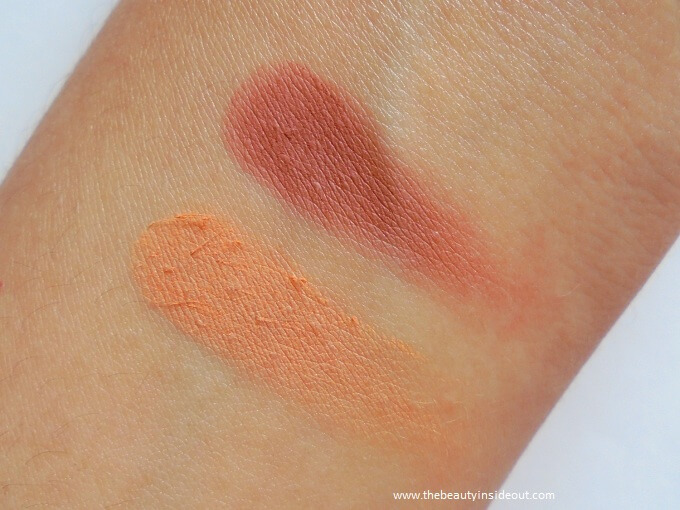 Shades 2, 3, 4, 5– 2 is a pale yellow-gold shadow; works best as brow bone highlighter or lid colour for gradient eye looks. This one is the most powdery shadow and has high fallout. 3 is a champagne gold shimmer shade with creamy and blendable formula. The shimmers are finely milled making this one a nice alternate for highlighter for medium skin tones. Shade 4 is a rose gold shadow again with warm toned shimmer. This one is also a good quality shimmer with creamy formula. Shade 5 is a cool toned deep brown with multicolour shimmers. On the eye it looks almost black-brown. This is a perfect shade for outer V.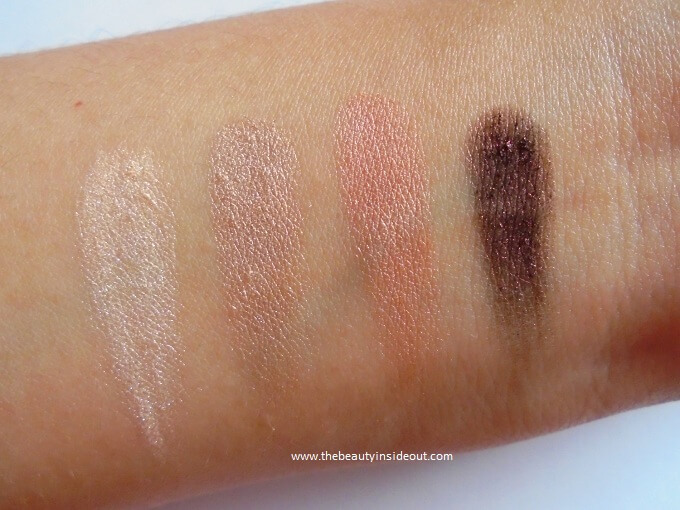 Shades 6, 7, 8, 9– Shade 6 is a light warm green colour with golden shimmers. The shade has blendable texture but there will be some fallout as well. 7 is a bronze with golden shimmer. the formula is creamy and has less fallout like the rose gold one. The 8 shade is an unique blue-green unicorn colour with multicolout shimmers. Though this shade looks quite pretty in pan, on eyes it looks dark blackish. Shade 9 is a dark khaki green with chunky glitters of golden colour.The shade looks almost black on the eyes.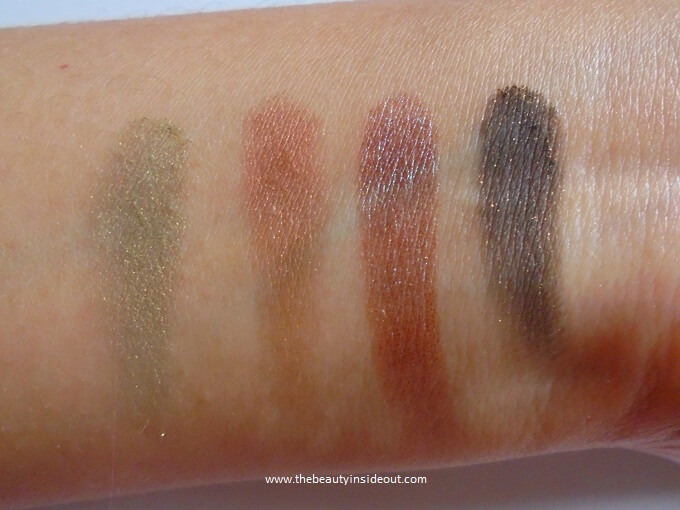 Fragrance: All shadows of this palette are fragrance-free.
My Experience: I don't use makeup daily and my eye shadow skill is still at beginner level. I wanted some shimmer plus matte eye palette so that I can learn a few basic eye makeup looks. That is the reason I bought this eye palette. This palette has all warm-neutral shades which goes well with most Indian skin tones. The shades are quite pigmented. They show up without any base on my pigmented eye lids though the shades come out more vibrant if used after priming the lids. The shades blend well but some shimmer shades have fallouts. So, I use the shimmer ones with fingertips while the blending brushes work just fine for the transition shades. I generally do easy gradient eyes with 2-3 shades. The stay time is more or less 5 hours with this shadows; with priming the time increases.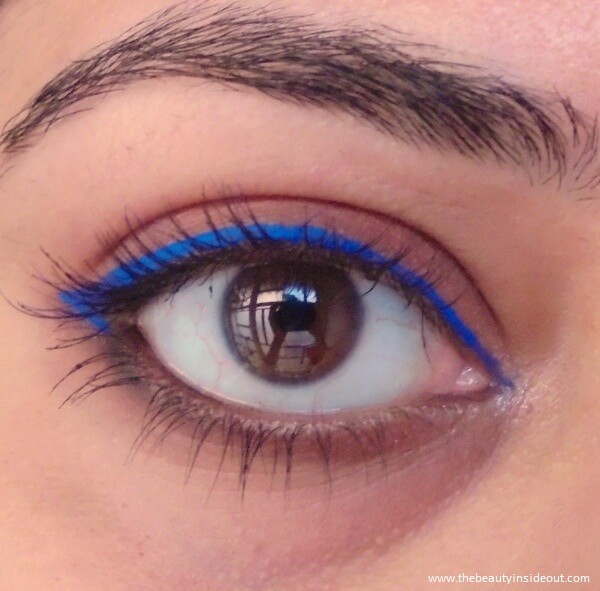 Pros:
All warm-neutral shadows
Good mix of shimmer and mattes
beginner friendly kit with thorough instructions
Awesome pugmentation
Blendable shadows
Stay time is also good
Pocket-friendly
Cons:
Shadow number 2, 6 has fallout issue
5 and 9 number shadows look blackish and almost same on eyes
The unicorn tone of shade 8 looks like plain brown shimmer on eyes
Rating: 4.75/5
Would I Recommend? I won't say this palette is excellent but for the price this is one of the best neutral palettes for beginners and advanced users. There is a good mix of mattes and shimmers and each of the shades is pigmented. You can use it to create multiple basic eye looks. So, I would definitely recommend this.
Related reviews: