Nude lipsticks have an universal appeal to which every girl can relate to. Nude lipsticks look good with full face of makeup as well as no-makeup. Whenever I have doubt regarding lip shades, I apply a comfortable nude. The beauty of neutral lip colours is that, they vary greatly from person to person. A certain shade might take up a wonderful nude appearance in someone's lips while the same shade might look dull or dark on another. The golden rule of choosing a perfect nude shade for your skin tone is to try 2-3 shades deeper and lighter lip colours in both warm and cool category. One of them will definitely give you a fabulous MLBB look but if you try shades matching your skin tone you will be left with ashy looking lips! Today I am going to shade some light on one of the most popular budget-friendly nude lip colours available in India, Nykaa So Matte Lipstick Taupe Thrill. Read on to know more!
Product Description:
Nykaa So Matte Lipstick delivers flawless coverage and provides precise application for a perfectly contoured pout. The creamy formula gives your lips a great matte finish. The moisture rich Vitamin E extract of Nykaa So Matte! Lipstick assures soft, healthy, natural lip shade to ensure your lips stays matte-smooth all day. The creamy texture gives a smooth consistency to your lips.
Price: Rs.199 for 1.5gm
Where to Buy? Nykaa's inhouse makeup products are available exclusively at nykaa's website or app and Nykaa stores in various cities or airports. Though the travel size lipsticks from Nykaa always comes at full price, lucrative discounts are available at their bigger versions.
Nykaa So Matte! Lipstick Taupe Thrill Review
Packaging: This lipstick comes in a matte black square shaped bullet. The tiny packaging is compact and travel-safe. Bullet lipsticks tend to break from the base but this one's attachment mechanism is quite strong. The lipstick originally came in a pink water wash designed cardboard box which I have already lost! However the shade name and expiry is still ther in the bullet so I will have no issues.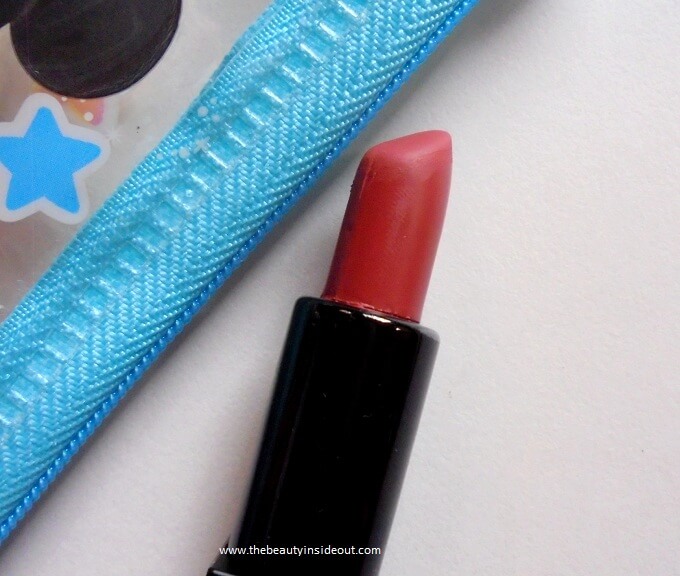 Shade & Texture: The shade Taupe Thrill  is a cool toned brown nude. Generally cool toned nudes clash with warm Indian skin tones but this one has perfect colour depth and a slight rusty tone to fit across complexions and undertones. Thos is a perfect daily wear shade for light, medium and deep Indian skin. The shade might look a bit light on NC42 and above still it will be perfect match. Though the name is 'so matte' it is not a powder matte formula. The texture of this lippy is creamy matte to be exact. The lip colour applies smoothly on the lips and do not look patchy.
Fragrance: This lipstick has a light vanilla fragrance. I have used other Nykaa lip products and majority of them has this particular smell. The fragrance do not feel heavy and goes off when the lipstick settles down.
My Experience:
I do love makeup but I don't stack up too many makeup products from same category. But, I have 2-3 neutral lip colours because I wear them the most. I have two cool toned brown lip colours; one is Maybelline's creamy matte in Nude Nuance and the second one is this Taupe Thrill shade from Nykaa. Formula wise this one is more matte but both these look almost same on the lips. This taupe thrill is a true taupe shade though it gives a faint rusty tone under sunlight. On flash pictures the shade looks more neutral. I wear this shade with a little kajal and a sheer layer of foundation to get a go-to day look. I have also tried this with intense smokey eyes and it still looks beautiful. My cousin has true warm undertones to her skin, This shade looks more brown on her lips. She can even use it for contouring. The stay time for this lipstick is 5+ hours with little touch up but it does not survive heavy meals.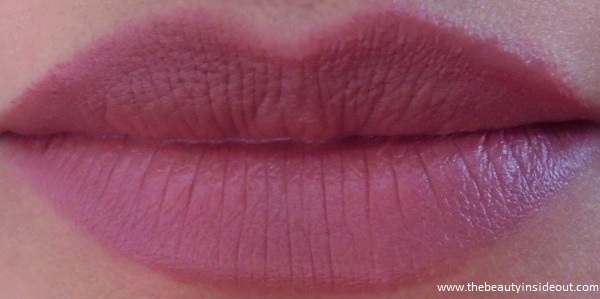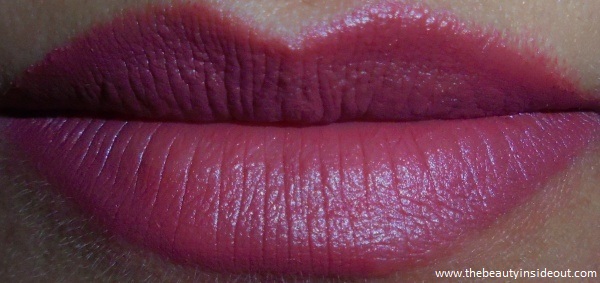 Pros:
One of the most flattering cool brown nudes for Indian complexions
Moisturizing matte formula
Applies evenly; no patchiness
Feels comfortable on lips
Does not dry out or settle into fine lines of lips
Pocket friendly
Travel-size is available for trial
Cons:
Formula is not transfer-proof
Requires reapplication every few hours for someone who is talking, having drinks or meals
Rating: 4.5/5
Would I Recommend?
Nykaa So Matte Lipstick Taupe Thrill is an universally flattering neutral brown shade that looks fabulous on everyone. I would definitely recommend it to all.