The Face Shop Real Nature Rice Face Mask Sheet – This is the second sheet mask that I got in the TFS Experience Kit. I used it yesterday and here are my 2 cents about it.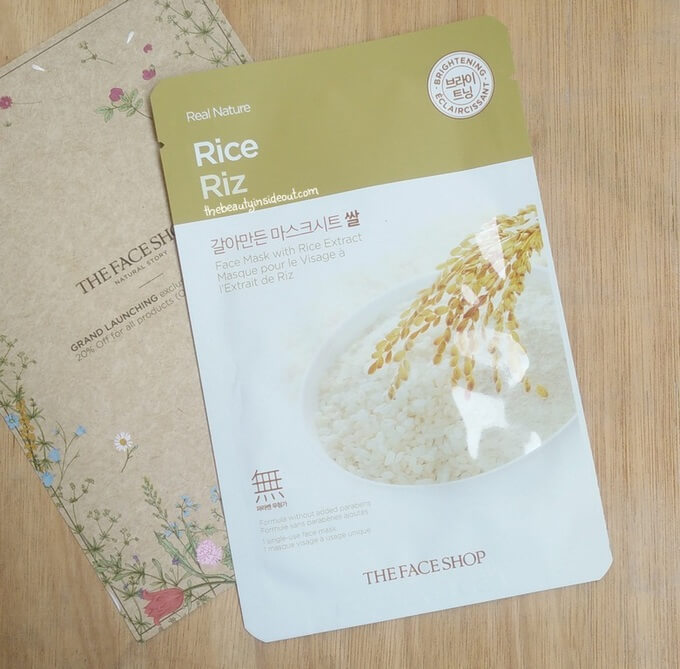 Packaging: This is a single use sheet mask that came in a usual rectangular sachet that needs to be teared open. Since this is the rice variant, it had the picture of rice grains on the front side of the sachet and product details, directions, date of manufacture and everything on the back side. I would say the packaging is pretty decent making it easy to take it for travel.
Fragrance: The Rice Face Mask has a mild fragrance. It definitely does not smell Rice. It's somewhat artificial but not irritating. The scent does not tend to intensify too and stays as long as the mask is on.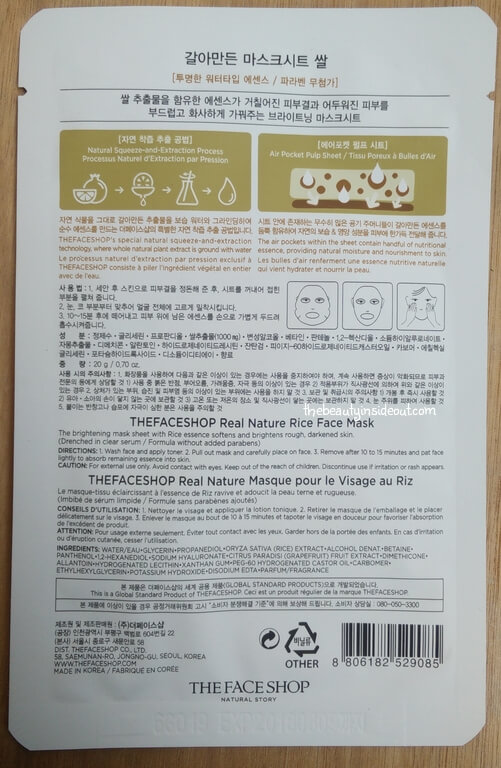 How I used The Face Shop Real Nature Rice Face Mask Sheet?
After cleansing and toning, I teared opened the sachet and placed the sheet mask on my face. The fitting was good and it adhered smoothly onto my skin. There was no serum left over on the sachet. I let the mask sit for 20 minutes and it was still wet when I removed. During the entire time, I didn't have any tingling or cooling sensation. My skin felt totally normal except for the feeling that I had a sheet on my face. After removing the mask, my skin felt sticky and oily. I always let the moisture absorb for a few seconds and then apply a layer of aloe vera gel. But with this sheet, the moisture refused to soak in and my skin was still oily. I went ahead to apply a layer of aloe vera gel, but my skin felt even more oilier. I don't know if there was something wrong I did in the procedure, but I felt there was an overdose of moisturization that my skin refused to accept. Moreover I did not find any extra glow or brightness after using this sheet mask. Overall, it was an average sheet mask for me. It is a highly moisturizing so it might suit dry skin and extra dry skin types. Whatsoever don't expect any glow or brightness.
Pros:
User friendly and travel friendly sachet.
Mild fragrance.
Good fitting.
Proper details of product is mentioned.
Formulated without parabens.
Highly moisturizing.
Suitable for dry skin types.
Cons:
Strictly not for oily skin types.
Does nothing extraordinary.
Contains alcohols and chemicals.
Rating: 2/5
Recommendation: No
That was all about it. Have you tried The Face Shop Real Nature Rice Face Mask Sheet? Which was your favourite variant among them? Share your thoughts in the comments section below.
Also check out
Until next time,
Stay Beautiful♥