It's been a long time since I posted something on the blog. Sorry guys for being MIA. Personal life took a toll, my 11 month old got sick with pox after she caught it from her dad, so it was really a disheartening month with two of my lovables being sick back to back. By Almighty's Grace she's been recovering well and I'm back to work.
Today I'll be sharing my experience with two products from the newly launched Mama Earth Mama Range of products. The brand is well known for their non-toxin baby care products. I was happy when they first launched their products because finally an Indian Brand has come up to provide us safe and non-irritating baby products. On Mother's Day they launched an entire range of products for us mamas which includes C3 Face Mask, Argan Hair Mask, Nipple Butter, Under Eye Cream, Body Wash, Body Lotion, and so on.
I received Mamaearth Calming Body Wash & Body Lotion as a part of PR package before the launch, and I've been using them for a week now and wanted to share my initial thoughts on it with you all.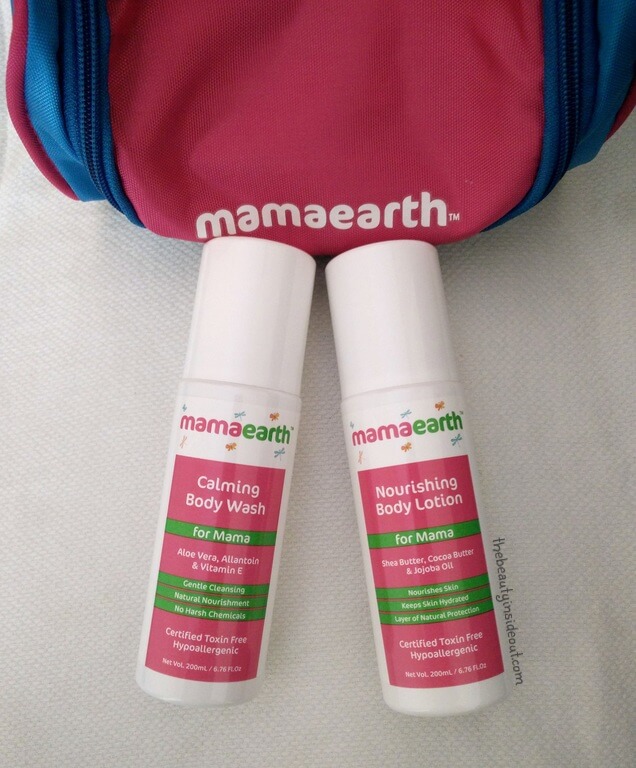 Packaging: Both the products have exactly the same packaging. A very sturdy plastic bottle which I'm sure going to reuse it in some way. It comes with a double cap as you can see. So it is super secured and though bulky, you can travel with it without any fear of spillage. All product details are perfectly mentioned on the packaging, be it the ingredient list or the expiry date. I also love the color combo of pink and white for the entire mama range of products.
Mamaearth Calming Body Wash Review: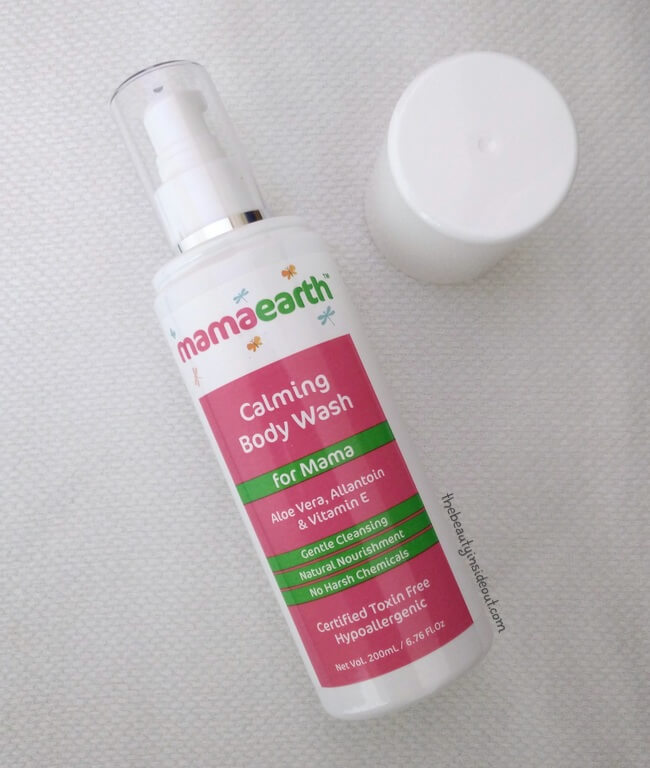 Product Description: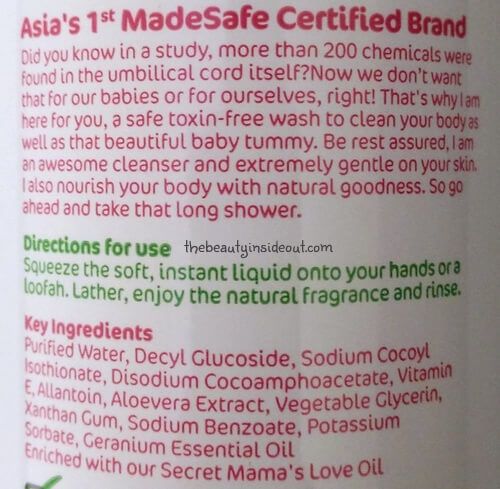 Price: Rs.349 for 200 ml. You can buy it from Amazon, Nykaa or their official website mamaearth.in
My take on Mamaearth Calming Body wash:
The first thing I always notice in a body wash is its scent. If I like the fragrance, then I'm in for it. This body wash has a calming and soothing fragrance of geranium essential oil. It's nice and pleasant. If you are into essential oils you'll like it. I prefer using a loofah with this body wash as the lather is minimal when used with hands. I'm ok with less lathering because I'm used to SLS free products and fyi this one is SLS free too. It does its job of cleansing thoroughly making the skin feel clean and fresh. It did not overly dry out my skin but I always have the need to moisture my very dry skin. I didn't face any itchiness or allergic reactions hence this would suit sensitive skin types too. Overall, I find this to be a good body wash made with safe and skin-friendly ingredients. I would recommend trying it for a calming and soothing shower time.
Mamaearth Body Lotion Review: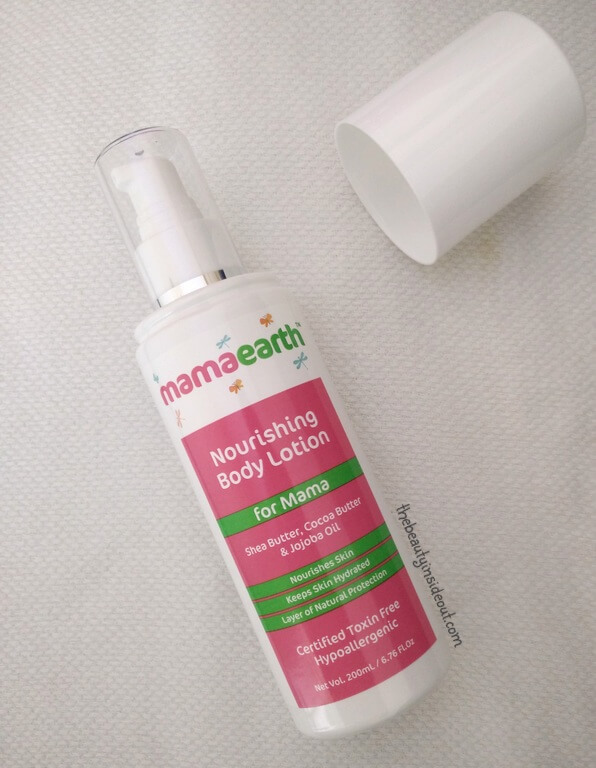 Product Description: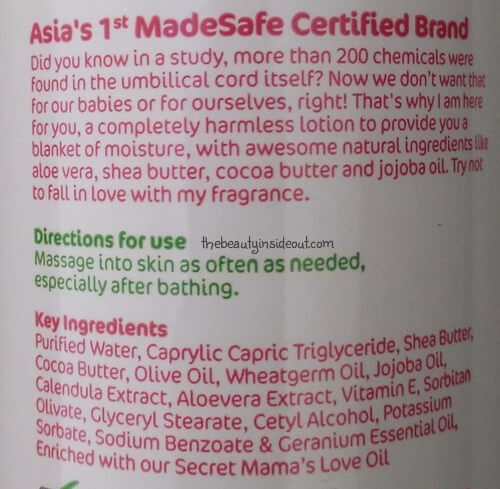 Price: Rs.349 for 200 ml. You can buy it from Amazon.in
My take on Mamaearth Body Lotion:
Mamaearth Body Lotion is milky white in color and is definitely rich with all the shea butter and cocoa butter. The consistency is perfect with the right amount of viscosity. I used it twice a day, morning and night, since I have very dry skin. I massage the lotion on my body and it gets absorbed in a minute or two providing intense moisturization and nourishment. The lotion does not make my skin greasy or oily rather it makes it soft, supple and healthy. In all, this is a good moisturizing body lotion that would suit all skin types. Since both the body wash & lotion smell exactly the same, they go hand in hand and is a great combo to take care of your body.
Pros:
Sturdy and clean packaging.
Soothing geranium oil fragrance.
Formulated with skin-friendly ingredients.
Formulated without silicones, sulphates, parabens, mineral oil and other harsh chemicals.
The body wash cleanses the skin effectively and efficiently.
The body lotion provides moisturization and hydration for a long hours.
No allergic reactions or skin irritations.
Suitable for all skin types.
Cons:
Rating:
Mamaearth Calming Body Wash: 4.5/5
Mamaearth Body Lotion: 4.5/5
So that was all about Mama Range of Mamaearth products. Have you tried these? Share your thoughts in the comments sections below
Also check out:
Until next time,
Stay Beautiful♥