I found out about Pimple Patches a year ago when I came across Cosrx Acne Master Pimple Patches. From then onwards, I always had one set of cosrx patches with me for those unwelcomed zits and pimples. The Face Shop Dr.Belmeur Clarifying Spot Patch Kit has one such type of patches in it, but with something more. Read to know if these patches are worth buying.
Product Description:
A two-way spot soothing and protecting patch kit that guards skin against external contamination and helps protect wounds and absorb discharge. Contains 80 patches (40 + 20 x 2)
Ingredients & How to use The Face Shop Dr.Belmeur Clarifying Spot Patch Kit:

Price: Rs.790. These are a bit cheaper than Cosrx. We get 24 patches in Cosrx for about Rs.250 whereas we get 80 patches in this kit for 790, its often available on discounts and I got it for Rs. 530.
Packaging: The Face Shop Dr.Belmeur Clarifying Spot Patch Kit comes in a white plastic zip lock pouch. Inside of which we have 3 smaller pouches. 2 set of hydrocolloid patches with 20 patches each of varying sizes and 1 set of Spot plaster bands with 40 patches of equal size. The smaller pouches doesn't have a zip lock but they can be stored safely inside the bigger pouch. The patch sheets are translucent and are about the size of my palm. It's very easy to misplace them or lose them elsewhere. So I had to be careful on where I keep them. The pouch has every detail about how to use the patches, its ingredients and what each type is meant for, so beginners can just read them and use them accordingly.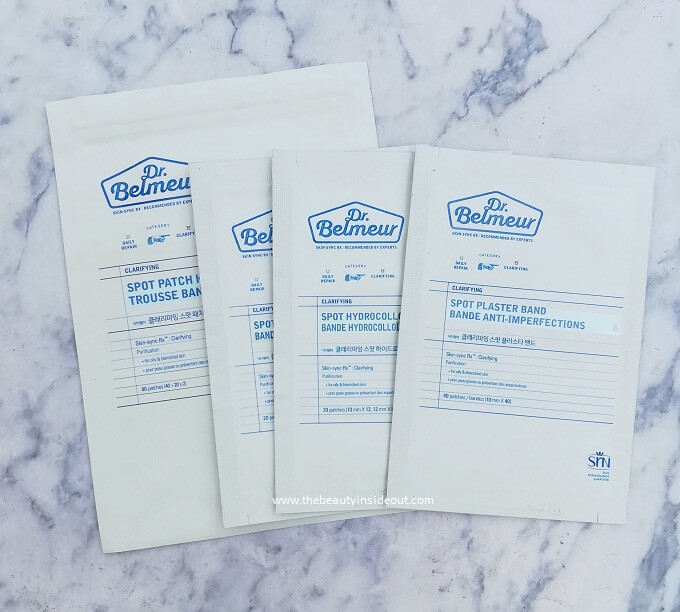 My Experience with The Face Shop Dr.Belmeur Clarifying Spot Patch Kit:
Spot Hydrocolloidal Bands: These come in 2 sizes, one for smaller pimples and the other for bigger ones. Both are round in shape and are a bit thicker than the plaster bands. One side of the band has an adhesive and the outer side has a soft matte finish. The bands don't look too obvious on the skin but one can easily notice that you have it on your skin. The hydrocolloid bands are to be applied on cleansed dry skin so they stick to the skin properly. The patches cannot be put on moist or wet skin. You can continue with your rest of the skincare routine after putting on the patch. Because once the band is adhered to the skin, they do not move and stay put until we remove it. Generally you do not need to replace the patches frequently. It can be left on until you see the patch go white in color, usually due to the pus collected.
The main thing with this hydrocolloidal band is they are meant to work only on pus filled zits and pustules. Even if you put the bands on a pimple that has pus filled deep inside, the hydrocolloidal band won't do anything at all. The white pus must be on the surface and visible to your naked eye, usually the one you are likely to prick with your fingers. Instead of pricking, try using this and you will be left with almost no scarring. If it's a big pimple, you can either wait or you need to pop the pimple and then apply this band. I recommend waiting to avoid scarring. This band helps to suck out all the pus from huge pimples and flatten them down nicely.
I have had huge pimples which I pricked but didn't fully remove the pus so I'm left with no pimple on the outside of the skin but when I touch I could still feel a tiny lump deep inside. These bands are useful for avoiding such left over lumps of huge pimples. As far as I've noticed small zits and tiny pimples don't leave a mark, but big pimples do leave a mark and you need to treat them with other products meant for acne marks.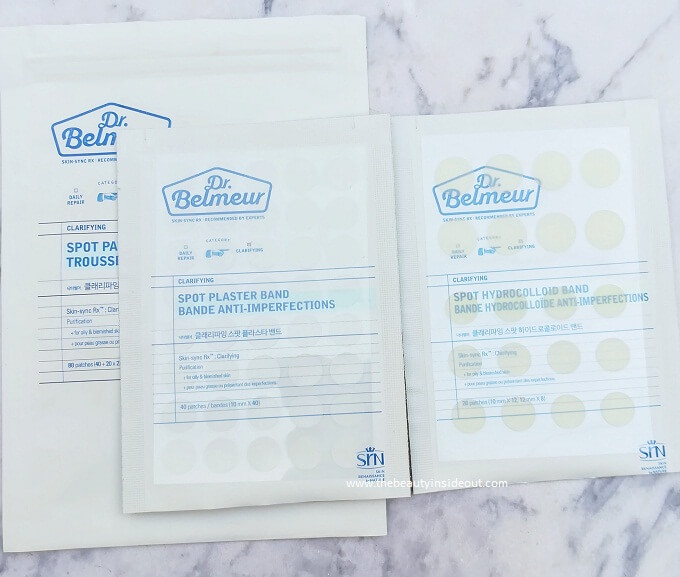 Spot Plaster Bands: These patches have two purpose. One is to protect and the other is to heal your acne area. You get 40 even sized patches of these. These patches are super thin and almost transparent on the skin. It is super light, barely visible on the skin. Unless someone keenly notice they won't able to find out you have one. Without a mirror, I found it pretty hard to remove this patch, its sticks so close to the skin and is almost invisible. This goes well under makeup and also covers up your acne marks. These are to be applied on cleansed dry skin as well.
The Spot Plaster band can be applied on pimples that doesn't have a head/pus to help with the healing and also protect it from external germs, dirt and also prevent it from spreading. It particularly helps to keep you away from pricking. This band has Salicylic Acid, Tree Tea Oil and Will Bark Extract, all of which are excellent for acne. But it doesn't work miraculously to heal the acne. It takes time as it would when you use an acne spot treatment. Don't expect immediate results especially if your pimple is big. Using this will leave less scaring and it also acts a shield throughout.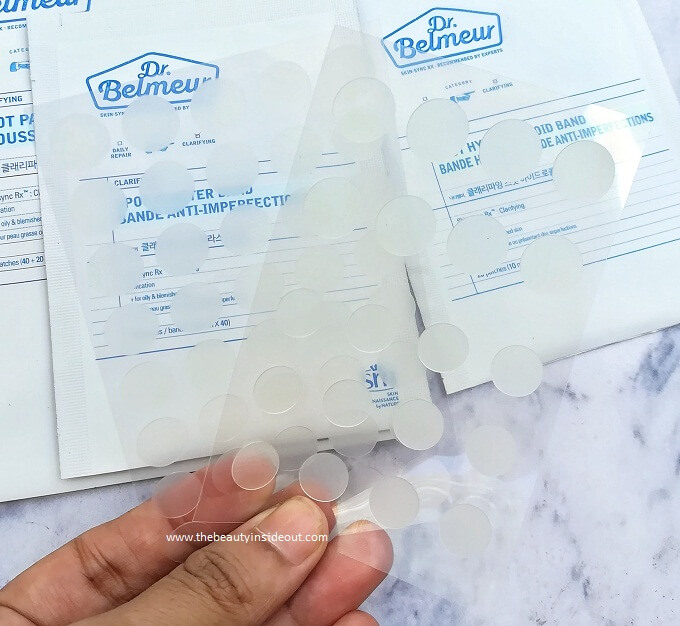 Until you see the white pus on the surface of the skin, use the plaster bands. Once you see the pus, use the hydrocolloidal band to remove all the gunk inside the acne. And after cleansing, put on a fresh plaster band to protect it until it heals completely. These patches work better when you put them on as soon as you see a pimple emerging. These patches are perfect for daytime use. Many acne treatments aren't to used during day time and sun exposure. But these are super handy. Someone who is busy working/studying 9-5 but still want to have an effective acne treatment, can just stick this on and carry on.
Pros:
Two types of patches for two different purposes.
Hydrocolloidal bands pulls out pus and germs from the acne.
Plaster bands protects acne from external contamination and also aids in healing.
Bands are comfortable and lightweight on the skin.
Leads to less scaring.
Great for acne pickers.
Works best for zits and tiny pimples.
Cons:
Does not work on all types of pimples.
Although cost effective than similar patches, it is still considered pricey by most people.
Rating : 4/5
Would I recommend? Yes, acne prone skin types can give this a try.