Today I'm up with a summer skincare product for oily skin. With all the heat and sweat, most of us tend to love lightweight and hydrating products. Suganda White Lotus Moisturizer claims to be one such product. Read on to know how this worked on my skin. Before that let's get to know a little bit about the brand.
About Suganda:
Offering a lush range of quality, soaps, lotions and skin care products right here in India, Suganda products are handmade using Western ingredients and methods, mixed with a uniquely Indian flavour and style. Offering international quality (without the shipping costs!) our products are designed specifically for Indian skin and are gentle enough for all skin types. Steering clear of harsh chemicals and synthetic perfumes, Suganda products are all natural, free from parabens, petrolatum and SLS.
Product Description:
An Oil free moisturizer that provides skin with skin nutrients and moisture. White Lotus lightens spots and soothes irritated skin. Vitamin B3 helps with acne and maintain radiant and soft skin. Hyaluronic Acid deeply moisturizes skin.
Ingredients: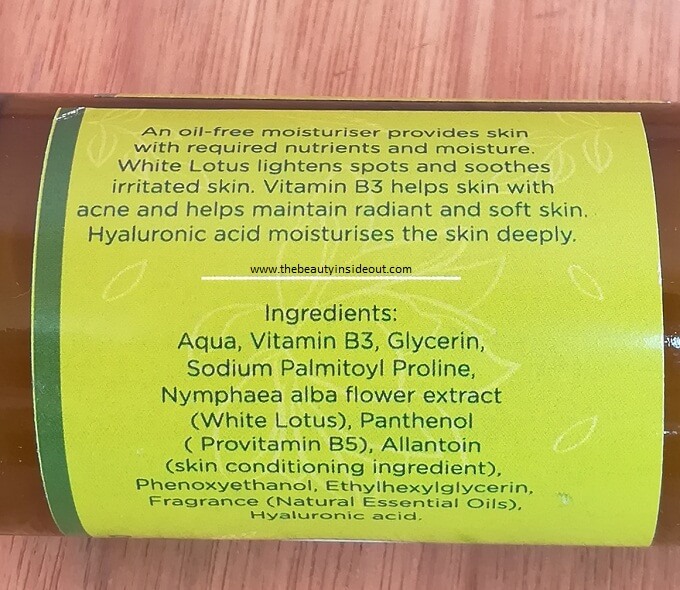 Ingredient Benefits:
Aqua
Vitamin B3 – anti oxidant, skin brightening agent.
Glycerin – acts a humectant to retain moisture into the skin
Sodium Palmitoyl Proline and Nymphaea alba flower extract (White Lotus) together work to soothe skin and reduces hyperpigmentation.
Panthenol( Provitamin B5) – improve skin's hydration, elasticity, and smooth appearance.
Allantoin – has anti aging benefits and skin conditioner.
Phenoxyethanol – a synthetic preservative with EWG rating 4.
Ethylhexylglycerin – a synthetic preservative with EWG rating 1
Natural Essential Oils (Rose Geranium, Patchouli, Sweet Orange)
Hyaluronic acid – excellent hydrator
How to use?
Use as a moisturiser after washing your face or after Mask.
Even though we call it moisturiser its actually a serum as it contains high concentration of actives
You can also use it as a primer before makeup
For dry skin use it as a serum and apply your regular moisturiser
Price: Rs.750 for 60 ml. Available on Suganda.co
My take on Suganda White Lotus Moisturizer:
Packaging: Suganda White Lotus Moisturizer comes in a brown glass bottle with a pump dispenser. The bottle is quite lightweight and is prone to breakage if mishandled. However glass packaging is environment friendly and is better than plastic packaging. The bottle has necessary details about the product mentioned on it.
Color & Texture: Suganda White Lotus Moisturizer is a white colored, thin gel based moisturizer that melts into a translucent water like product into the skin. It has a very nice and light texture that will be loved by oily skin types.
Fragrance: Suganda White Lotus Moisturizer has a fresh fragrance of essential oils. The fragrance is medium light and does not linger once the product is absorbed into the skin.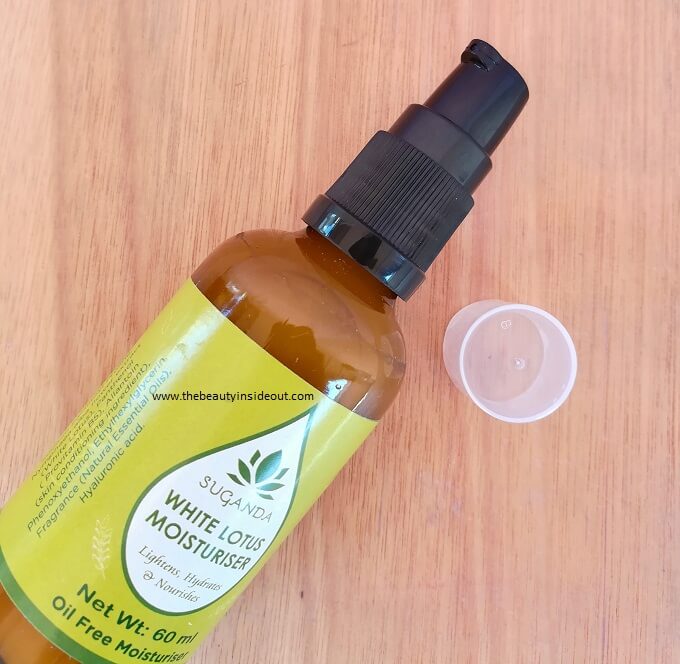 Experience: My skin type is combination with dry cheeks at the moment. I've been using this twice a day. I use one or two pumps for each use. The gel has a slight damp/sticky feel while applying but then it dries down to a matte finish in a few seconds. Since this is a very lightweight product, this alone is not moisturizing enough for my skin. I use a moisturizing sunscreen on top of this during day time and I use this as a serum step in my night time routine. In that way, it works better for me.
After I started using this regularly, I noticed my overall skin to be brighter than before. Note that I always use a sunscreen. I believe that for any brightening product to retain its effectiveness, a sunscreen is a must. The product is also helping to fade away my fresh acne marks faster.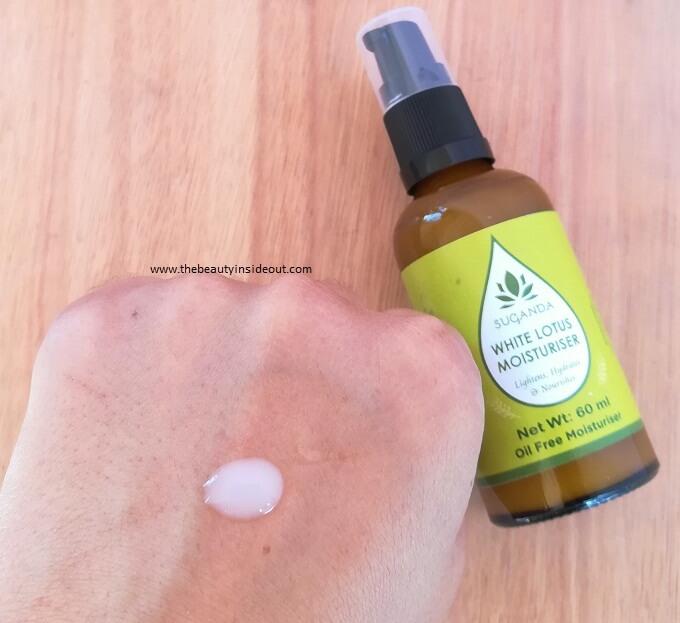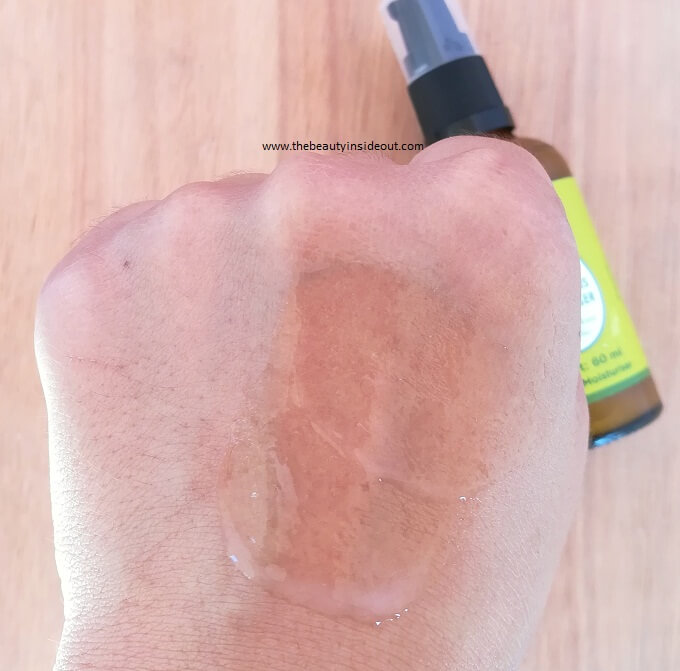 I have acne prone skin and during the usage of this product, I experienced tiny zit breakouts twice. Both the times were when I used this as a standalone product. When used in conjunction with other hydrating and moisturizing products, this doesn't break me out. I also experienced a mild irritation once when my skin was reactive & sensitive. People with acne prone, sensitive, reactive and damaged skin barrier should use this with caution. Patch test is recommended since it has potent active ingredients.
Overall, for my combination skin, this works as a nice brightening serum, rather than a moisturizer. It visibly brightens skin and shows improvement in skin texture, acne marks and plumpness over regular usage.
Pros:
Contains a great set of ingredients.
Lightweight, fast absorbing texture.
Gives a non greasy, matte finish.
Perfect for very oily skin and the summers.
Visibly brightens skin.
Helps to fades away fresh acne marks.
Oil Free, Paraben Free & Silicone Free.
Cruelty-Free.
Cons:
May not suit sensitive & severely acne prone skin.
Rating: 4.3/5
Would I recommend? Yes. If you are looking for a lightweight moisturizer for your oily skin, then give it a try. Dry skin types can use this as a serum. It has got great ingredients & it's cruelty free as well.