Are you also someone who is extensively fond of makeup and skincare, but is always on a budget? If yes, then consider Swiss Beauty as your best friend. This drugstore brand has been rolling out many fantastic makeup and skincare products lately and getting quite an attention for obvious reasons. Good makeup doesn't look made up, and one of the most important products to give your makeup a final touch is a setting spray or a makeup fixer. Today, I'll be reviewing one of the best makeup fixers in the market under budget, the Swiss Beauty Makeup Fixer Natural Aloe Vera With Vitamin E.
This product is a must for every makeup lover, especially for people who have oily skin or generally face excess sebum production. In simple words, the alcohol and talc substance present in the spray helps seize the makeup, preventing it from melting down. I've been using this Swiss Beauty spray for a couple of months now, and boy, I have a lot of things to say about this product. Read on to find out my experience with it.
Product Description:
It's high time to bid goodbye to dull and melted makeup and say hello to the Swiss Beauty Makeup Fixer Natural. It secures your makeup seamlessly and makes it stay put all day long. Not only that, but it also gives the makeup a hydrating glow and a glass-like finish to the skin. The magical combination of Aloe Vera and Vitamin E works well to prevent your makeup from looking cakey or creasy. It's a very lightweight setting spray, doesn't even irritate your skin, and smells good.
Swiss Beauty Makeup Fixer Ingredients: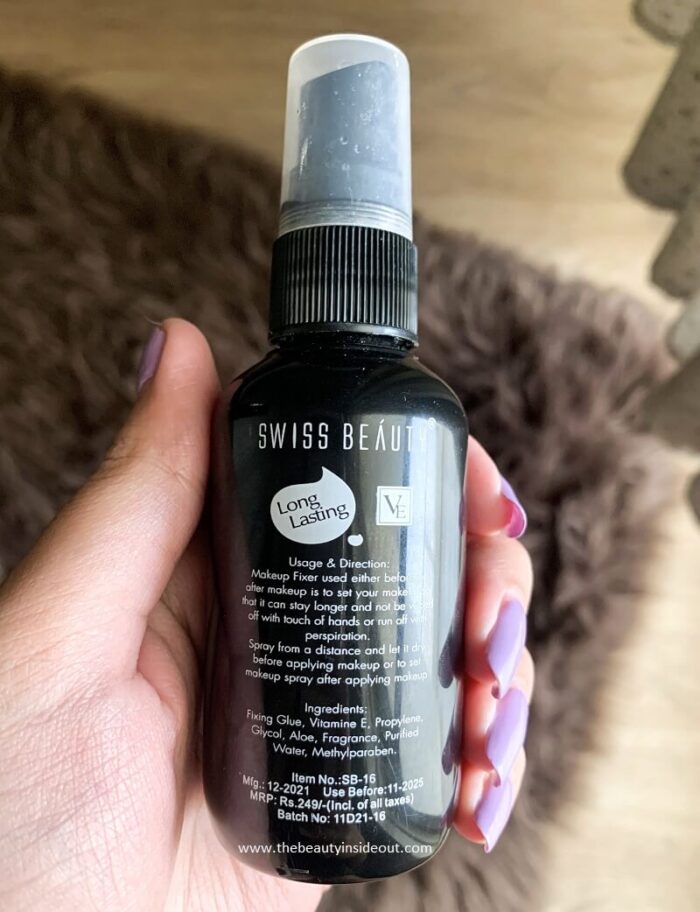 Fixing Glue, Vitamin E, Propylene, Glycol, Aloe, Fragrance, Purified Water, Methylparaben
How to use Swiss Beauty Makeup Fixer?
Shake the bottle well before applying.
From a distance, spray it all over your face in a zigzag motion, but don't spray too much.
Let it dry for a few seconds and do not touch your face meanwhile.
Your makeup is now all set to rock that party.
Where to buy? Amazon.in / Amazon.com
Swiss Beauty Makeup Fixer Natural Review
Packaging: Swiss Beauty Makeup Fixer Natural comes in a black-colored cylindrical plastic bottle with a spray dispenser and a transparent lid. The brand logo is mentioned on the bottle in bold letters, in a typical Swiss Beauty way. All the additional details, including the ingredients, price, and user guide are mentioned on the back side of the bottle.
Colour & Texture: This Swiss Beauty setting spray comes in the form of a transparent liquid. It has a very light texture and due to its alcohol content, it evaporates real quick after application, leaving behind a hydrating glow and smoothness all over your skin. It doesn't irritate my skin, but if you have damaged/sensitive skin, make sure to do a patch test on your neck area before applying it to the face.
Fragrance: This product has a mild chemical-like fragrance like any other makeup product, which I believe is because of the ingredients. The smell starts settling down after a couple of minutes of application.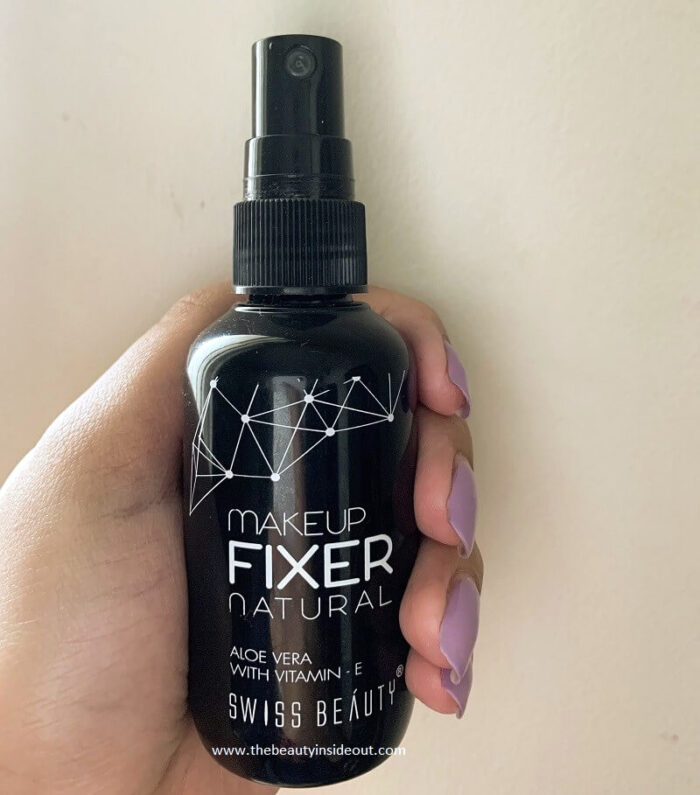 My Experience:
When it comes to beauty under budget, Swiss Beauty is one drugstore brand that assures to deliver it qualitatively. I love trying out their products and to my surprise, none of them has ever disappointed me. I've tried my hands on many setting sprays, but most of them leave an artificial-looking cast on your skin unless you go for high-end brands like MAC or Huda Beauty.
Talking about this Swiss Beauty Makeup Fixer, it's an ultra-affordable makeup fixer that can extend your makeup's wear-off time. It is a lightweight, transparent spray that feels extremely light on the skin and leaves a hydrating glow after application, thanks to the Aloe Vera and Vitamin E extracts. Just like any other makeup fixer, the formula is majorly alcohol-based which makes it easy to evaporate. However, you might not want to apply it on damaged/sensitive skin because it can potentially cause high irritation and itching. Otherwise, it has never caused any irritation or allergy to my skin. I've been using this product for a couple of months now and I regret not buying it earlier. Makeup lovers, hear me out: Makeup fixers are life-changing.
If you're using this makeup setting spray, you can expect it to give you a matte-finished makeup look with a subtle glow that lasts long enough.
Pros:
An ultra-lightweight product that gives a great glow.
Make the skin baby-soft and hydrated for a good 7-10 hours.
Contains Aloe and Vitamin E extracts.
Super-affordable as compared to quality.
Perfect for any weather condition.
Suitable for all skin types.
Cons:
Not suitable for damaged skin.
Has a chemical-like fragrance.
Might get tacky if used in excess.
Ratings: 4.5/5
Would I Recommend It? Yes. This Swiss Beauty Long-Lasting Makeup Fixer Natural With Aloe Vera and Vitamin E is the best product if you look for affordable makeup fixers. It's best suited for all skin types and gives you the perfect glow and hydration needed to rock your makeup look.
What do you think about this product? Have you tried it, or are you planning to try your hands on it? Do let us know in the comments below!