Hellloooo winters and Helllooo dry skin! Today's review is of a well-known moisturizer. I was really excited to give this a shot. And presenting you with Aveeno Skin Relief Moisturizing Lotion. Let's find out whether it was successful or not.
About Aveeno Skin Relief Moisturizing Lotion
Aveeno Skin Relief Moisturizing Lotion is a lotion designed for dry-sensitive skin. It contains Shea butter and a Prebiotic Triple Oat Complex. It has been clinically demonstrated to moisturize for 24 hours while also soothing dry skin.
When Aveeno first started out, it was a company that aimed to revive traditional medicines. They chose oatmeal since it was the best remedy for skin that was prone to eczema. And as a result of that, oatmeal is now a rather popular ingredient in skin care. In most of their formulas, Colloidal oatmeal is an active ingredient. Through the formation of a barrier, oatmeal draws in moisture and prevents it from escaping. Aside from preventing pore clogging, oatmeal also protects the skin from bacteria. That's why it's a favorite for people with sensitive, acne-prone skin.
Aveeno Skin Relief Moisturizing Lotion Ingredients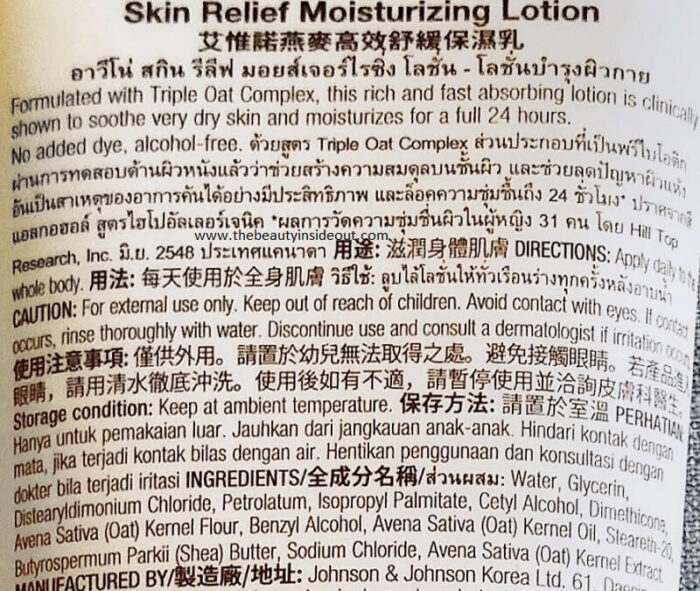 The key component in the formulation of Aveeno Skin Relief Moisturizing Lotion is the Prebiotic Triple Oat Complex. It is created by extracting the core components from the following:
Colloidal oatmeal– moisturizes excessively dry, sensitive skin
Oat Extract-soothes and calms inflamed, itching skin.
Oat Oil– maintains the skin's barrier
The prebiotic triple oat complex essentially offers the benefits of all three. It gently moisturizes skin while relieving it of extreme dryness and irritation.
How to use it?
On clean skin, take a sufficient quantity of the lotion. Massage it gently in circular motions until absorbed.
Aveeno Skin Relief Moisturizing Lotion Review
Packaging: The Aveeno Skin Relief Moisturizing Lotion comes in 2 various sizes and packaging. The 71 ml variant is packed in a basic but lovely cream-colored tube with a flip cap. This one is great for traveling purposes. The 354 ml comes in a big plastic bottle with a convenient pump dispenser that's great for everyday use. I love that they come in both forms. One can easily pick the one that they like. And needless to say, they have every little detail about the product on the backside of the tube/bottle.
Texture: Its texture is creamy gel-like, kinda lotion-like. It literally glides over the skin. Also absorbs quickly after application and is not at all sticky.
Fragrance: It has a strong oats scent to it which isn't bothersome at all.
My Experience:
My skin is a combination leaning towards oily in the summer. And typical combination during monsoon and quite parched during winter.
Last winter, my skin was extremely dry, so I went online to look for rich hydrating non-comedogenic moisturizers. After a lengthy search, I zeroed in on the Cetaphil Moisturizing Lotion and the Aveeno Moisturizing Lotion. Eventually, I settled on Aveeno. I was confident that this was the ideal product for me given its claims and popularity.
Ahem, I ended up feeling both mild annoyances at first and genuine disappointment later.
Keep in mind that I purchased this in the hopes that it will adequately moisturize my dehydrated skin. It did assist with the dryness on my forehead and chin but my cheeks were still a little flaky. So at first, I used it in conjunction with Moskina as my second layer moisturizer on my cheeks. And it worked really well that way.
The moisturizing lotion softened my skin to the point of being fluffy and soft. It also hydrates well (on some days). It glides in the skin without being sticky at all. In addition to my immediate enthusiasm, I really liked the way it smelled and felt like I could keep using it. But boy, was I proven wrong.
Then, when the winters became less dry, I switched to using only Aveeno (without layering it with my other moisturizer), and eventually, my skin decided that it didn't like this any longer. You ask, "How?" Because it gives me closed comedones. Oh, my goodness, who would have imagined? Then I stopped using it.
After using chemical exfoliators a few months later, I decided to use this the following morning to calm my skin and determine whether it would work for me. Guess what? Surprise, surprise! Everything was fine. Again, who would have believed? No ccs or anything nasty!
It's only recently that I came to know that The Aveeno Skin Relief Moisturizing Lotion is predominantly used as a body lotion. Personally, I bought this to use on my face. The brand doesn't classify it as for face or body usage. It is a moisturizer that can be used for the face and body. Also, the ingredients are gentle and non-active based.
Despite the fact that I could never bring myself to use it regularly, I did use it anytime my skin felt dry, and, interestingly enough, sometimes it gave me ccs, and other times it didn't. It is safe to say that Aveeno and I share a love-hate relationship.
Pros:
Effective for normal/ dry skin
Decent moisturizer
Smooth and silky finish
It melts into the skin.
Fragrance-Free.
Can be used for the face and body.
Cons:
Not recommended for extremely dry skin
Not suitable for the winter
This can result in ccs.
Recommendation: Due to my love-hate relationship with the Aveeno Skin Relief Moisturizing Lotion, I can't say with certainty that I'd recommend it. However, it does give you feathery soft skin and is hydrating enough for normal skin.
THANK YOU for reading, if you've made it this far!
Until next time,
Keep Moisturised !