Moisturization is the secret to healthy skin for people of any age and any skin type. Those of us having oily skin often think moisturization is not for us as it may induce clogged pores and eventually acne. This is actually a myth. Following a strict moisturizing routine not only helps in reducing dehydration of the skin it helps the skin to maintain the pH balance, elasticity, and sebum secretion. Oil-free skin moisturizers are often a better choice than greasy skin creams for all skin types. These moisturizers don't clog the pores yet keep the skin hydrated. One such moisturizer is Cetaphil Moisturizing Lotion which I have been using for quite some time now. This hypoallergenic lotion moisturizer has Cetearyl alcohol as the main ingredient. Although Cetearyl alcohol has 'alcohol' in its name, it is an excellent moisturizer for sensitive, dry and dehydrated skin. Read on to know what I feel about this moisturizer.
Product Description:
Cetaphil Moisturizing Lotion is a lightweight everyday moisturizer to take care of dry skin. ​This lotion enhances the skin's natural moisture, leaving the skin feeling soft, smooth, and replenished.
Cetaphil Moisturizing Lotion Benefits:
Non-greasy, lightweight formula.
Moisturizes and protects the skin.
Contains humectants and emollients to provide long-lasting hydration.
Fragrance-Free and Hypoallergenic Lotion suit all skin types, including sensitive skin.
Dermatologically Tested.
Cetaphil Moisturizing Lotion
Ingredients: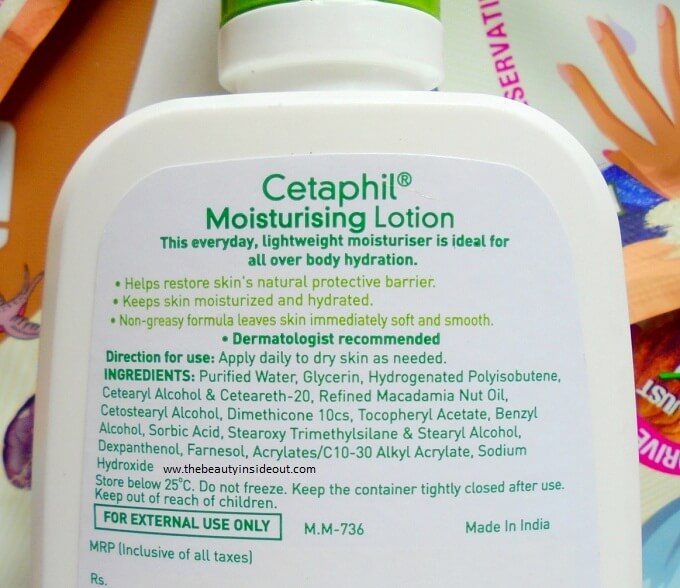 Where to Buy? This moisturizer is easily available all over the world both online and offline. You can get this at any drug store, beauty store, or leading grocery store. It is often available online with attractive discounts.
Cetaphil Moisturizing Lotion Review
Packaging: This moisturizer comes in an opaque white plastic bottle. The bottle has both a flip-top and screw open lid. The packaging is hygienic and reusable. Unlike regular skin care products, this one has no attractive label-graphic or decoration in the packaging. It has the most simple and no-fuss packaging. It is available in two sizes; I bought the smaller one containing a 100ml product. The packaging is travel-friendly and sturdy. A full ingredient list is provided on the back of the pack.
Color & Texture: It is a pure white colored lotion with a thick and creamy consistency. It is not a quickly absorbing lotion. Due to the heavy texture, it needs a little massage to get absorbed into the skin. It might feel sticky and greasy if used in excess. So, less is more with this product.
Fragrance: It is a fragrance-free lotion.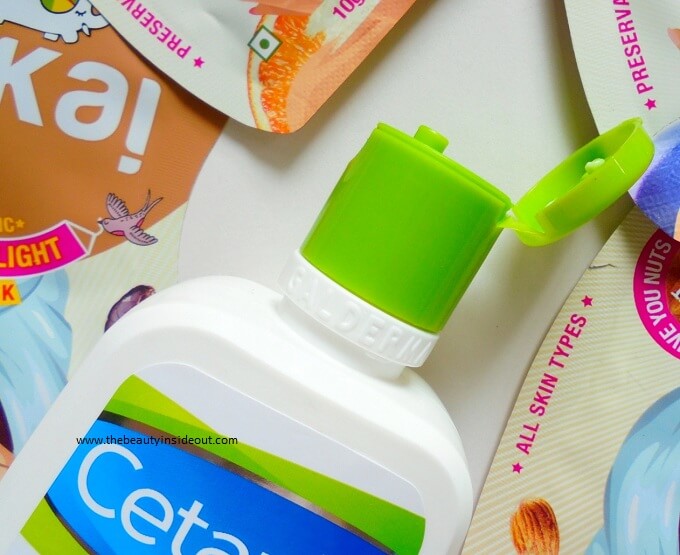 My Experience:
I have acne-prone combination skin. My skin gets dry and flaky in winter while in summer I have excess oil secretion issues. I use this particular moisturizer only in winter as in summer it feels heavy and greasy on my skin.
This is my third purchase of this moisturizer. I buy one bottle at the beginning of winter and it lasts through the season. I use a Salicylic Acid Face Wash for acne control regularly. Such medicated face washes often make the skin very dry and in winter the dryness multiplies due to a lack of moisture in the air. This moisturizer works like magic in such a situation.
I apply this on slightly damp skin after washing my face and apply a pea-size product on my face and neck. I let it seep through the skin. Believe me, within minutes, the skin feels nourished. Previously, I had to shift to greasy cold creams in winter as regular oil-free moisturizers weren't sufficient. Those creams always gave me big bumpy pimples. Ever since I started using it, the pimple issue in winter got solved. This is a great product to use under makeup. It helps to melt the base makeup and provides a skin-like finish.
If you are wondering if the Cetaphil Moisturizing Lotion lightens the skin? No, it doesn't do that. It doesn't even claim to do so. It's a great moisturizer for making your skin soft, though.
Side Effects:
Personally, I did not experience any side effects. The Aveeno Moisturizing Lotion contains oils, fatty alcohol, and emollients that might break out acne-prone skin types.
We recommend checking the ingredient list thoroughly for any allergens and doing a patch test before using the product on the full face or body.
If you use it on a compromised skin barrier and/or for other reasons experience irritation, or burning sensations, stop using the product and consult your doctor.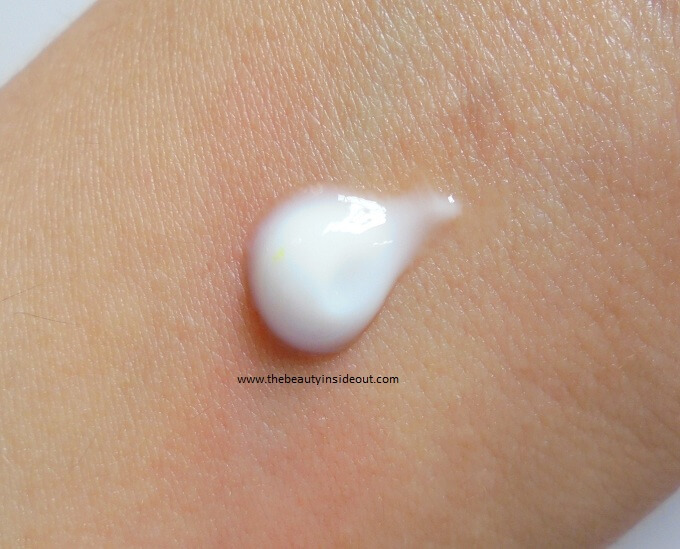 Pros:
Great moisturizer for all skin types including extremely dry and sensitive skin.
Keeps skin nourished and hydrated for a long.
Does not irritate the skin or cause pimples.
Does not clog pores.
Paraben free hypoallergenic formula.
Helps melt base makeup for a smooth finish.
Regular use heals flaky, red, or irritated skin and brings a healthy glow.
Easily available.
Travel-safe packaging.
Cons:
Feels greasy in summer.
Not a quickly absorbing and lightweight moisturizer.
Contains silicone.
Rating: 4.5/5
Would I Recommend it? This is a good quality moisturizer for dry and dehydrated skin in winter. People with any skin type can use it without the fear of clogged pores, pimples, or irritation. This one suits my skin and that is the reason I keep purchasing this every winter. I will definitely recommend this unisex moisturizer to people of every age and skin type.