Maybelline Lasting Fix Setting Spray is on our review palette today. Fixing sprays or makeup fixers are very important if you want your makeup to last longer. Makeup fixers are basically concoctions of alcohols and talc that melts and resets the finishes of your makeup. People who have very oily skin often face makeup meltdown due to excess sebum production. Makeup fixing sprays help the base makeup to stay in its place. It also takes away the powdery cast created while setting the base makeup products with setting powder or pressed powder. Makeup fixers are generally of two types; mattifying and dewy. Dewy fixing sprays are best for dry skin people who have a hard time to get the dewy glow on their face. Mattifying primers set the makeup in matte finish and that's why they are best for oily skin. Maybelline Lasting Fix Make-up Setting Spray is a mattifying fixing spray. Want more details on how this fixing spray work? Please keep reading!
Product Description:
Say goodbye to faded and melted makeup. Lock in your makeup looks with Maybelline New York Lasting Fix Setting Spray. This makeup setting spray sets and extends makeup with a matte finish for up to 16 hours. It helps to prevent makeup from melting or fading. This lightweight spray controls shine creates a matte finish, and lasts all day long.
Ingredients: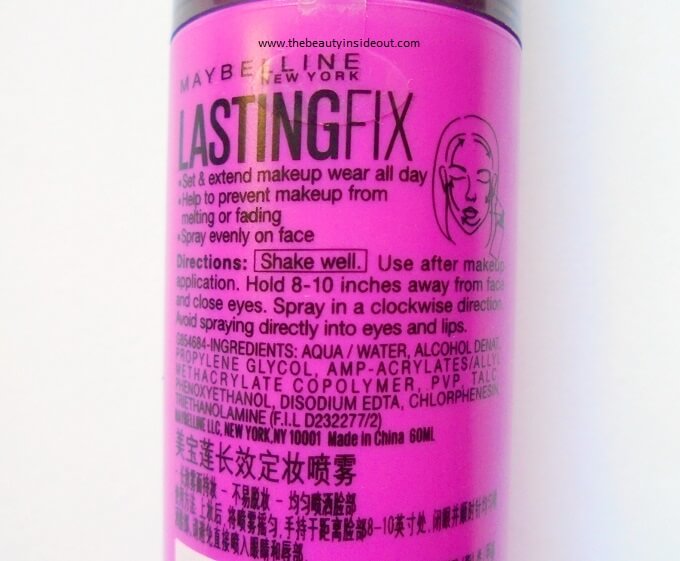 Price: Rs.599 for 60ml
Where to Buy? Maybelline Lasting Fix Make-up Setting Spray is widely available in every country where Maybelline products are available. In India, you'll get this at Maybelline counters at beauty stores. It is also available online at Nykaa, Amazon, Myntra, Flipkart etc. I bought my product online and got a good discount.
Maybelline Lasting Fix Setting Spray Review
Packaging: Maybelline Lasting Fix Setting Spray comes in a pink plastic bottle with a black spray dispenser. The sleek cylindrical bottle has a translucent black lid. You can get a view of the spray nozzle through the lid.
Color & Texture: It is a transparent liquid. Its texture is very light; almost watery. Due to its high alcohol content, it gets evaporated eventually without leaving any sticky residue behind. It leaves just a tiny amount of light gel-cream kind of residue which melts the setting powder and sets it along with the base makeup. It does not irritate my skin or cause clogged pores.
Fragrance: This is a fragrance-free product. It has a faint medicinal smell like any other Maybelline makeup product. I think the smell comes from the ingredients. The smell doesn't last more than a couple of seconds so I don't have any issue. I like this kind of fragrance-free products. When it gets expired, you can easily distinguish foul odour from the medicinal smell.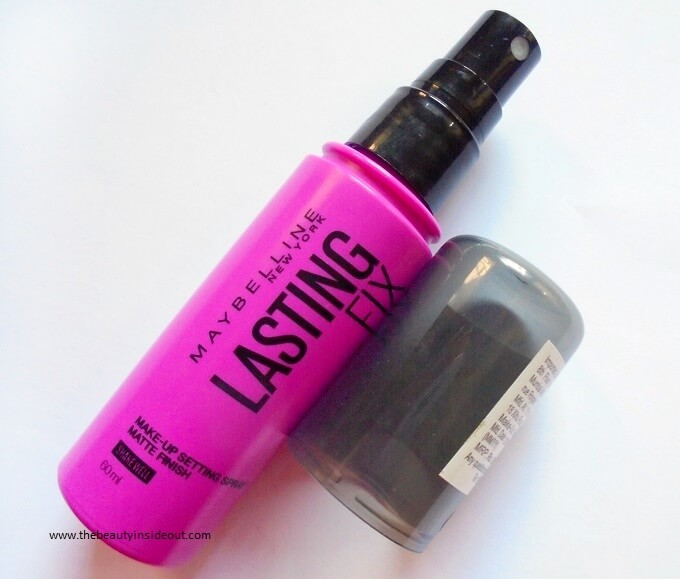 My Experience:
This makeup setting spray is among the new launches from Maybelline. Ever since its launch, I wanted to try this. My skin is of combination type. My base makeup starts to go off within 3 hours of application. I needed a mattifying fixer that can extend the stay time. I was planning to buy Nyx one but that did not provide that matte finish. This one is cheaper than Nyx and is more weightless. Just like any other makeup fixers this formula too is majorly alcohol-based. My skin does not instantly react with alcohols so I am okay with the formula. My base makeup used to get cakey before I started using this. It has completely solved this issue. The formula is light on the skin and does not feel sticky unless you apply it in excess. It took 2-3 attempts for me to know exactly how much product should I use. My skin is acne-prone. Thankfully, this one did not break me out. I am not someone who applies makeup fixers often. Whenever I do, I reach for this one for a flawless matte finish.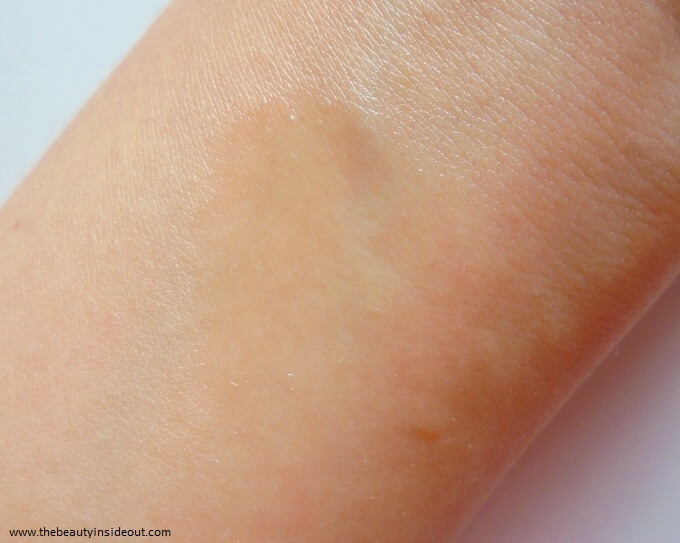 Pros:
Mattifying makeup fixer.
Feels light on the skin.
Makes my makeup long-lasting.
Prevents base makeup from getting cakey for 6+ hours.
Affordable.
Cons:
Manufactured in China.
Contains alcohol in high amount; not suitable for sensitive skin (alcohol is the main ingredient for fixing sprays so this con is present in every makeup fixer).
Might get tacky if used in excess.
Rating: 4.5/5
Would I Recommend? Maybelline Lasting Fix Setting Spray is a mattifying makeup fixer best suited for oily to normal skin. You get a perfectly set base with zero cakey-ness. This affordable fixing spray outperforms many expensive setting sprays in terms of quality. Do check this out, guys!