For ages, oils have been the solution to a lot of problems. But it was avoided in the skincare market for nearly a decade. It has made its reappearance again in the skincare industry in the last few years. Nowadays everyone I know has incorporated face oils in their skincare regime. Well like everyone else I couldn't resist to get my hands on facial oils. After a lot of research, I bought the Plum Grape Seed And Sea Buckthorn Glow Restore Face Oils Blend. Read on to find out how this product worked out for me.
Product Description:
The Plum Grape Seed And Sea Buckthorn Glow Restore Face Oils Blend is a combination of 10 essential oils to target various skin concerns. It has grape seed oil, sea buckthorn oil, rosehip oil, argan oil, sweet almond oil, apricot oil, sunflower oil, olive oil, pomegranate seed oil, and jojoba oil. It is a combination that is 100% plant-derived and works to restore the natural glow of your skin by replenishing lost nutrients, fighting oxidative damage and preventing moisture loss.
Ingredients:
Helianthus Annuus Seed Sunflower) Oil, Prunus Amygdalus Dulcis (Sweet Almond) Oil, Simmondsia Chinensis (Jojoba) Seed Oil, Argania Spinosa (Argan) Kernel Oil, Vitis Vinifera (Grape) Seed Oil, Prunus Armeniaca (Apricot) Kernel Oil, Rosa Canina (Rose Hip) Seed Oil, Olea Europaea (Olive) Oil, Punica Granatum (Pomegranate) Seed Extract, Hippophae Rhamnoides (Sea Buckthorn) Fruit Oil, Fragrance.
Where to buy?
The product is available in Amazon and Nykaa. The product retails for Rs.650 and Rs. 775 for 30 ml product in Amazon and Nykaa respectively.
Plum Grape Seed And Sea Buckthorn Glow Restore Face Oils Blend Review
Packaging: The product comes in a 30ml glass bottle with a dropper. The bottle due to its shape looks bulky but as it is just a 30ml bottle it is travel friendly. It is leak-proof and the dropper aids in the process of application.
Colour & Texture: The product has a slightly yellowish tone to it. The texture of the product is like that of an oil. It is not thick like castor oil but more runny like almond oil.
Fragrance: The product has a soothing scent with a floral touch to it.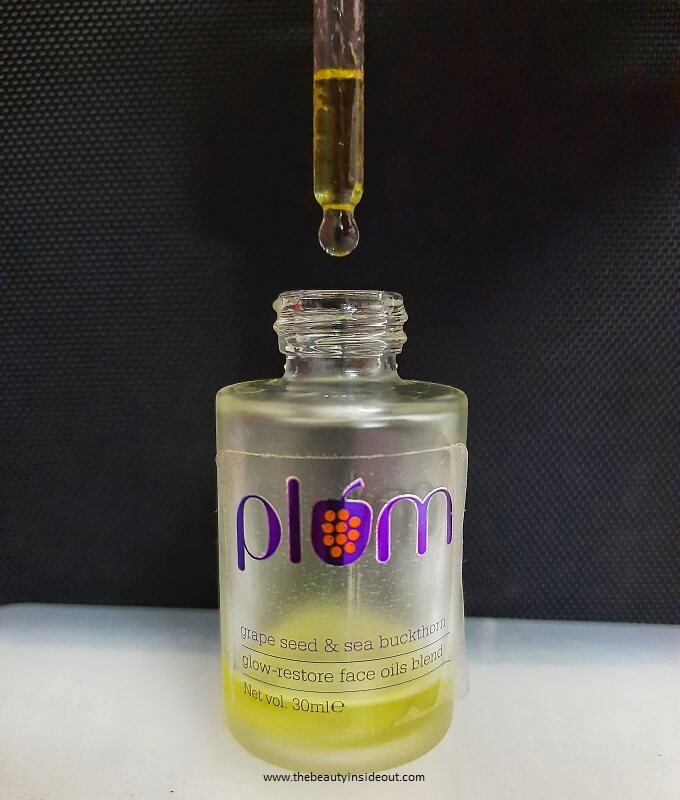 My Experience:
I have been using this product for 18 months now. Having combination type of skin I mostly use this product in the winter season, as the last step in my skincare routine. In the summers I do not apply face oils all over the face. But I apply it under my eyes because I believe that region needs extra moisture. I am almost over with this product and I will definitely repurchase my third bottle. This oil is light and it moisturises your skin from within to give that natural glow. The skin around my eyes is drier than the rest of my face and after using this oil I have seen visible results within a month of usage of this oil. It made my skin plump and flawless. Moreover, oils have long term benefits which act as an advantage for us.
I used to use Pure Vitamin E Oil from Deve Herbes before I started using this oil and to be honest this face oil blend does more than just moisturise. It doesn't clog pores. It absorbs quickly and little goes a long way. Moreover, it has a blend of 10 essential oils which fights a lot of common skin concerns. Not only is this a great buy for the price but also vegan and free from paraben and phthalate.
Related Posts: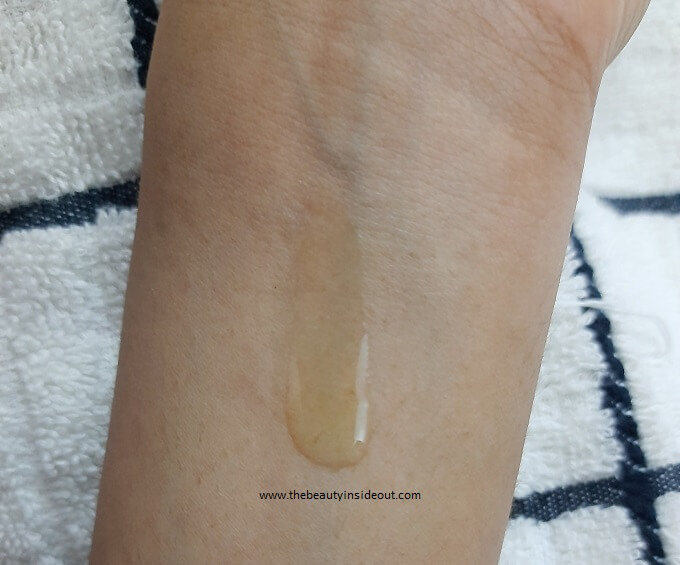 Pros:
It doesn't leave a greasy layer.
A little goes a long way.
Hydrating and makes the skin plump.
Helps fight sun damage.
Cons:
Not suitable for oily skin type.
It doesn't help with the problem of pigmentation.
Results take time.
Rating: 4/5
Would I Recommend? Yes. I will definitely recommend the Plum Grape Seed And Sea Buckthorn Glow Restore Face Oils Blend. Except for oily skin types, this is a great facial oil to include in one's skincare regime.
Guest Author: Brishti Mondal