I always wonder how the Korean beauty industry comes up with different trends and unique products. Sleeping masks are one such thing that I stumbled upon after getting to know about K-Beauty. So far I have tried the much raved Laneige Water Sleeping Mask and the Enns Closet Overnight Mask in the sleeping masks category and I don't think sleeping masks are a must-have for everyone. But then if you are someone who looks deep into the ingredients that go inside, you may want to try one. Confused right? Read on to know more on the Cosrx Ultimate Moisturizing Honey Overnight Mask.
Product Description:
Cosrx Honey Overnight Mask is enriched with more than 87% Propolis Extract and Natural Beeswax.  This mask provides intense hydration with refreshing moisture.
Cosrx Honey Overnight Mask Ingredients:
Propolis Extract (87.26%): Propolis is a resin-like material made by bees, has Anti-inflammatory, Antibacterial, and Anti Oxidant properties. Propolis extract is highly efficient in targeting acne-related issues including reducing redness and inflammations. It has soothing effects, hence it is great for repairing damaged skin and sunburnt skin. Propolis is also known to increase cell turnover, boost collagen production, thereby increases skin elasticity, and firms up the skin. Overall Propolis Extract is an all-rounder ingredient that soothes, moisturizes, reduces acne, promotes wound healing, and has anti-aging benefits.
Glycerin: Humectant that reduces water loss. Excellent for Oily Skin.
Arginine: Has Anti Oxidant, Anti Aging, and Hydrating Properties.
Sodium Hyaluronate: Provides Hydration and Promotes Wound Healing.
Beeswax: Anti Inflammatory, Encourage Skin Healing and Support Cell Reconstruction.
Allantoin: An emollient that provides moisturization.
Panthenol (B5): Good for Acne, Promotes Elasticity, and Improves Skin Hydration.
Adenosine: Stimulates Collagen. Has Anti Aging and Anti Inflammatory Benefits.
How to use Cosrx Honey Overnight Mask?
As an overnight mask: Apply the gel generously as the last step of your nighttime skincare routine.
As a wash-off mask: After cleansing and toning, apply a generous amount of the gel mask and remove after 15 minutes with warm water.
As a moisturizer: Apply a pea sized amount of the product in the morning after cleansing and toning but before sunscreen and makeup.
Price: $18/ Rs.1200 for 60 gms.
Cosrx Honey Overnight Mask Review:
Packaging: Cosrx Ultimate Moisturizing Honey Overnight Mask comes in a fuss free plastic tube with a flip cap. The tube has a small nozzle which is convenient to dispense only the needed amount of product. The 60 ml tube is travel-friendly and comes with an outer card box that has details like ingredients, usage instructions, etc. Overall, I am happy with the new tube packaging compared to its earlier tub version.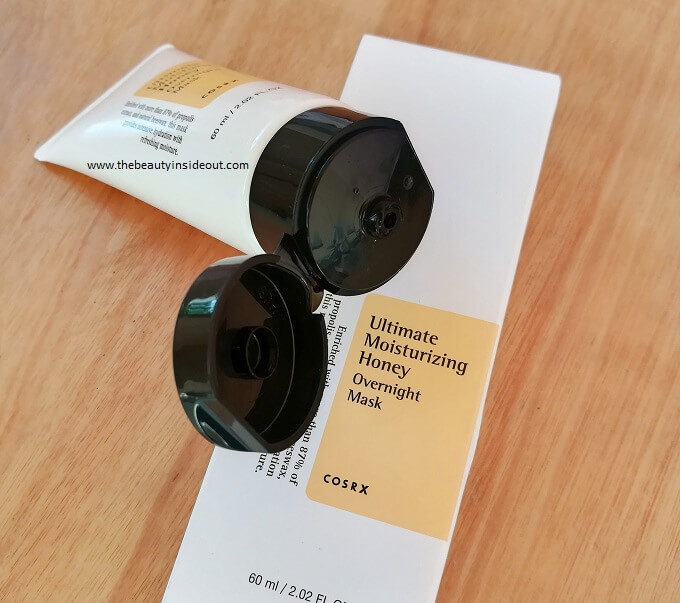 Texture: Cosrx Ultimate Moisturizing Honey Overnight Mask is a light golden honey-colored gel that goes on clear on the skin. The consistency is on the thicker side. The gel texture gives an aloe vera-based product vibe, but this honey mask is much more moisturizing than any aloe vera gel.
Fragrance: The Cosrx Honey Mask doesn't contain any added fragrance and smells almost like nothing. I barely noticed any fragrance which is why l like this product more.
My Experience:
Although the product is majorly marketed towards being a sleeping mask, I loved using it as a regular moisturizer. Most of the days my nighttime routine consisted of cleansing with Etude House Soon Jung Whip Cleanser, Hydrate with the Klairs Supple Preparation Toner, and finish off with this Cosrx Overnight Honey Mask. This simple skincare routine was enough for me to recover from a breakout and keep my skin supple. No wonder the gel contains excellent healing ingredients.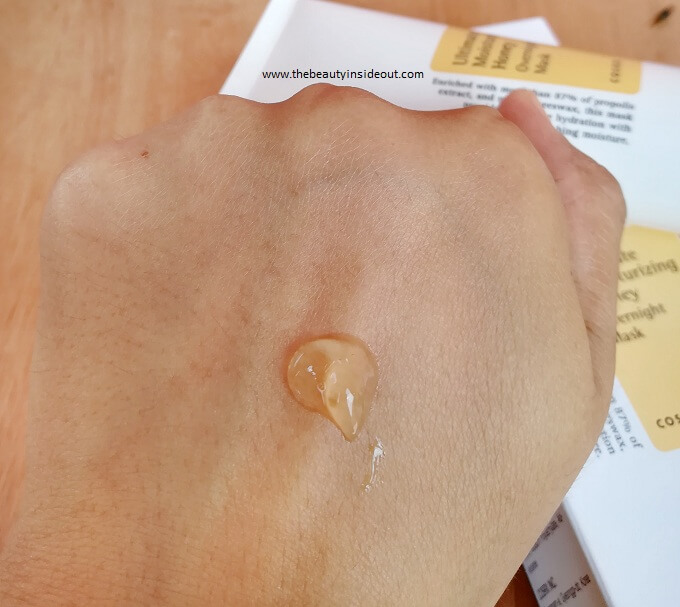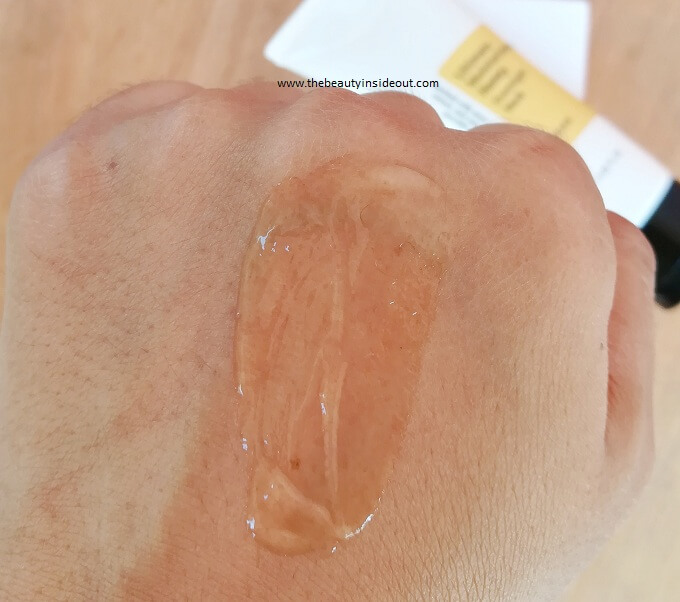 As a moisturizer, I use a dollop of the product and it spreads nicely. It is not the type of gel that dries down in a moment leaving your skin tight or stretchy. It does take 15 to 30 seconds to get absorbed completely into the skin. But once absorbed, there is no stickiness or dryness and skin feels smooth and moisturized. The gel is light on the skin yet very hydrating. Someone with oily skin will love using this in the cool winters and dry summers. The gel feels a bit occlusive due to the presence of silicone and hence works great in sealing all your products if you follow a 10 Step Korean Skincare Routine.
While I like to use the Innisfree Aloe Revital Soothing Gel as my day time moisturizer, I felt the need to use the Cosrx Ultimate Moisturizing Honey Overnight Mask as my night time moisturizer as this was not only lightweight but also more hydrating than a basic aloe gel and an ideal choice for the night time to repair and rejuvenate my damaged skin overnight.
A couple of days a week, I do follow a multiple-step skincare routine with exfoliating acids, serums, and the Cosrx Mask as the last step. As a sleeping mask, compared to the cult favorite Laneige Sleeping Mask I definitely liked the Cosrx Honey Overnight Mask more because this doesn't have that strong artificial fragrance. Also, this absorbs much faster and contains better ingredients than the Laneige Mask. The Cosrx Honey Overnight Mask claims to provide intense hydration with refreshing moisture and I would say this is true in the case of oily skin. Dry skin types may not find this moisturizing at all and they could opt for the Cosrx Rice Mask.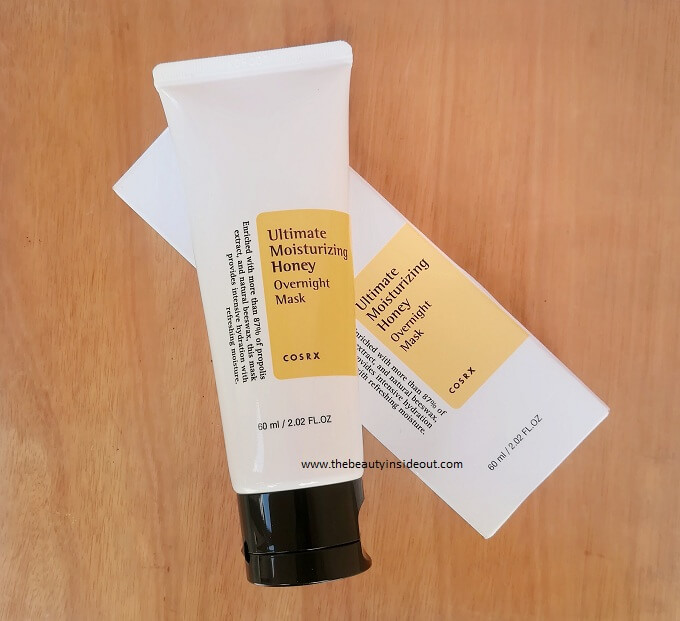 As a wash-off: I don't generally use this as a wash-off mask. When it can be very well used as a leave-on, why waste the product by washing it off. For the sake of seeing its effectiveness, I used it once as a wash-off. I applied a thick layer of the gel after cleansing and toning leaving it on for 15 minutes. I can say that it felt a bit soothing but nothing more than that. It's not a mask that claims to brighten or smoothen your skin. It just calms down the skin for a while. Personally, I don't recommend using it as a wash-off to prevent wastage of products.
Overall the gel-based formulation of this product is not something unique. But if you want to include the benefits of Propolis into your skin, I recommend starting with this product as it contains 87% Propolis Extract and is most likely to suit a majority of skin types. Also, Cosrx is a trustworthy brand that doesn't use any unnecessary fillers.
Pros:
Lightweight Gel.
Hydrates the skin better than aloe gel.
Contains skin-soothing ingredients.
Free of Fragrance, Alcohol, and Irritants.
Has Healing Properties.
Suitable for most skin types.
Cons:
Not for very dry skin.
Not suitable for those with fungal acne.
Contains Dimethicone.
Not pocket-friendly.
Rating: 4/5
Would I recommend it?  According to my, this is not a must-have product. But it is still one of those products that are worth giving a try as it has the potent to become an HG Moisturizer for Oily skin due to its Propolis Content and Lightweight formulation. So yes, I recommend giving this product a try at least once, unless you are allergic to any of the ingredients or if you have very dry skin. This is one of the Cosrx Products that I liked a lot and used regularly.
Would I repurchase? Not right now. Maybe in the future.