Maybelline Master Chrome Metallic Highlighter Molten Gold is one of the best drugstore highlighters you can ever get. Open any online platform, you'll find plenty of beauty gurus praising this one. People even compare it to some really pricy highlighters and in most endurance tests this one outperforms those high-end ones. I have always avoided powder highlighters. Why? Because I had a perception in my head that powder highlighters look artificial on the face and their shimmer particles are hard to control. I was content with liquid highlighters. Throughout the quarantine period, I have been trying my hands on various popular makeup techniques. That's when I came to know how important highlighters are. Highlighter not only sculpts your face but also helps your makeup to stay in focus. I decided to purchase something that has been universally loved. Here's my take on Maybelline Master Chrome Metallic Highlighter in Molten Gold.
Product Description:
Create a metallic, luminous effect with Master Chrome Metallic Highlighter.
Ingredients: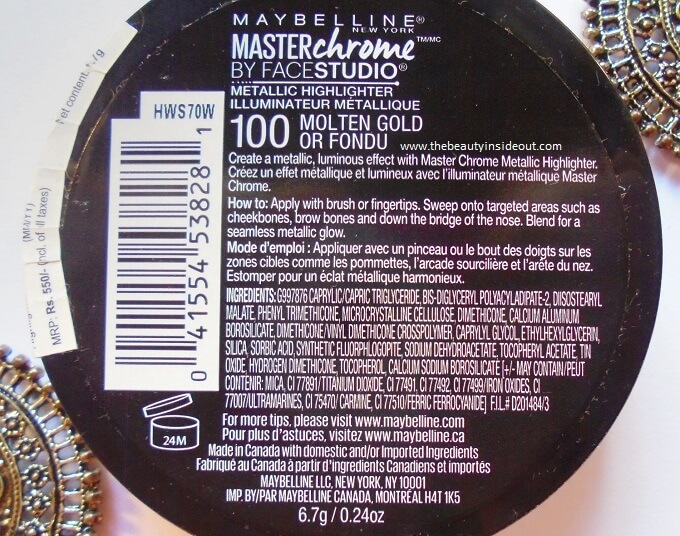 Price: Rs.550 for 6.7gm
Where to Buy? Due to huge popularity, this highlighter is available in each and every country in the globe where Maybelline products are sold. In India, you'll find it at various online stores like Nykaa, Amazon, Flipkart etc. You can avail up to 25% discount on it if you buy online. Master Chrome Highlighters are also available offline at every leading beauty store and Maybelline counter.
Maybelline Master Chrome Metallic Highlighter 100 Molten Gold Review
Packaging: The highlighter comes in a round plastic pan. The base of the pan is black and its lid is transparent. The click-shut clip is quite strong. It does not open up on its own. The see-through packaging helps you to have a clear idea of the shade and texture without opening the seal. Claims and complete ingredients detail is mentioned on the back along with usage instructions. The expiry date is written in the imported seal glued on the packaging. Overall the packaging is compact, user-friendly and travel-safe.
Texture & Pigmentation: Maybelline Master Chrome Molten Gold has a buttery smooth texture. It's a powder with a wet finish. It is not at all chalky and blends easily on the skin. The shimmer flakes are super fine. They don't stand out starkly to create a chunky highlighter look. The pigmentation is top class for this product. Just one slight stroke at the pan is enough to create a subtle glow. You can even create the blinding highlighter look by adding more product.
Fragrance: It is a fragrance-free product.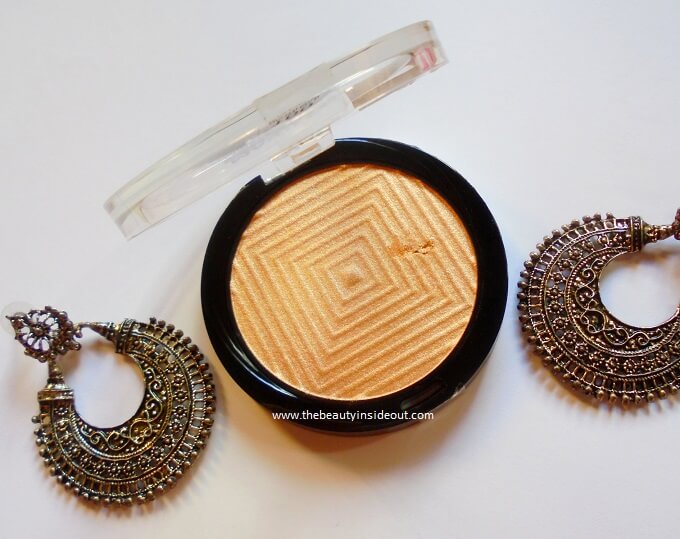 Shade: Maybelline's Master Chrome range has 4-5 shades in the overseas range. Out of the two metallic highlighters and a holographic shade is available in India currently. I have got the 100 Molten Gold shade. This is the very first shade of this range and was the first launch Maybelline Master Chrome highlighter in India. Its immense popularity made Maybelline India to bring other shades from this range.
Coming to the shade Molten Gold, it's a gold shade with warm undertones. Though it looks intense gold in the pan, it comes out as a beautiful warm-neutral highlighter with golden flakes. This makes it the universal highlighter for all skin tones and undertones. Wet n Wild Mega Glow Highlighter in Precious Petals is also a popular golden highlighter. Molten Gold is slightly more warm than Precious Petals and has better stay time.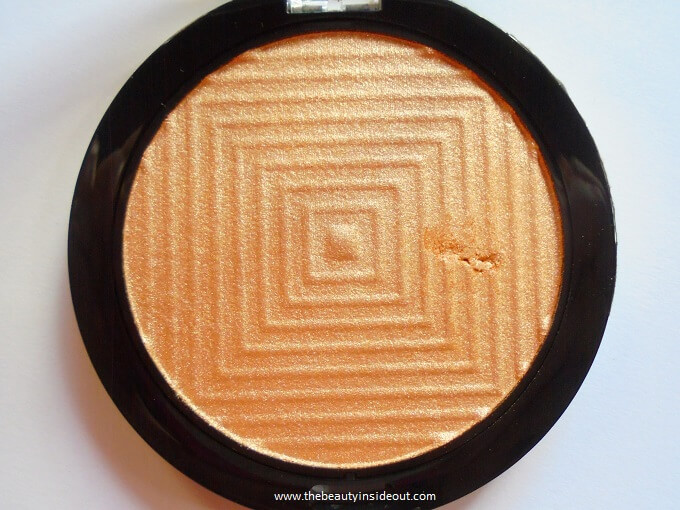 My Experience:
Being an absolute beginner I wanted my highlighter to be blendable and smooth. This Molten Gold highlighter has both these properties. Its glitter particles are not chunky. They do not sit into the textures of the skin. I have acne-prone skin with moderately enlarged pores. This light formula does not highlight those textures. The gold shimmers farewell on my warm-neutral undertone. Many Youtubers said this highlighter gives a blinding glow. I feel that's true but only when you build the pigment up. In my subtle day looks, I apply just a tiny amount. It gives a subtle glow from within kind of a look. I also apply this as my eyeshadow sometimes. It is definitely a good lid shade for a cut crease or halo eyes. This highlighter lasts for 5-6 hours on my skin. Then it loses some of its intensity. It stays noticeable until 7-8 hours without touch up.
Pros:
Metallic golden highlighter with warm undertones.
Smooth and blendable.
Creamy formula; not at all chalky.
Suits all skin tones and types.
Provides a nice glamorous sheen to the face.
Lasting power is good.
Affordable and easily available.
Cons:
Could not find any!
Rating: 5/5
Would I Recommend? Maybelline Master Chrome Metallic Highlighter 100 Molten Gold is a great highlighter for all skin tones and undertones. You can create both everyday glow look and party glam look with this. This super-blendable formula is great for beginners as well. I will definitely recommend this to everyone.