Today I will be reviewing a simple but efficient hand cream from The Body Shop; it is The Body Shop Almond Milk And Honey Hand Cream. Our hands do a lot throughout the day and constant washing of hands strips it from moisture. Therefore I decided to try a hand cream to aid in healing my dry hands. I am using this product for the past 8 months and there are some things that I absolutely love about this product. But like every other product, it has its own flaws as well. So let's dive right into this review to see how this product turned out for me.
Product Description:
An essential for sensitive skin and dry. It protects and soothes dry hands with its calming and caring properties. Enriched with almond milk from Spain and Community Trade honey from Ethiopia, Almond Milk & Honey is specially formulated to give the best results.
Ingredients: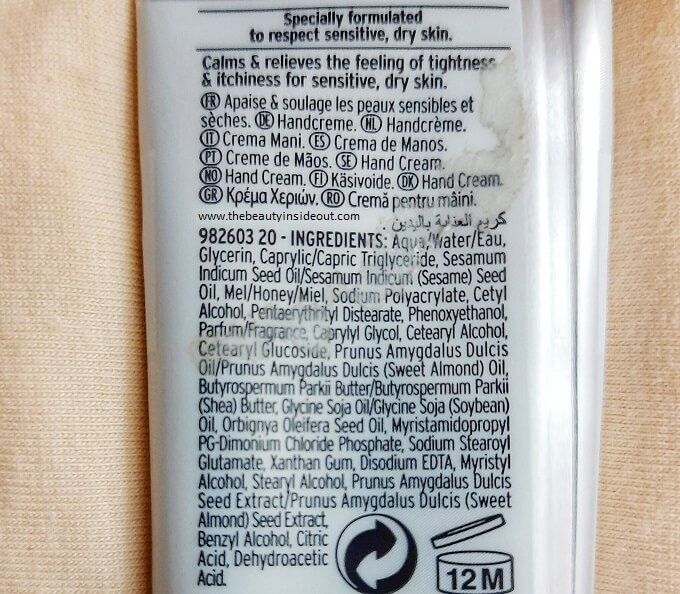 Where to buy?
This product is available in amazon and Nykaa. The retailing price for this product is Rs. 450 for 30 ml of product.
The Body Shop Almond Milk And Honey Hand Cream Review
Packaging: The product comes in a 30 ml plastic squeeze tube. The packaging is nothing out of the ordinary but it's travel friendly. The size makes it easy for us to be able to carry it around. It is leak-proof and I don't really expect more from the product build of a hand cream.
Colour & Texture: The product is white in colour. It has a gel-like texture but has the consistency of a very light cream. What makes this product stand out is this light texture and consistency.
Fragrance: The Body Shop Almond Milk And Honey Hand Cream has a very calming and soothing scent. Unlike its strawberry range which has a very overpowering fruity scent, this range has a mild calming smell.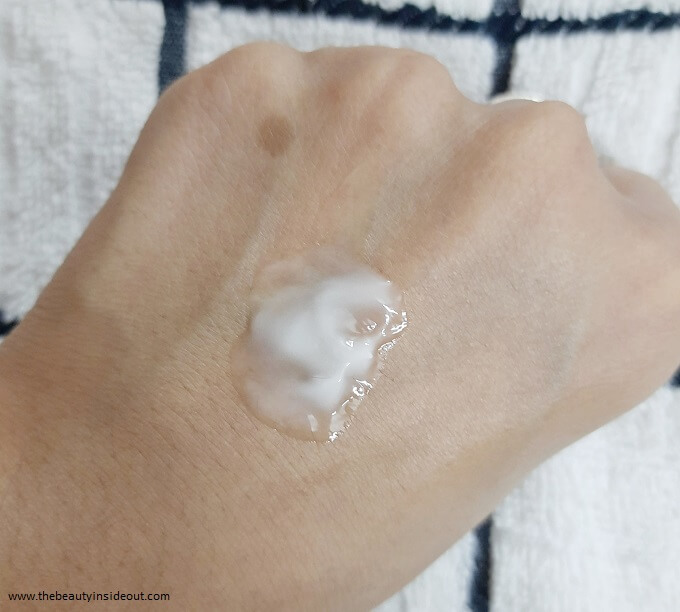 My Experience:
When I first bought this product I thought this was going to be one of those products which you can only use before going off to sleep as hand creams for dry skin usually are thick. To my surprise, it was quite the opposite. This beautiful hand and nail cream not only absorbs into the skin fast it also doesn't leave any oily residue which makes it idle for usage throughout the day.
I have normal to dry hands and this product worked wonders for me in the summer season. It didn't lead to my hands sweating too much and it worked just fine. However, this product didn't work that well for my sister who has oily skin. Her hands started to sweat after sometime. But I would not count that as a con as this product is for the dry skin type. To be honest, this product worked very well for me in the winters too. I thought that because of its light texture it might not be able to keep my hands moisturised that well but The Body Shop Almond Hand Cream did its job pretty well and I was proved wrong.
On the other hand, my grandmother has very dry and sensitive skin. She gets cracks and flaky skin on her feet and hands very fast, especially during winter. I recommended this product to her. In the summers this product worked wonders for her hands but not so much for her feet. Although it did give her a very calming effect. In winters the case wasn't the same. The product did almost nothing to heal or care for her dry hands and feet and she had to resort back to her classic Nivea crème.
Related:
Pros:
Specially formulated for dry sensitive type skin.
It gives a soothing effect on the skin.
Doesn't leave an oily residue.
Works best for combination type skin.
Hypoallergenic fragrance.
Dermatologically tested.
Cons:
Too expensive for a 30 ml product.
For dry and sensitive type skin this product doesn't work that much during winters.
Rating: 2.5/5
Would I recommend it? The Body Shop Almond Milk And Honey Hand Cream has its advantages and the biggest ones of them being the soothing effect on the dried skin and its property of being fast absorbent. But the skincare market offers better products at a cheaper price. One of them being Nivea Refreshing Hand Cream with Glycerine and Aloe Vera. It has all the properties of the body shop almond milk and honey hand cream but it retails at Rs. 90 for a 75 ml product.
Guest Author: Brishti Mondal