Today I am up with the review of Wet n Wild Megaglo Contouring Palette Dulce De Leche. Contouring is an essential step for a full-blown makeup routine. Foundation and concealer evens out our skin tone but at the same time makes our face look flat. Contouring creates a shadow effect on specific parts of our face an provides a 3D sculpted effect. This magic trick also helps to hide double chin, chubby cheeks or wide forehead. I do like to have a chiselled face when I am applying full face of makeup. Powder contouring is easier to learn so I decided to go for a powder contour product instead of cream contours. I have had pretty good experience with Wet n Wild Products in the past. The Wet n Wild Color Icon Eyeshadow Palette Comfort Zone is among my all time favourite budget-friendly eye makeup option. I wanted to give this Megaglo Contouring Palette Dulce De Leche a shot. Here's what I feel about this contour kit.
Product Description:
The MegaGlo Contouring Palettte by Wet n Wild is a duo of perfectly complementary contouring powders that delivers a flawlessly sculpted face in no time flat. The deeper color defines while the lighter color highlights your best features, leaving you at your #nofilter best, whatever the occasion. Blendable, buildable and crease-free colors provide dimension to the face.
Ingredients: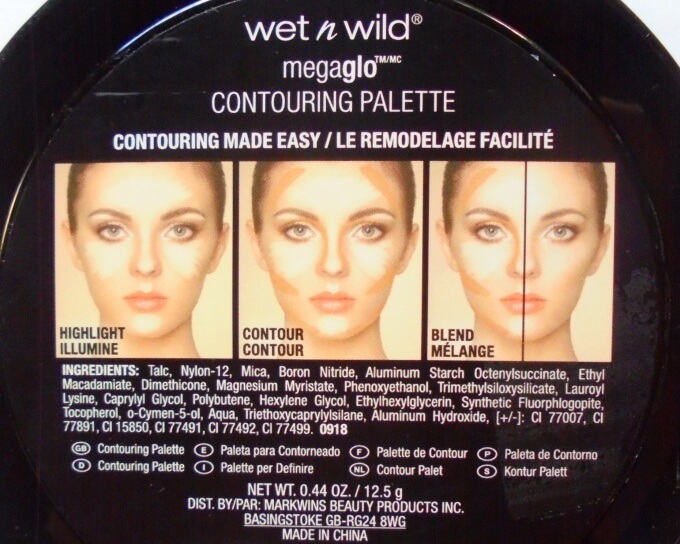 Price: Rs.499 for 12.5gm
Where to Buy? Wet n Wild products are available in India only on various online platforms. Hok Makeup imports them in India. So, a hokmakeup sticker will be attached to your Wet n Wild products bought from anywhere. You can buy Wet n Wild products from akazon, nykaa, myntra, purplle, flipkart etc. Wet n Wild products come with lucrative discounts every now and then. Do check out for those offers.
Wet n Wild Megaglo Contouring Palette Dulce De Leche Review
Packaging: Wet n Wild's Megaglo palette comes in a black plastic pan. The round pan has a clear lid. You'll get a full view of the products from outside. The pack is divided into two semicircular pans containing contour and banana powder. The palette is very compact and easy to travel with. Unless it gets dropped on hard surface or squashes in your makeup pouch, it won't budge.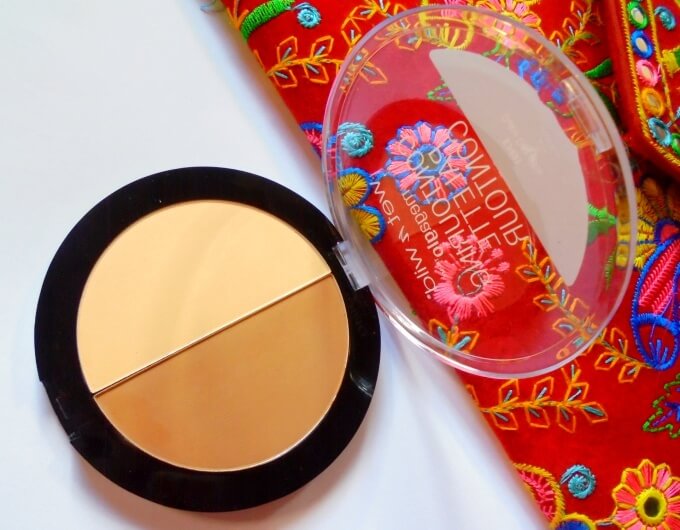 Shade: Wet n Wild Megaglo Contouring Palette comes in two shades; Dulce De Leche for light to medium complexions and Toffee Caramel for medium to deep complexions. I got the Dulce De Leche one. This pan would be good for skin tones upto MAC NC 35. My palette contains one banana powder of warm-neutral undertone and a contour powder of cool undertone. Both powders are matte.
Texture & Pigmentation: Both contour and banana powders from Dulce De Leche palette have smooth and blendable formulation. The powders have some lickbacks at the pan so you have to be quite careful while picking the products otherwise the palette will get messy easily. Both powders are very finely milled. They are not chalky or powdery. Pigmentation is praisewirthy for the price.
Fragrance: Both contour and banana powders are fragrance-free.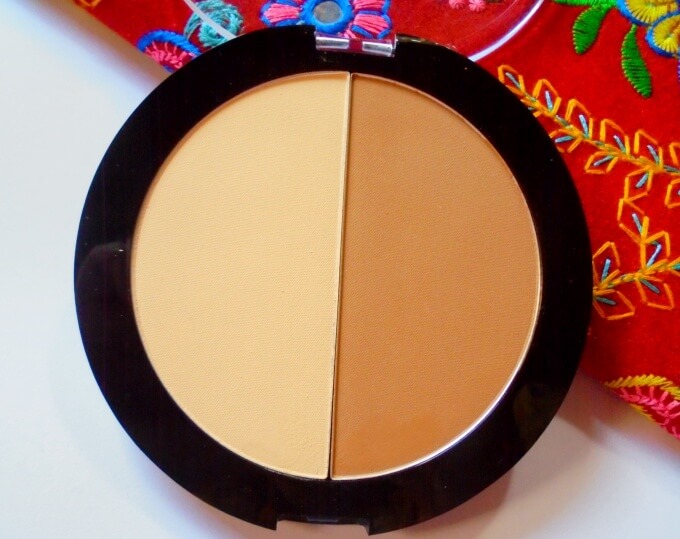 My Experience:
I am learning self-makeup in these days of lockdown. So I got this Dulce De Leche palette to try my hands at contouring. I have used a Contour Palette by Maybelline before but that palette was for subtle contours. This palette has good pigmentation and the shades are superb in terms of blendability. I can create as stong contour as I like. The banana shade of this contour kit is neutral yellow. It's not that stark warm yellow we see many Youtube makeup gurus use. This banana shade looks more natural finish in my warm-neutral undertone. The powders are weight-less. They don't sit in skin folds and give that drag-queen look. I sometimes use this to set my eye makeup base and under eye concealer. The contour shade is also pretty good. It doesn't create ashy look on my skin. Overall this is a great palette for both beginners and skilled people. However, the shorter stay time might need touch-ups for humid weather.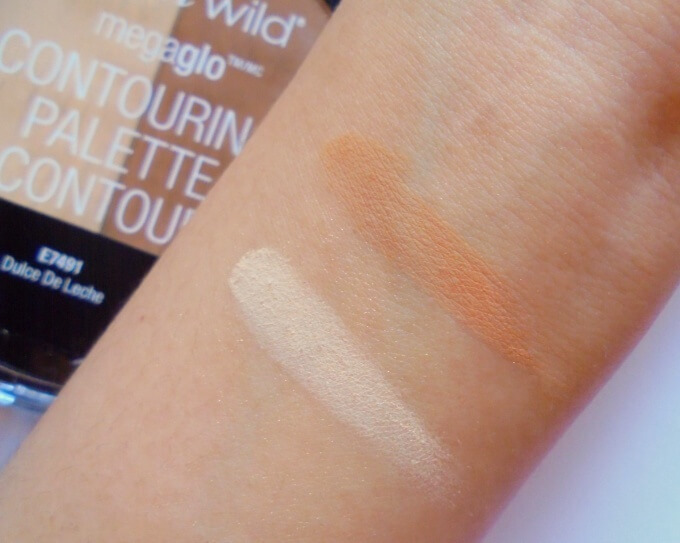 Pros:
1. 2-in-1 contour kit with banana and contour powder
2. Smooth and blendable formula
3. Does not feel heavy on skin
4. Does not exaggerate textures on your skin
5. Pigmentation is good
6. Affordable and compact
Cons:
1. Some extra powder fluffs up while picking the contour and banana powder with brush
2. Staying power could have been better (for the price it's okay though)
Rating: 4.5/5
Would I Recommend?
Wet n Wild Megaglo Contouring Palette is the best budget contour kit in Rs.500 range both quantity and quality wise. You can even choose your shade according to skin tone. You can easily get it at 350-380 during online sales. For this price you get both banana powder and a contour powder. Both are super blendable and easy to work with. Go grab it guys!