Its been a long time since I reviewed some makeup stuff on my blog. Today I shall share my thoughts on one of the most raved crayon lipsticks over the internet – The Sugar Matte As Hell Crayon Lipstick. I recently got this in my January Fab Bag and let's get straight into the details.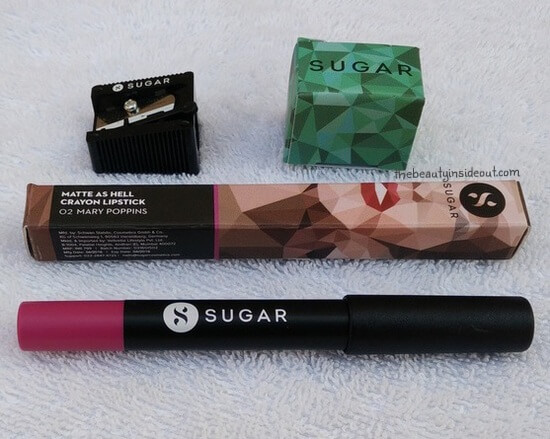 About Sugar Matte As Hell Crayon Lipstick :
If excellent coverage and high colour pay-off is what gets you going, you will absolutely love our new Sugar Matte As Hell Crayon Lipstick that is available in 5 gorgeous shades to suit your taste & your ever-changing mood! Super long-lasting and highly pigmented so you don't have to worry about constant re-application, this must-have crayon lipstick has a soft texture with a silky matte finish.
How to apply: Exfoliate your lips and apply the crayon lipstick just the way you would with any other lipstick. Blot and reapply.
Ingredients:

Shades Available:
01 Scarlett O'Hara (Red)
02 Mary Poppins (Fuschia)
03 Poison Ivy (Wine)
04 Holly Golightly (Peachy Nude)
05 Rose Dawson (Rose Pink Nude)
06 Coraline Jones (Orange Coral)
07 Viola (Mauve Nude)
08 Jackie Brown (Reddish Brown)
09 Princess Peach (Peach)
10 Cherry Darling (Cherry Red)
11 Elle Woods (Brown Nude)
12 Baby Houseman (Deep Pink)
13 Murphy Brown (Chocolate Burgundy)
14 Violet Crawley (Violet with grey undertone)
15 Stephanie Plum (Plum Mauve)
16 Claire Underwood (Burnt Orange)
17 Brandy Harrington (Rusty Reddish Pink)
18 Rosalind (Nude Rose)
Price: Rs.799 for 2.8 g . Buy HERE.
My take on Sugar Matte As Hell Crayon Lipstick :
Packaging: Sugar Matte As Hell Crayon Lipstick comes in a neat abstract art cardboard packing with all necessary details printed on it. As you know, the crayon lipstick is a sharpenable pencil, instead of a twist up crayon, that leaves room for product wastage. I am convinced that at least it comes with a free sharpener unlike most brands. The lip crayon is color coded which makes it easier to identify if you have other shades in this range. Overall the packaging is pretty simple and perfect. I like it!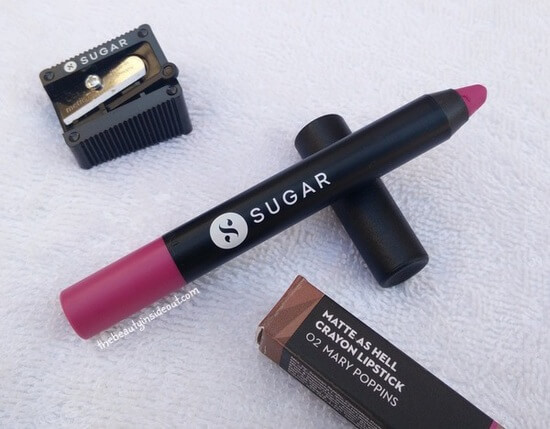 Texture & Application: The formula is simply superb. I have seen a lot creamy lipsticks that set into a semi matte creamy finish. But this one sets into a true powdery matte finish with its amazingly creamy texture. The lip crayon gives a hassle free smooth application without any tugging or pulling. If prepped properly, it does not accentuate fine lines and appears smoother till the time it wears off. The lipstick feels light and comfortable on the lips. At the end of the day, it does not dry out the lips too. The lip crayon does not smell or taste anything which is a plus for me.
Shade: The shade I have 02 Mary Poppins is a cool toned fuschia pink that is definitely bold and vivid. It instantly brightens the face and never fails to attract a lot of attention. The shade would go well for special occasions such as weddings and parties but at the same time you can wear it as stain for everyday look. This particular shade is not that easy to pull off by all skin tones; it would look stunning on fairer and medium skin tones.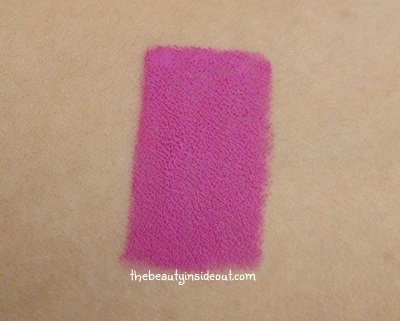 Pigmentation: One swipe is all you to need get that opaque color. But you can layer it without becoming flaky and you will be flattering the intense fuschia on your lips. Even though it does not bleed, I would suggest to use a lip liner with this shade because if it accidentally moves out of your lip line,say while snacking, it's a pain to remove it as it's stainable. This shade does transfer slightly, not too much.
Longevity: It stayed put for 5-6 hours and survived small meals. The color tends to fade away from the center of the lips leaving a pretty pink stain that remains until you remove it with a makeup remover. The stain looks pretty that you can flaunt it for the rest of the day which removes the need for reapplication.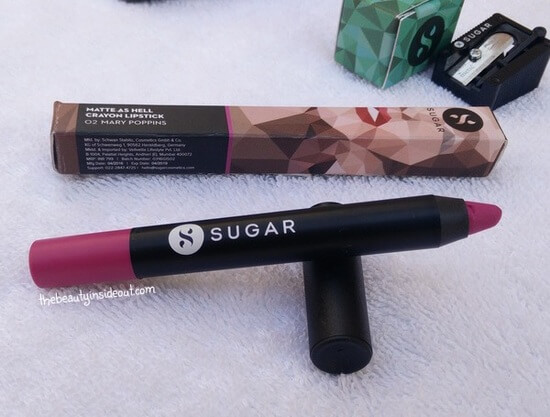 Pros:
Color coded neat packaging.
Flattering shade names and colors.
Has a creamy formula that sets into a powdery matte finish.
Does not dry out lips or accentuate lip lines.
High color pay-off and good staying power.
Leaves a beautiful stain that stays all day long.
Does not contain parabens, mineral oil, phenoxyethanols, paraffin, cyclomethicones(D4,D5,D6) and animal derived ingredients.
Dermatologically tested.
Cons:
Sharpenable pencil leads to product wastage.
Transfers slightly.
Some might find it costly.
Rating: 4.7/5
In short, Sugar Matte As Hell Crayon Lipstick is a highly pigmented creamy lip crayon that gives a powdery matte finish. The shade 02 Mary Poppins is a beautiful Fuschia pink that would compliment fairer and medium skin tones and leaves a lovely pink stain that stays until you remove it. Like its raved, this crayon lipstick is truly a must have product. I would highly recommend everyone to try at least one shade from this range, I know many of you have already got one 😉
So that's all about the Sugar Matte As Hell Crayon Lipstick. Have you tried them? Share your thoughts in the comments section below.
Looking for other Sugar Cosmetics Products?