Winters make my extra dry hair more rough and brittle. So recently I looked in for a cream shampoo even though I love using gel based shampoos as they don't weigh down my thin flat hair when compared to the creamier ones. I picked this Aroma Magic Aloevera Cream Shampoo in one my Amazon hauls along with a Shampoo from Khadi Natural which I will be reviewing later on. Today let us see how this shampoo from Aroma Magic fared for me.
About Aroma Magic Aloevera Cream Shampoo: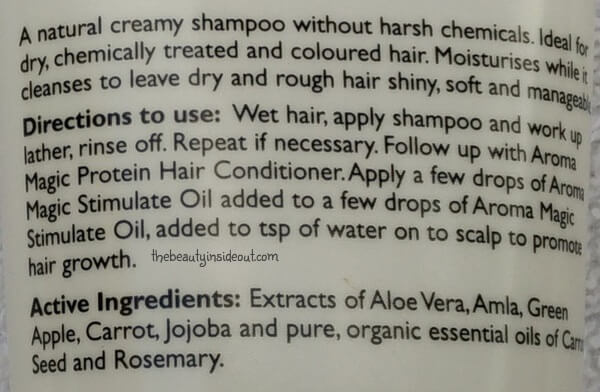 Price: Rs.110 for 120 ml
Shelf Life: 2 years
Availability: Buy HERE or in Health & Glow Stores
My take on Aroma Magic Aloevera Cream Shampoo:
Aroma Magic Aloevera Cream Shampoo comes in the brand's signature white plastic tube with a red screw cap. The packaging is good, travel friendly, spill-proof, leak-proof and very convenient to use. All necessary details are provided on the tube. But the tube mentions only the active ingredients. I just wish they show transparency in what goes into the shampoo. Apart from that, the shampoo contains some fine ingredients such as Amla, Jojoba, Green Apple, Carrot, Aloe Vera and Rosemary Essential Oil. It does not mention whether it is sulphate or paraben free!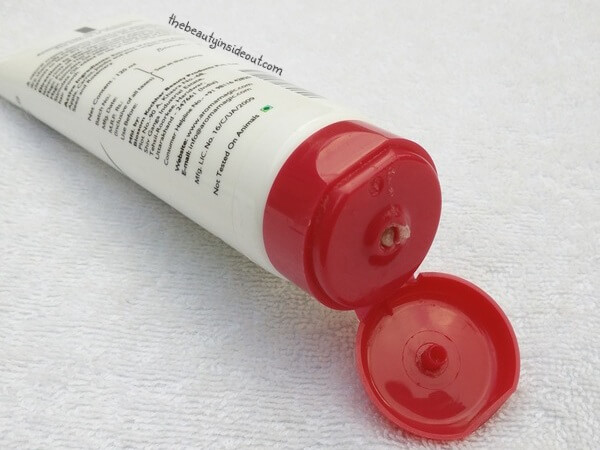 The tube has to be shaken well before squeezing the shampoo or else at times only a green liquid comes out and the thicker shampoo stays at the bottom of the tube. This is totally normal as this happens with a lot of natural products; they tend to separate over time.
The shampoo is pale green in color and has a peculiar consistency for a shampoo, it is neither gel kind of nor creamy; it has a thick texture that is fairly difficult to work with. It does not spread easily so using this shampoo can be quite time consuming.
The shampoo has a pleasant aloe vera scent that does not tend to intensify. Post washing the fragrance lingers for a day or two depending on other hair care products you use.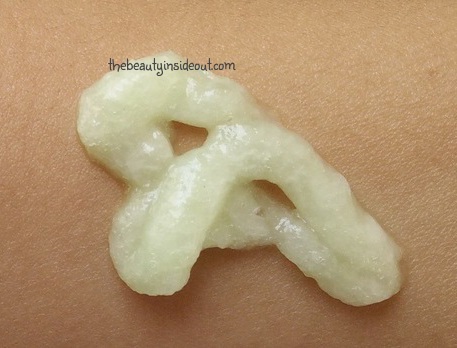 Upon rubbing in between my hands the shampoo becomes rich and creamy. The shampoo does not produce much lather and if you are someone who is used very rich foaming shampoos you might find this not to be working for you. The shampoo cleanses my non-oiled hair very well but at the same time it is highly moisturizing that, if used in higher quantities, the shampoo weighs down my hair. Nonetheless, this shampoo would work wonders for taming flyaways and frizzy hair.
When oiled with a lightweight oil, say the Soulflower Bhringraj Oil, it gets cleaned easily but if I'm using a heavier oil such as Olive Oil, it takes some effort to clean up and I required a LOT more shampoo as I said it does not lather much and I have this urge to use more quantity thinking that it would clear the scalp and remove oil well, which it does but at the cost of weighing down my hair and making it limp the very next day of wash. Other than that my hair does not become heavily knotty or tangled rather my hair is more sleek and manageable.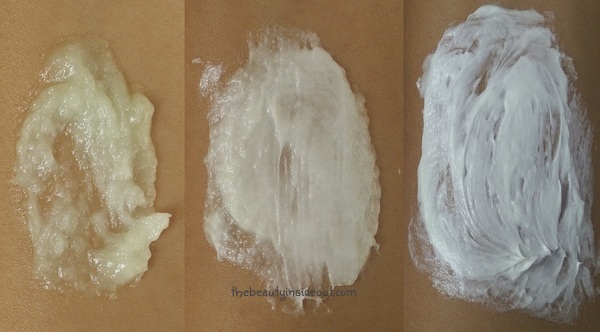 The shampoo did not aggravate any additional hairfall and since the shampoo is hydrating on its own, I didn't require any separate conditioner too. Occasionally I like to use this shampoo as a standalone conditioner running through my mid lengths after shampooing with a gel based hair cleasner.
Considering the quantity provided for the price, it is not cheap as the consistency is thick and you need more quantity than gel shampoos, so it's going to get over soon. However, I liked that it didn't make tall false claims; it stayed true to its claim of cleansing and moisturizing rough dry hair leaving it shiny soft and manageable.
For me this was not a bad shampoo. Even though it was a little bit heavy for my thin hair, I liked using it during this winter when my dry hair is even more drier; I would say this was a saviour for me. The shampoo beautifully hydrated my hair and I totally loved its after effects – silky smooth darker hair with no tangles. Touchwood !
Pros:
Convenient tube packaging.
Gentle shampoo that can be used on alternate days.
Cleanses non-oiled hair efficiently.
Being a creamy shampoo, it does not make your hair oily or sticky.
Highly nourishing and moisturizing.
Makes hair silky smooth, shining and healthy looking.
Perfect for Rough Dry Hair.
No need to use a separate conditioner.
Not tested on animals.
Cons:
Incomplete ingredient list.
Consistency is difficult to work with.
Cleansing heavily oiled hair can be a pain.
Weighs down thin hair.
Rating: 4/5
In short, Aroma Magic Aloevera Cream Shampoo is a creamy herbal shampoo that is made without harsh chemicals and cleanses the scalp without stripping its natural oils. It is highly moisturizing that makes it not suitable for oily scalp and flat hair types. I would recommend this for ladies with thick, curly, wavy, dry, rough, coarse, frizzy, chemically treated or colored hair.
So that's all about the Aroma Magic Aloevera Cream Shampoo. Have you tried this? Share your thoughts in the comments section below.
Also Check Out
Until Next Time,
Stay Beautiful♥