Hydration plays a key role in keeping our skin plump and bouncy. Be it oily skin or dry skin, we need to give our skin that daily dose of water content to make it lively. Our Indian skincare market is booming with Korean skincare products but they tend to be pricey. This SNP Prep Peptaronic Serum is said to be the next Hada Labo Hydrating Toner with a cheaper price tag. So being a broke skincare enthusiastic I decided to give it a try. Read on to know my experience with it.
Product Description:
This peptide-based water-gel serum gives you a boost of long-lasting hydration in one go. It reduces wrinkles and helps to lock the moisture content without feeling tacky or sticky. With regular use, your skin will be protected from Irritations and other external stimuli.
Ingredients: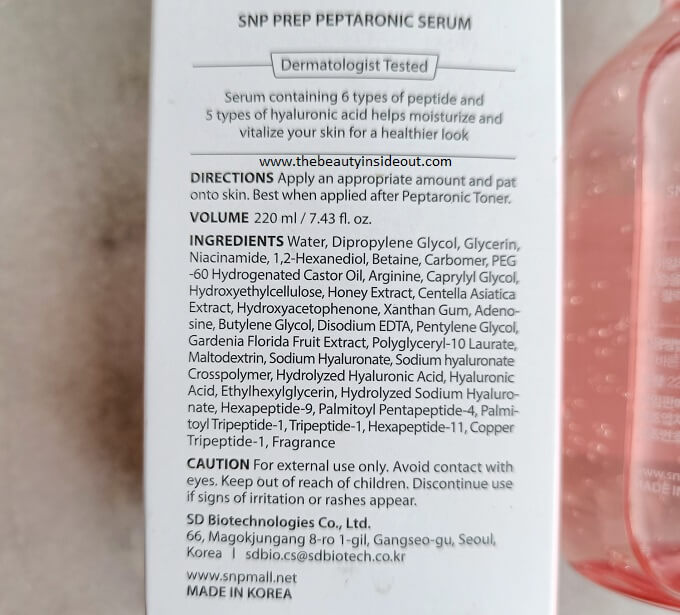 Price: Rs.750 for 220 ml
Where to buy it?
SNP Prep Peptaronic Serum Review
Packaging: The SNP Peptaronic Serum comes in a pink-based plastic jar which looks very cute on my vanity. It's a squeezable bottle that sometimes leaves you with a little too much product. Coming to the point, you don't need much with this product. A little goes a long way. In my opinion, the packaging looks fine but when traveling it can be a big mess as I believe the cap is cheap for the price and it doesn't close properly. Also, it's bulky so it takes way too much space in your bag.
Texture: It's a thick transparent serum that spreads into the skin very nicely. The product sinks very quickly and leaves no residue. If you have oily to very oily skin you will surely love this.
Fragrance: SNP Preptaronic Serum has a synthetic floral scent, similar to the SNP Tone Up Cream. I am not very fond of it. It lingers for quite some time. I think sensitive people should definitely patch test first. I love this product and it would have been my holy grail if it didn't have fragrance listed higher up than many peptides. Especially the brand heavily marketed it as a peptide-based serum!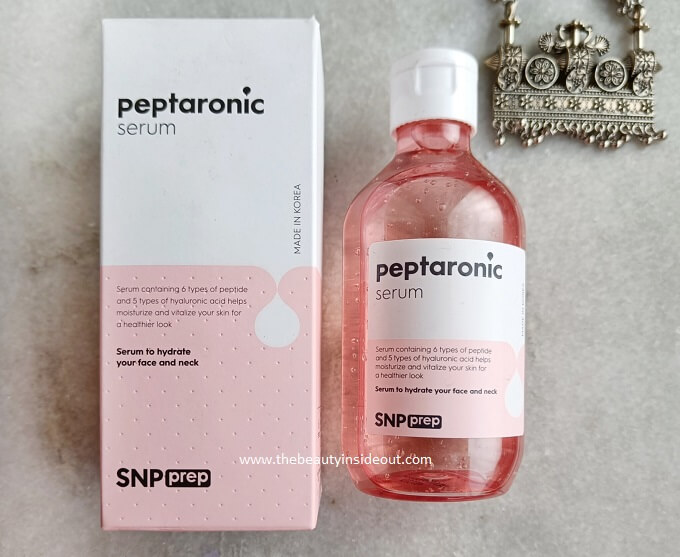 My Experience:
This product gives you packed hydration without being sticky or heavy. My pores and wrinkles look well moisturized and somewhat blurred. It has a bunch of great ingredients – Hyaluronic Acid, Peptides, Centella Asiatica, and 4% Niacinamide. But I haven't seen any anti-aging or brightening aspects of this product. I have used Hada Labo Toners in the past and I must say it's a cheap dupe for it. I use it over damp skin and top it up with a moisturizer otherwise it can be a bit drying on the skin. This is because Hyaluronic Acids attract moisture from the environment. And if the skin isn't damp enough then it sucks moisture from the skin leading it to be dry. It doesn't have any occlusive so one must top it with a cream-based moisturizer. Nonetheless, I have used a lot of hydrating serums in the past and I think this definitely works. The pricing and quantity are great and are worth a try.
Pros :
Great for hydration.
Suitable for all skin types, including oily skin.
Has 5 types of Hyaluronic Acids and 6 types of Peptides.
Have 4% Niacinamide, which strengthens skin barrier function.
Quantity is huge, definitely cost-effective.
Easily one of the best (if not only) affordable hydrating serums available in India.
Easily available online, often on sale.
Cons :
Contains fragrances that may not suit everyone.
Big and bulky bottle is not great for traveling.
Can dry out the skin if you live in a dry area.
Rating: 4.5/5
Would I recommend it? Yes, I'd recommend this product. It's one of the best hydrating serums that's affordable and effective as well.
Have you tried this popular hydrating serum? If so, do share your experiences below.