Even though most of the liquid lipsticks are very long lasting, I always try to stay away from them as they tend to dry out my lips very badly. Most of the liquid lipsticks are somewhat similar to lip glosses but since they contain pigments of lipsticks, they are so pigmented and sets into a drier matte finish. Today I'm going to share my experience with Revlon Ultra HD Matte Lip Color in the shade Seduction. Even though the product does not mention it, basically this is a liquid lipstick. So without any further ado, let's get into the review.
Product Claims:
Revlon Ultra HD Matte Lip Color is Lightweight, high definition velvety matte color. It is Moisturizing & velvety feel. 100% wax-free, gel formula. Available in 8 high definition shades.
Price & Quantity: Approx. $6 or Rs.1195 for 5.9 ml
Availability: You can buy it from Amazon.com or Amazon.in
Ingredients:
My take on Revlon ultra HD Matte Lip color Seduction:
Packaging: The lip color comes in a frosted flat rectangular tube with a silver twistable cap. The packaging is really nice & attractive and stands out in my lipstick storage organizer. It has a standard doe foot applicator similar to many lip gloss applicators. The applicator is very easy to handle and applies the lip color precisely.
Fragrance: It has a mix of sweet whipped vanilla and fruity mango fragrance which is strong but subsides after sometime. People who don't like strong fragrances in their cosmetics might not like the smell of it. I personally don't mind the smell as it does not linger for long.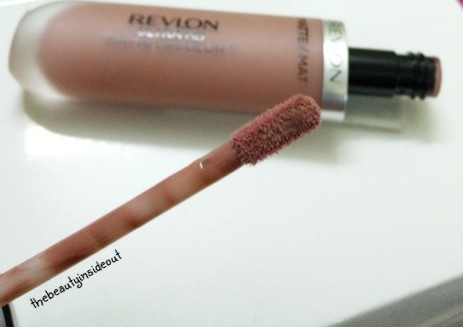 Shade: The shade Seduction is a perfect nude shade with peachy pink tone suitable for everyday wear. It would look amazing on fair to medium skin tones, making their lips but better shade. This shade would go well dramatic smokey eye looks. However, this particular shade might wash out dark or dusky skin tones, so I would recommend to do a swatch test before buying at any Revlon counters.
Texture/ Pigmentation: This liquid lipstick has a rich creamy formula. Even though it is thick, the lip color spreads easily on the lips without tugging. The lip color has good pigmentation and gives opaque coverage in one or two swipes. It can be easily buildable but it might look a little bit heavy on the lips. One has to be careful to check their teeth after applying this liquid lipstick as the color from the inner lips transfers to the teeth. It is not at all transfer proof, it transfers to cups and glasses when it is applied wet. But when it is blotted down it does not transfer much.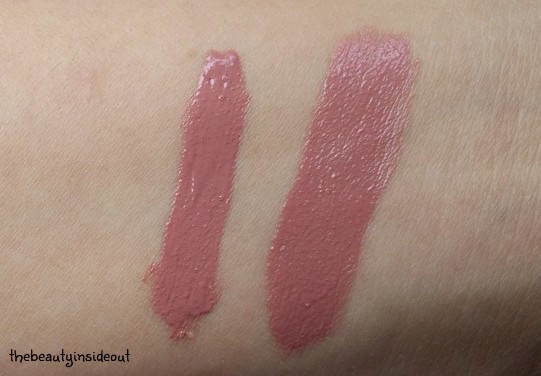 Application/ Longevity: The lip color applies wet on the lips and stays that way giving a glossy finish instead of matte. The glossy finish gives a plumpy lips effect. I prefer to blot my lips after applying this lip color and when blotted it settles down to a beautiful matte finish which I absolutely adore. This lip color does not smear without a lip liner. But I would suggest to line your lips for a more defined look and make your lips give that plumpy look.
The best part about this lip color is that it does not dry out your lips like other liquid lipsticks. So even people with dry lips who have been hesitating to try liquid lipsticks can absolutely give it a try without thinking. It's that good. It moisturizers the lips as well as gives a matte finish once blotted and feels very comfortable on the lips. It does not accentuate fine lines nor becomes patchy.  Since this is a light nude shade, the color fades away without leaving any tint behind. It stayed on my lips for about 5-6 hours with light snacking. Darker shades in this range might stay even longer.
Pros:
Seal proof packaging.
Beautiful nude shade suitable for everyday wear.
Rich Creamy texture glides on the lips without tugging.
Pigmentation is good.
Does not dry out the lips.
Does not settle into fine lines nor becomes patchy.
Cons:
Strong fragrance.
Expensive.
Does not give matte finish.
Not transfer proof.
Low staying power being a liquid lipstick
Final Word:
Revlon Ultra Matte HD Lipcolor in the shade Seduction is a beautiful peachy pink nude shade that is suitable for everyday wear. It glides smoothly, has good pigmentation and stays for a decent 5-6 hours without causing dryness. If you are expecting this to be a matte lipstick, then you'll be absolutely disappointed. However if you are someone who have been staying away from liquid lipsticks since most of them dries out your lips, then this is a best choice to try as it moisturizes the lips as well as gives a matte finish once blotted down. I absolutely love this lip color and would love to try the other shades too.
Rating: 4.6 / 5
Have you tried Revlon Ultra HD Matte Lip Color ?  Share your thoughts in the comments section below.