South Korea infamous for its tremendous skincare routines have some innovative skincare products and seeing the number of products they have, I was always overwhelmed. Also, being an ardent fan of Korean Dramas 😀 and seeing the actors pampering their skin with face mask sheet in the dramas, if you've seen you might know what I'm saying, I've wondered if I'll be able to get those here. In India, these face mask sheets are not easily accessible so when I got a one in my May Edition OhCuteBox , I was super excited to try it out. I got Four Season Red Ginseng White Clean Active Mask from skin18 which is an online store that sells korean beauty products. Korean face mask sheet usually comes in a lot of variants catering to different needs such as hydration, whitening, anti-aging, etc which are soaked in powerful serums. And I got one which claims to be a whitening one. Ok let's see about the product.
About the Korean Face Mask Sheet from skin18 :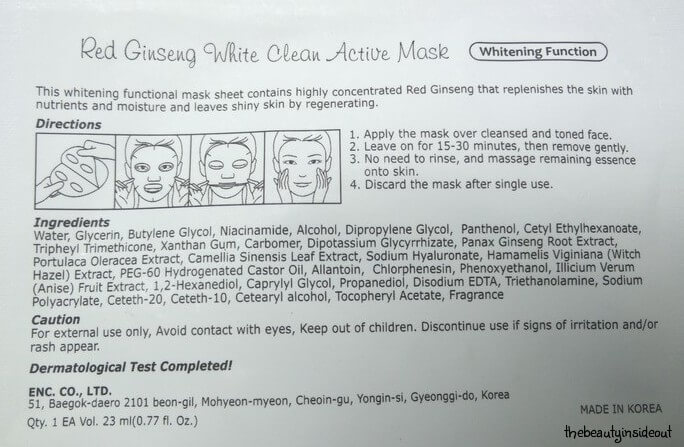 Quantity: Single sheet with 23 ml serum.
Price: US$ 0.95 ( approx Rs.64)
Availability: You can get it from skin18.com
My experience with Four Seasons Red Ginseng White Clean Active Mask:

The face mask sheet comes inside a sachet with cute colorful designs printed on the cover. The face mask is a thin sheet made of cotton fiber soaked in a serum which is dripping wet. The sheet mask is of good quality as it does not tear off easily. The main ingredient in this sheet mask is highly concentrated red ginseng extract. I haven't heard of it until I got this face mask. On googling, I found that Red Ginseng is good for aging skin and skin that is damaged by sun exposure. Coming to the fragrance, I could not relate the smell of it to anything in particular as I do not know the smell of red ginseng. But it not something too overpowering. The smell is mild and not very bothering to me. You can feel the smell as long as you have the face mask on your face.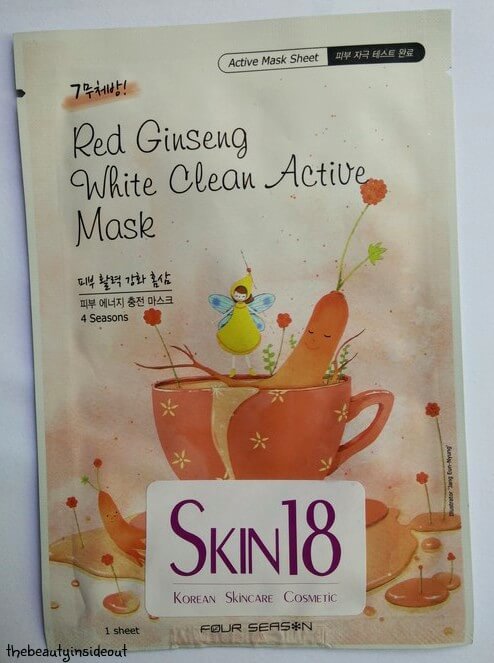 So after a tiring day outside in the sun, I used this mask yesterday night. Before using the sheet mask, I kept it in the refrigerator for 15 minutes as I felt the sachet was slightly warm due to the hot weather. I then placed it on my face, it has holes for the eyes, lips and nose. It perfectly fits to the contours of my face and since it has serum which is damp, it sticks very well and is easily adjustable to any face shape. I kept it on for about 20 minutes and there was a cooling sensation throughout the whole time I had it on my face. After removing the mask, I massaged the remaining serum on my face and extended it to my neck and slept off with that. The next day I could see my face was bright, soft and smooth with a subtle glow. I was happy that it did not clog my pores as I have heard sheet masks tend to clog pores especially on acne prone skin. This sheet did not dry out my skin nor made it oily and gave me enough hydration to keep my skin supple. As for the whitening claim, I didn't find any difference. Even though it is not possible to judge a face mask by a single use, I liked that it gave me a nice fresh face in the morning which was very dull prior to using this mask.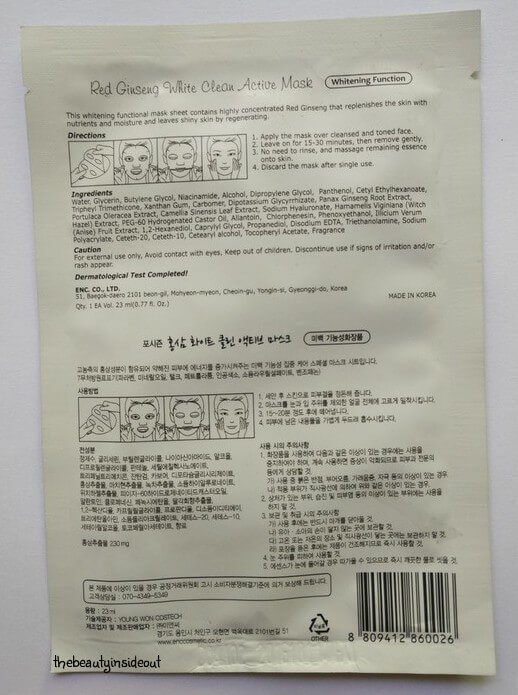 Pros:
Affordable.
The sheet mask is of good quality.
Gives healthy glow to the skin.
Hydrates and makes the skin supple.
Contains Red Ginseng which is good for sun damaged skin.
Did not clog pores.
Cons:
Availability.
Contains alcohol.
Final Word:
This was my first time trying a korean face mask sheet and I liked it very much. The red ginseng white clean active mask brightens and nourishes dull, tired skin providing enough moisture and makes your skin radiant which will last for the whole day. If you are going to attend a wedding or like to have a small pampering session at home by yourself, definitely give it a try. This will result in a fresh, clean, clear and glowing skin.
Rating: 4.5/ 5
Have you tried any korean face mask sheet? Do you have any brand suggestions that we could get it in India? Share your thoughts and comments.