Bhringraj is a medicinal herb known to promote hair growth, cure acute hair loss, treat hair thinning and greying. After I came to know about these benefits , I wanted to get a Bhringraj Oil. So I got Soulflower Bhringraj Oil. Since this is my first time trying a Bhringraj Oil I did not have much expectations, let's see how this one fared for me.

About Soulflower Bhringraj Oil :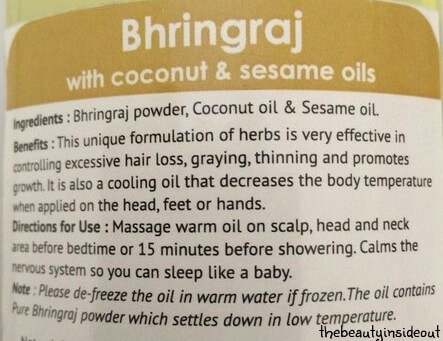 Price & Quantity: Rs.250 for 200 ml
Shelf life: 2 years from date of manufacture
Availability: Available online here
My experience with Soulflower Bhringraj Oil:
Soulflower Bhringraj Oil is housed in a sleek transparent plastic bottle with a flip cap. The flip cap is tight and the oil does not leak from the bottle or cause any spillage. The bottle is handy and easy to carry around making it travel friendly. The oil appears greenish yellow in color inside the bottle but comes out as a clear liquid. It has a very mild herbal smell which is pleasant and not overpowering. The oil has a light texture and does not feel heavy at all. The consistency is very nice, not too thick or too runny which is perfect for an oil.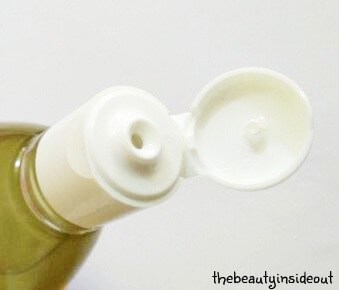 The first thing that caught my eyes when I got this oil is the black residue at the bottom of the bottle. Since it's quite normal for products containing natural ingredients to separate, the black residue did not bother me much. Also its clearly mentioned in the ingredient list that the hair oil contains bhringraj powder in coconut and sesame oil bases, so no doubt the residue must be the bhringraj powder. Once the bottle is well shaken, the residue gets dispersed into the oil again.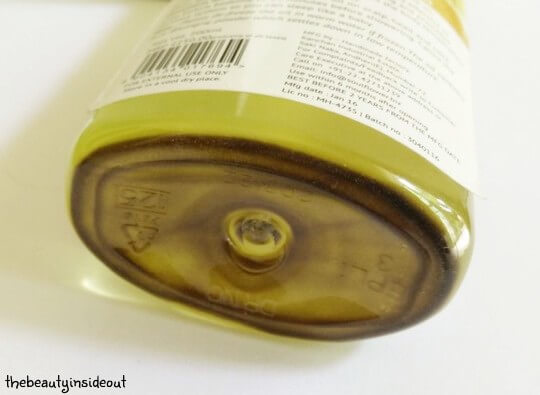 I take a generous amount of the oil and apply it on my scalp half an hour before washing my hair. Post washing, it leaves my hair soft, smooth and manageable. The light texture makes it easy to wash off and does not require double shampooing like those heavy sticky oils. For deep conditioning I mix this oil with Extra Virgin Olive oil and apply it overnight which results in stronger and nourished hair.  On other days when I feel lazy or don't oil my hair, I like to use this as a serum. Since the time I switched to using SLS free shampoos my hair tends to become slightly dry post washing. I take a pea sized amount of the oil, rub in between my hands and then run through my hair. This tames my dry frizzy hair beautifully without making it very oily or heavy. When applied before sleeping, it calms my mind and induces sleep.
I have been using it for two months regularly atleast thrice a week. I could notice that it reduced the shedding of my hair strands day by day and improved my overall hair growth rate. As for the graying claims, I can't comment on it as I don't have grey hair. Over regular usage, this hair oil did give me a healthy, smooth, strong and manageable hair.
Pros:
Lightweight oil.
Natural and pure.
Makes hair healthy and manageable.
Works great as a serum post washing.
Reduces hair fall.
Improves hair growth.
Cons:
Available only online.
Does not do much for thinning hair.
Since it's lightweight it is not deep conditioning on its own.
Final word:
Soulflower Bhringraj Oil is a great natural and pure oil that is lightweight , promotes hair growth, controls hair fall and makes hair soft, smooth, healthy and manageable. If you are looking for a lightweight bhringraj oil, do try it.
Rating: 4.5 / 5
Have you tried Soulflower Bhringraj Oil ? Share your thoughts and comments on the comment section below.