Hello everyone,
I'm happy to announce that I'm hosting a small giveaway on my blog The Beauty Inside Out for the very first time. I would like to thank all the readers who have supported me so far. Your support keeps me motivated to continue blogging. Initially I was skeptical as what to gift as a token of love for my readers. As I was very much impressed with OHCUTEBOX subscription box, I decided to giveaway this month's July's Monsoon Edition to the winner of the giveaway. This is in no way a sponsored giveaway.
Read Ohcutebox May Edition Review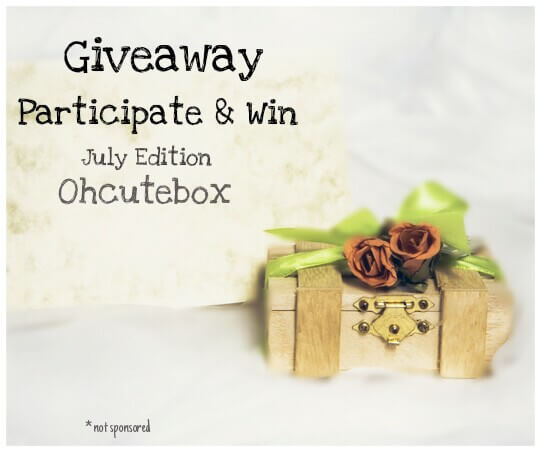 Rules
1.Follow my blog through email subscription(at the top bar). Make sure to confirm your email.
2.Follow my Facebook page
3.Follow me on Instagam
4.Follow me on Twitter
5.Follow me on and Google+
6.Share the giveaway on Facebook and Instagram tagging 3 or more friends who would be interested in participating.
7.Use the tag #TBIOgiveaway1 on your social media posts so that I can keep a track of it.
8.Please Submit your entries through the rafflecopter widget
Terms and Conditions:
1.The giveaway is effective from now and will run for 10 days until July 15.
2.The giveaway is open to Indian Residents with a valid postal address.
3.No hate comments and rude behavior please! Unsubscribing and unfollowing from social media after the giveaway will disqualify you from future giveaways.
4.There will be one winner who will be selected randomly and will be announced within a week after the contest ends on my instagram and facebook page.
5.The winner has to contact me via email within 48 hours from the time of announcement. Otherwise new winner will be chosen.
Thats it all. All the best everyone. I once again thank you for giving me support and will be waiting for your entries. Don't forget to invite your friends too.