90s fashion is "IT" nowadays be it wardrobe or make-up. And 90s make-up will remind you lot of grunge and metallics with chunky mascaras thrown in. I remember as a kid coming across Madonna and Cher and instantly wanted to slather my lips with that beautiful metallic maroon or grungy purple, of course I couldn't because you aren't allowed make-up as a kid. Well 90s trends are here to stay so I decided to make that child inside me happy, and at least pretend that I have the guts of Madonna to put on a grungy shade, I bought Nyx Soft Matte Lip Cream in shade in Transylvania (shade 21). I have never tried bold colors so often, I took up one of the tried and tested brands, and the color looked so intense that I had to buy it. Let's see how my impulse buy turned out to be
Product Description:
NYX Soft Matte Lip Cream delivers a burst of creamy color and sets to a stunning matte finish. Surprisingly durable, lightweight and delightfully creamy, it's no wonder this sweetly scented formula is a fan favorite.
Ingredients:

Shades:
Nyx Soft Matte Lip Cream is available in 33 shades, so you have wide variety to choose from. I bought the shade number 21 Transylvania.
Price: 600 INR for 8 ml
Where to buy? Amazon
My take on Nyx Soft Matte Lip Cream :
Packaging: The product comes in a small outer box, and the lip cream comes in a standard affair of transparent bottle with wand applicator. Since the bottle is transparent you can see the color and don't need to check the code, but they have pasted the color code on the top of the lid. You need to tighten the cap since loose cap may cause content to spill in your bag or vanity.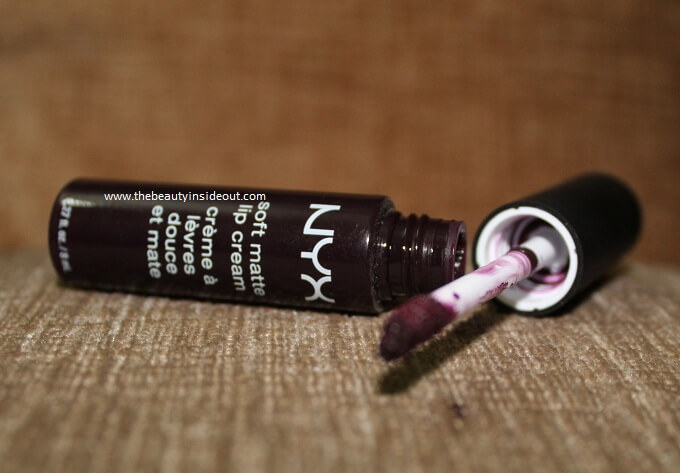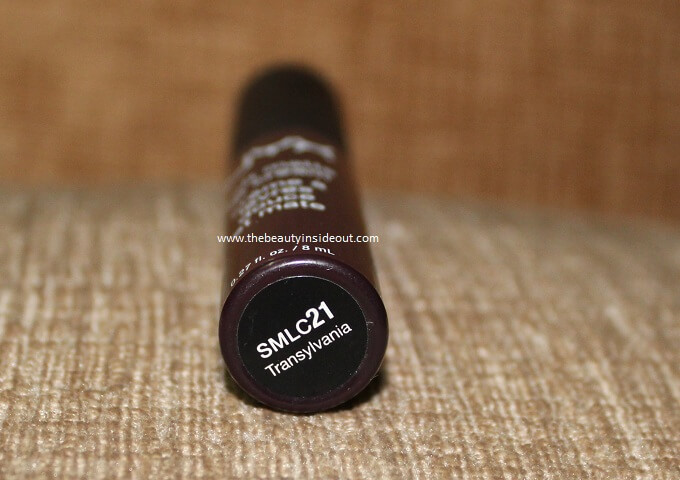 Fragrance: It has a mild flowery scent that made me want to stick the wand in my nose, I loved it!! It does go away as soon as the lip cream dries, so those of you who don't like this fragrance won't have to suffer.
Texture: Nyx Soft Matte Lip Cream has a soft velvety texture, even when you apply it as a liquid. If you have chapped lips, please prep your lips beforehand. While applying the lip cream, it feels extremely comfortable but once it dries-up it tugs at your lips. This may also happen because of the darker shade that I have bought, since lighter colors don't use heavy pigments. I shall review lighter shades when I have bought them to see whether this holds true but yeah this shade will tug at your lips, not in an uncomfortable way but like a reminder "yo! I am sitting on your lips but don't mind me!"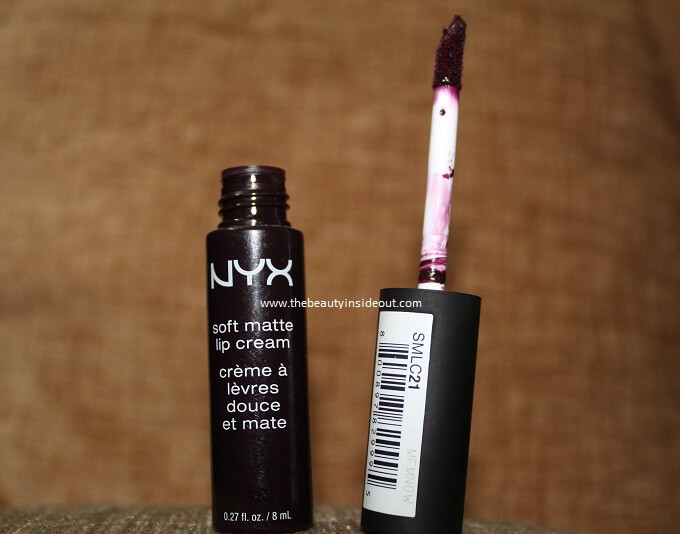 Finish: The lip cream on drying gives a beautiful awe-inspiring velvety finish. As it is with darker colors, you may see lines developing on your lips on first layer of application, so you need to swipe the color at least twice for correct even application. It does not give a chapped appearance or settle in lines but as I said you must apply it evenly, improvise on your application pressure to fill in your lips. Think of it as coloring a sketch with water colors, how we do darker colors more carefully than others.
Staying Power: It will not budge, and it will not smear, unless you have a very heavy meal or a cocktail, but still the hue will remain, you may just need to reapply on the area where you might have eaten it with your meal. I slept with lipstick on (that's what I do when I check their staying power, Crazy I know, lipsticks have that effect on me) and I did not scare my dog since lipstick was almost intact with few flyways (she will bark her head off if she finds anything funny on my face). The lipcream just sticks to the lip surface and doesn't budge. On the downside, the dark shade does leave behind a tinge like you have been bitten by a bee and you will need good amount of cleanser to get that tint off your lips. But OH MY GOD! THE COLOR!! It is so pretty and beautiful and powerful. As soon as I applied it I felt like taking my husband's guitar and start singing at top of my voice or just go on ramp and do a catwalk. One of the prettiest lipstick shades that I have owned ever.

Pros:
Gorgeous Shade
Good applicator wand
Velvety matte finish like the brand claims
Will not dry out your lips extensively
Does not smudge
Does not transfer a lot
Cons:
You may need 2-3 applications for even color pay-off
Leaves behind a tint on lips
You may need a cleanser to completely remove the lipstick
It may tug slightly at your lips
Rating: 4/5
Would I recommend? Go..just go buy this beautiful shade! It has almost everything that a good lipstick should have: beautiful color, good staying power and claim-fulfilling finish. The product range also offers wide variety of colors to choose from which is a plus. Just get on with your inner Madonna or Cher!!
Looking for other lip creams?
Guest Author: Sneha Goley