I haven't seen any brand that is super fast in launching new products. Literally Nykaa introduces something or the other every month. Most of their products have got rave reviews from many. As for me, I've tried only their liquid eyeliner which I found to be pretty decent for the price it retails. After a long time, I bought my second Nykaa product a few days ago. This is their newly launched Nykaa Eyem 24×7 Kajal. It makes a lot of claims, being smudgeproof, waterproof and long lasting. But lets see if it truly satisfies its claims.
Product Description: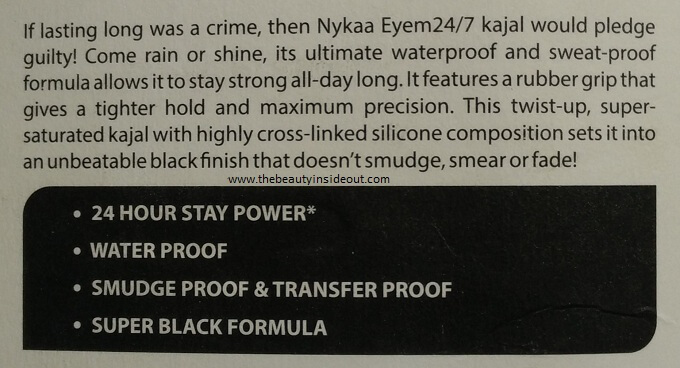 Price: 299 INR for 0.35 gm. Available exclusively on Nykaa.com
My take on Nykaa Eyem 24×7 Kajal:
Packaging: Nykaa Eyem 24×7 Kajal is housed in a card box, like every other Kajal. The card is appealing its in pink shade with details about the product printed on the back. But the ingredient list is nowhere to be found!
Nykaa Eyem 24×7 Kajal has a twistable mechanism. I prefer such types rather than sharpening ones. Although, I'll have to sacrifice that precise super sharp lines, since they are not sharpenable. The body of the Kajal has a pink color rubberrized grip for better hold. Well, It serves its purpose. I'm able to hold the Kajal without the slip that most kajals have. The overall packaging is simple yet nice.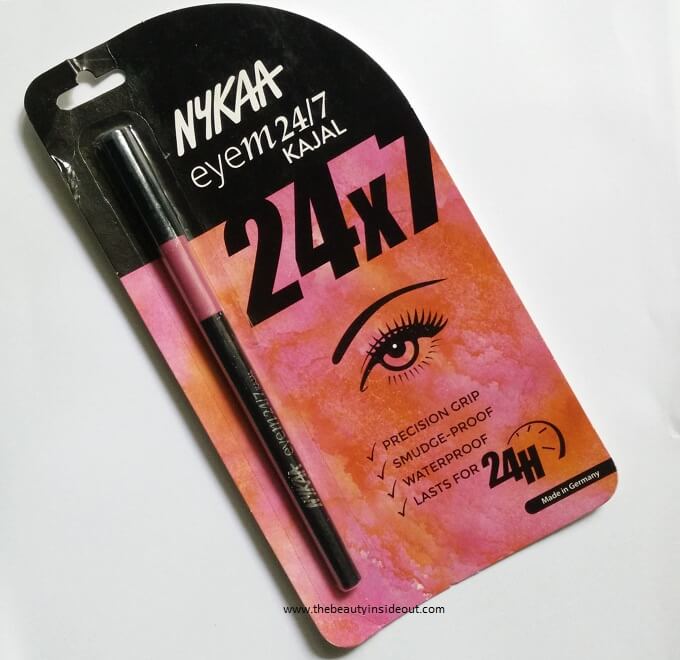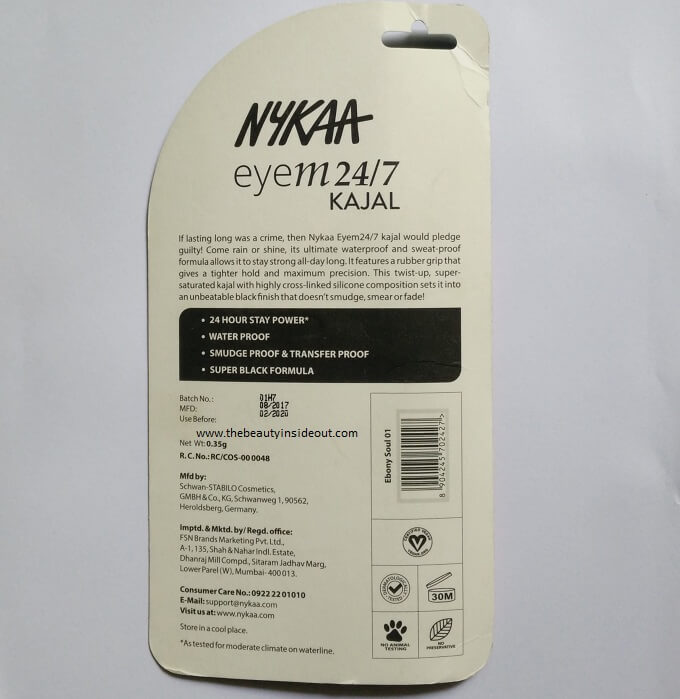 Fragrance: If you closely smell the Kajal, you could detect a chemical fragrance. Otherwise you will not even notice that it has a fragrance.
Texture: It has a smooth, creamy texture that glides comfortably. It applies smoothly on my upper and lower lash lines without any tugs and pulls. The kajal's creaminess is likely going to break the tip if you put in a lot of pressure. And I did break it twice while taking hand swatches; on my eyes I never encountered breakage.
Pigmentation: The color pay off is high, but this is not the most darkest kajal I've tried.  It does not come out as pigmented as it comes out in hand swatches. Anyways frankly we all don't put that much pressure on our eyelids as how we put when doing hand swatches.
With multiple swipes I am able to achieve an intense color pay-off which looks absolutely stunning. The Kajal also deposits a good amount of color on my waterline with multiple swipes, but the intensity is not as dense as it comes out on my lash lines.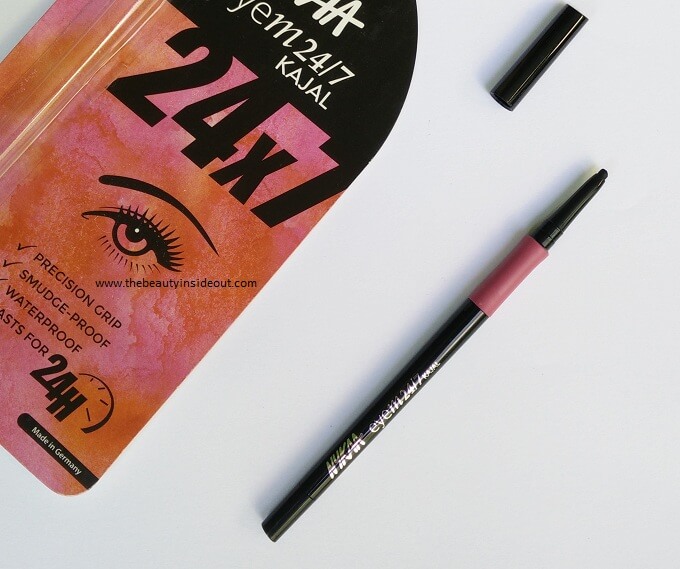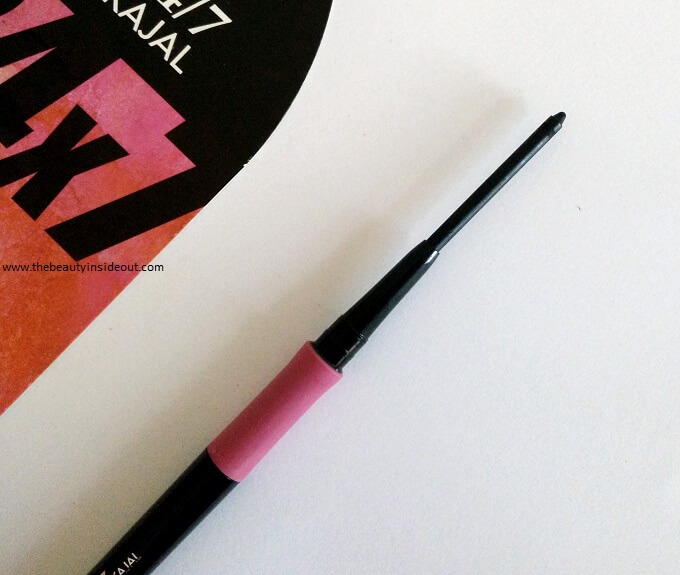 Finish: Nykaa Eyem 24×7 Kajal gives a matte finish with no sheen at all, just how I like my kajals to be. Its sets into a smudgeproof and transferproof finish. It is waterproof to some extent. My hand swatches could survive water splashes and mild rubbing, but when I splash water on my face, obviously my eyes come in contact with water and some of the Kajal does fade away, though some color still persists on my eyes. So I would not say this is completely waterproof, but still it is water resistant.
Staying power: It is long lasting but certainly does not stay put for 24 hours. It lasts for about 7+ hours on my lash lines with proper base. Without priming or any base, the Kajal starts fading sooner. The color on my waterline diminishes by the 3rd hour. Although not completely, it does not appear as strong as it was when applied. During the entire wear time, I didn't not experience watery eyes or stinging on my eyes.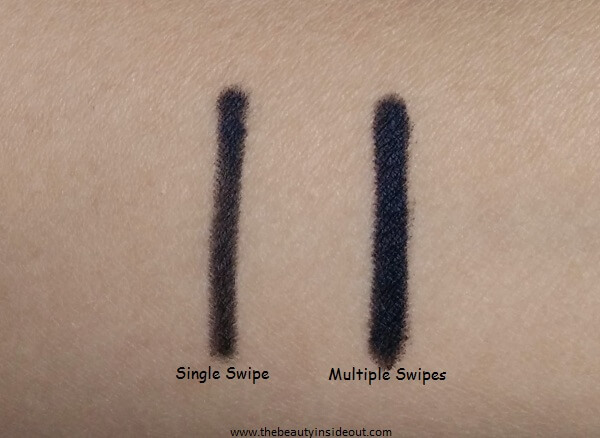 Pros:
Attractive packaging
Smooth texture glides easily.
Sets into a matte finish.

Smudgeproof and Transferproof.

Does not sting or irritate my eyes.
Paraffin and preservative free.
Dermatologically tested and 

Opthalmologically approved.
Cons:
Missing ingredient list.
Chemical fragrance.
Not completely waterproof.
Single stroke does not give intense pigmentation.
Does not last 24 hrs.
Price could have been lower. (My thoughts)
Rating: 4.6/5
Do I recommend? Yes. It has a nice creamy formula that doesn't budge and stays put for a good amount of time. The pigmentation is buildable and hence can be used to achieve different looks, subtle as well as dramatic. Finally, the price is affordable, still it is higher than the Lakme Eyeconic and  Maybelline Colossal whose performance is almost similar to this except that this is more creamier. I would still recommend trying it once if you are a kajal lover.
Looking for other reviews?