Finding your perfect foundation is hard. If you like the finish then the undertones don't match or if the two matched, then it's not the perfect shade. Indian market isn't well aware of this that's why we have only 3 shades of foundation in every BB cream. Yes, that was me shading Indian brands, Thank You. High-end foundations are an investment but if it doesn't work for you, then everything will go in vain eventually. I have my fair share of mistakes when coming to shade ranges and foundation choices. But I always wanted to try Nars Sheer Glow Foundation every time I saw a review for this. Eventually, I saved up enough to buy this after hours and hours of research. Did this impress me? Let's find out!
Product Description:
The iconic glow formula with airbrush technology gives one an instant face-tune and even-toned look. Without alcohol, this medium coverage foundation is fragrance-free and mineral oil-free. Its non-comedogenic formula is suitable for acne-prone skin types.
Price: Rs.3500 from Culty Beauty.
Nars Sheer Glow Foundation Review
Packaging: Nars Sheer Glow Foundation comes in a sleek glass bottle packaging with a black cap. It's elegant and neat looking. But then, it doesn't come with a pump which makes everything messy. I mean it's 2021, and they still don't have a pump. That too for this huge price, I feel it's a huge drawback.
Texture: This is a liquid foundation that is neither too runny nor too thick. It has a consistency that spreads well with fingers. You don't need much to cover up with this foundation. The coverage is buildable and can be drawn upto full coverage without any hassles.
Fragrance: The foundation doesn't have any added fragrance.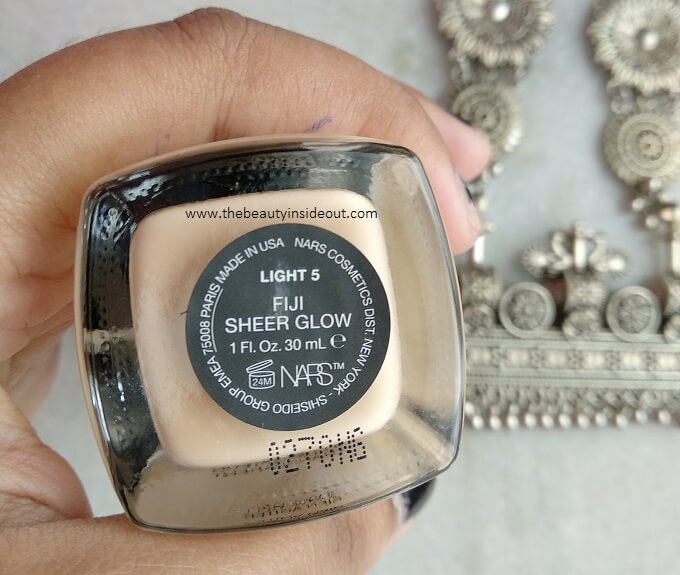 My Experience:
This Nars glow foundation quickly became one of my favorites initially but it does have its own ups and downs. The first time I wore this foundation, I was in love with this. My skin looked natural yet my imperfections were well covered. I didn't prep my skin well and was thinking if this was going to make my skin dry and textured. But voila, it didn't do any of that. Note that I have very dry skin and even water makes my skin dry.
I have a skin tone of NC20 in Mac. I wear the shade Fiji and the color match is perfect for me. It has a warm golden undertone that looks great even when I am tanned. The finish of the Sheer Glow Foundation isn't dewy by any means which can be disappointing for some. I think it is perfect for our Indian humid weather. It has a natural finish if I use gel-based moisturizer but with thick creams & sunscreens, it can look a little heavy or oily. This foundation is ideal for dry, normal, and combination skin types and not suitable for oily skin.
On the downside, the foundation isn't long-lasting. After 3.5 hours my skin starts to look the same like it was before. The makeup just vanishes with time. It isn't mask proof either and transfers/smudges on the mask. I set my foundation every time I wear it but the I lose coverage after a certain period of time and it pills sometimes under the mask.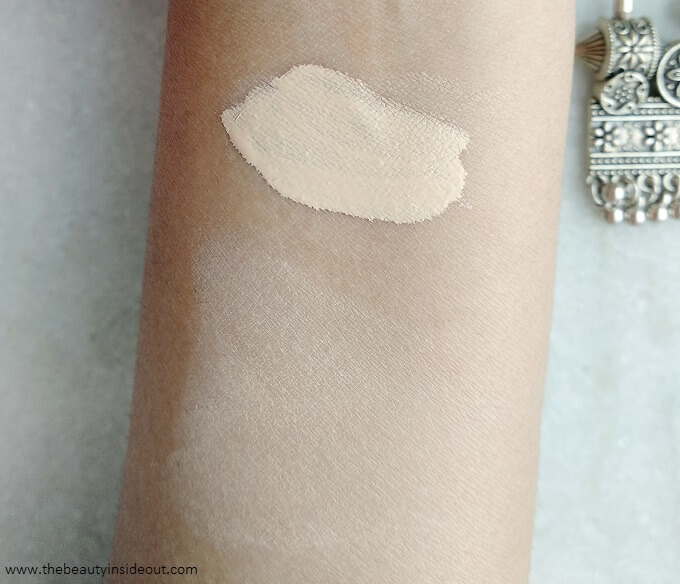 Pros:
Gives a beautiful finish to the skin.
Good for textured skin.
Natural matte foundation which looks very flattering and skin like.
Best undertones for Indian brown warm skintones.
Cons:
This foundation doesn't do well with masks.
The beautiful finish starts to go away after 4 hours and texture and pores can be seen.
Coverage doesn't last well.
Can be oily if you use moisturizing cream underneath.
Rating: 3.5/5
Would I recommend it? If you have the money and like a natural matte foundation with a beautiful finish you can try this foundation. Otherwise, its totally skippable.