The Go Get It Girl March 2017 Fab Bag reached my doorsteps few days back. Honestly I wasn't much interested in reviewing the bag as I am not really happy with it. So it took me a while to make up my mind to write this post. The timing of delivery is not that bad considering it's just the middle of the month. But I had always wished for it to arrive on the first day of the month just like some of the others . Sad! I've never had that luck and by the time it reaches me, I always know what I am going to get 🙁 Anyway let's get into the bag details.
The Go Get It Girl is a brown colored textured bag made of faux leather. It looks decent and durable, nothing too fancy for the theme. I would definitely not GO GET IT. The bag contained many sample products with 2 full-sized products. Still I'm not happy. Keep on reading to know the why.
The March 2017 Fab Bag holds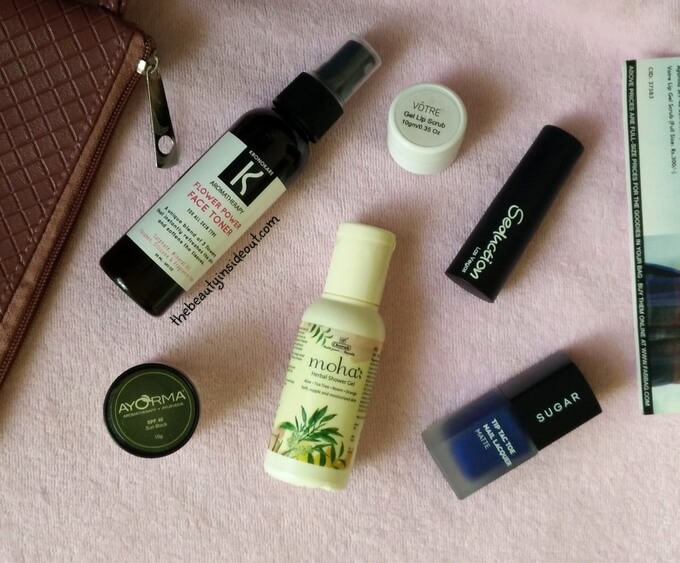 1. Seduction Las Vegas Lipstick 06 – Nude Love (Full Size: Rs.180)
I got to chose this shade among some reds and plums. I feel that it's high time that they send out some other makeup stuff instead of giving out lipsticks all the time. I'm yet to try this lipstick on my lips and I found it having a noticeable scent on the bullet.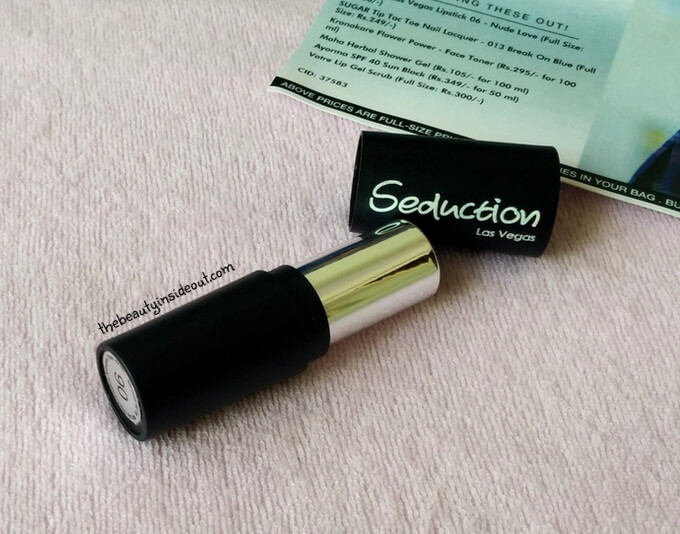 2. Sugar Tip Tac Toe Nail Lacquer – 013 Break On Blue (Full Size: Rs.249)
Personally I don't wear nail paints at all, due to some dutiful reasons. So I won't be using this. This is a recent launch from Sugar Cosmetics and the shade is an eye catching navy blue.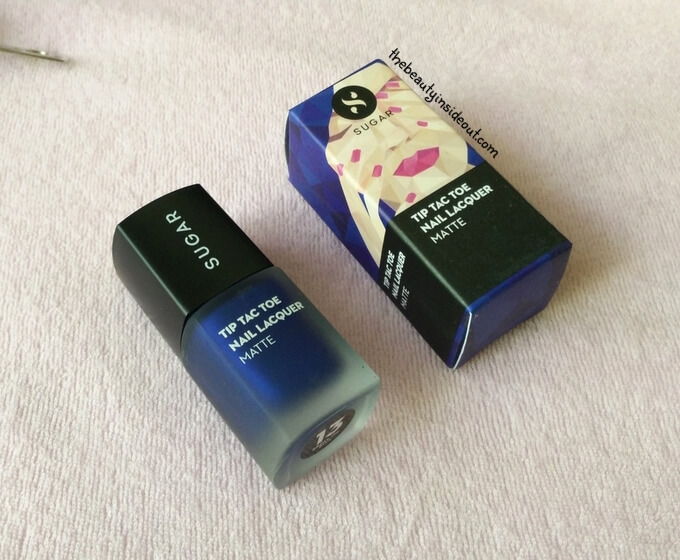 3. Moha Herbal Shower Gel (Rs.105 for 100ml)
Previously I have tried Moha moisturizing lotion and found it to be decent. This shower gel is a sample of 30 ml in which only half of the tiny bottle was filled with the gel. Was I given a used bottle? I didn't even bother to ask for a replacement for such a tiny sample that will hardly last three uses.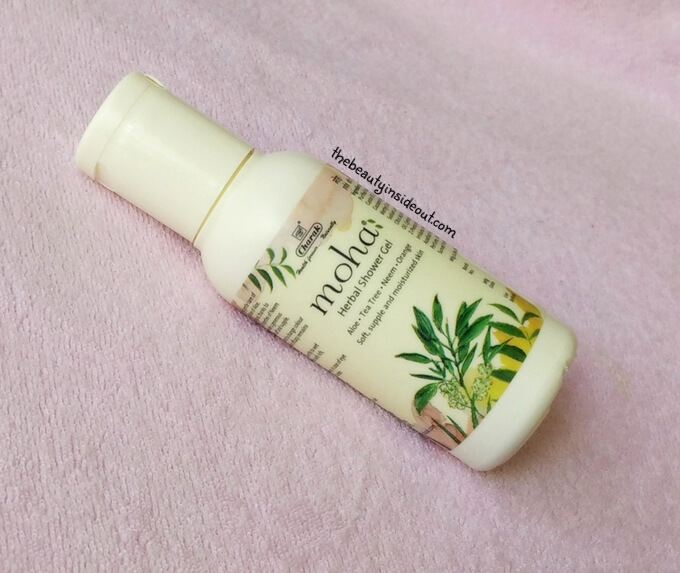 4. Ayorma SPF 40 Sunblock (Rs.349 for 50 ml)
Ayorma products are either hit or miss for me. I didn't like their night cream as much as I loved their face wash. Yet again this is a teeny tiny sample of 10 ml. This directly goes into my travel bag.
5. Votre Lip Gel Scrub(Full Size: Rs.300)
One more tiny sample with 10 gm product. This is supposed to be the full sized product that costs 300 INR??? Ok let's leave at that. The product was manufactured in Aug 2016, may be they just wanted to dispose off to me.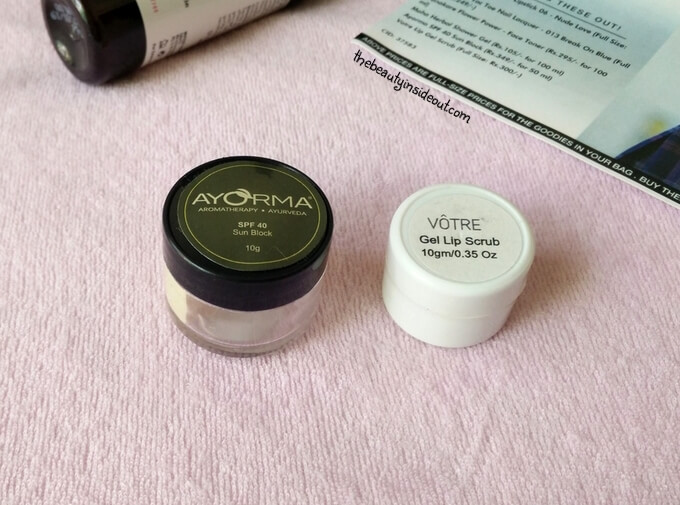 6. Kronokare Flower Power – Face Toner (Rs.295 for 100 ml)
Finally the only product that I liked in my March 2017 Fab bag is this floral toner. After having a good stint with Kama Ayurveda Rose Water, I've been hooked to floral toners and this one from Kronokare is made with a unique blend of 3 flowers. I'll be reviewing this toner after using it for sometime.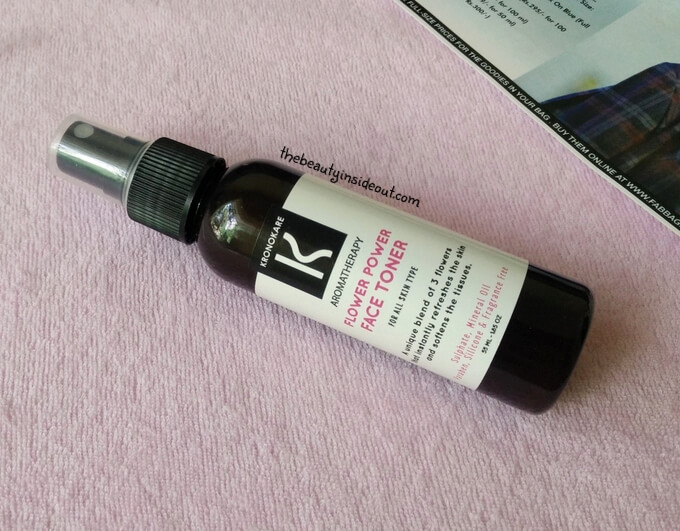 Totally I got 6 products, which I am not so happy about due to tiny samples . Also the products were not to my liking and I received a half empty bottle of Moha Shower Gel. Nothing much to boost about this bag. If you like the products get it, otherwise JUST SKIP IT I say.
What you received in your March 2017 Fab Bag? Share your thoughts in the comments section below
Also check out:
Until Next Time
Stay Beautiful♥