Apple Cidar Vinegar is an incredible health tonic whose benefits are widely known for centuries. Made from apples, you can consume ACV internally for health benefits as well as use it externally for various beauty benefits. Recently Mamaearth launched a new range called Traditional Recipes under which they have a handful of wellness products that are catered to us, Mothers. Mamaearth Organic Apple Cidar Vinegar is one of them, which is specifically meant for mothers who are tired of bringing back their per-pregnancy weight. Keep reading to know more about it.
Product Description: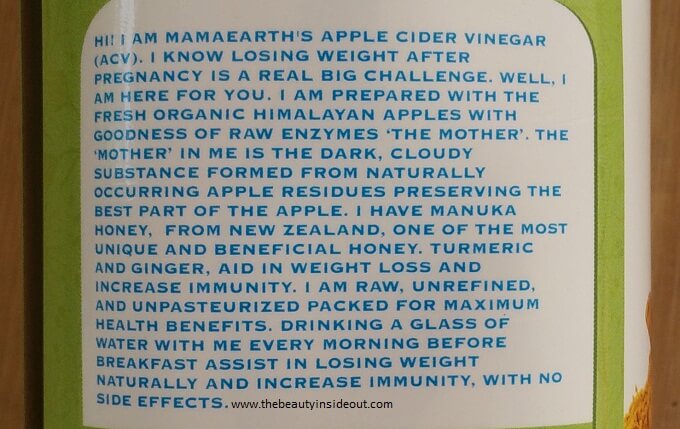 Ingredients:

Ingredient Benefits:
Organic Apple Cider Vinegar With Extra 'Mother' : Apple cider vinegar is a rich source of Vit. A, Vit. C and Vit. E, enzymes, potassium, magnesium, calcium. Drinking Apple Cider Vinegar made with organic apples every morning helps improving metabolism of body and assists in weight loss.
New Zealand's Manuka Honey With UMF 10 : Manuka Honey is produced only in New Zealand. It is one of the most unique and beneficial honey in the World. It is rich in antimicrobials. It is very beneficial for our digestive system. Drinking Apple Cider Vinegar with Honey also assists in losing weight.
Turmeric : Turmeric has been used in India for thousands of years as a medicinal herb. Turmeric has anti inflammatory and anti microbial properties. It facilitates the metabolism, relieves inflammation and boosts the immune system.
Ginger : Ginger helps break down the accumulation of toxins in our organs. Ginger has been used for thousands of years as a digestive aid as it helps with bowel disorder. It enhances our immune system.

No Added Colour, No Artificial Fragrance, No Preservative, 100% Natural & Organic, Raw Unfiltered & Unpasteurized, Non GMO, Natural Gluten Free, Naturally Fermented with 5% Acidity
Nutritional Values: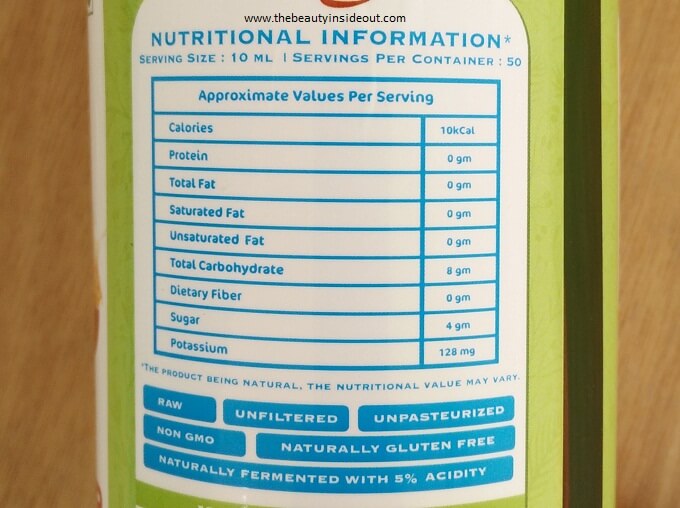 How to use Mamaearth Organic Apple Cidar Vinegar: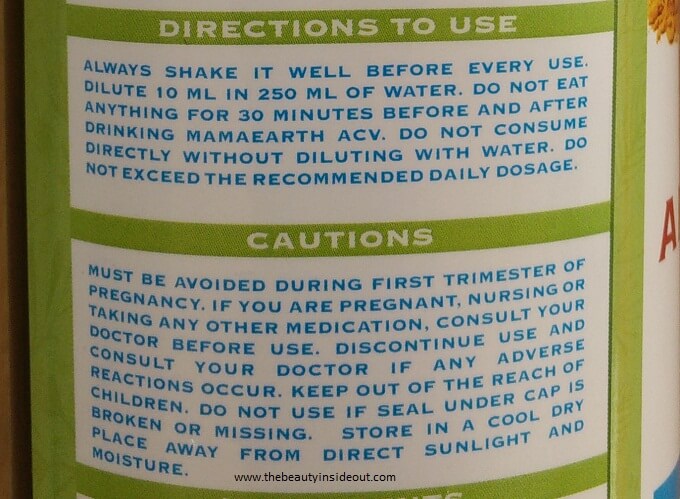 Price: INR 599 for 500 ml. Buy HERE.
My take on Mamaearth Organic Apple Cidar Vinegar:
Packaging: Mamaearth Organic Apple Cidar Vinegar is packed in a tall dark green colored plastic bottle. It comes along with a measuring cup that sits on top of the white cap covering the bottle. The bottle has an attractive label with a thorough insight of the product, its ingredients, benefits, usage, nutritional value, precautions. Everything is clearly mentioned. The bottle itself comes in a standard mamaearth cardboard box and the entire packaging though huge came very securely packed without any damage.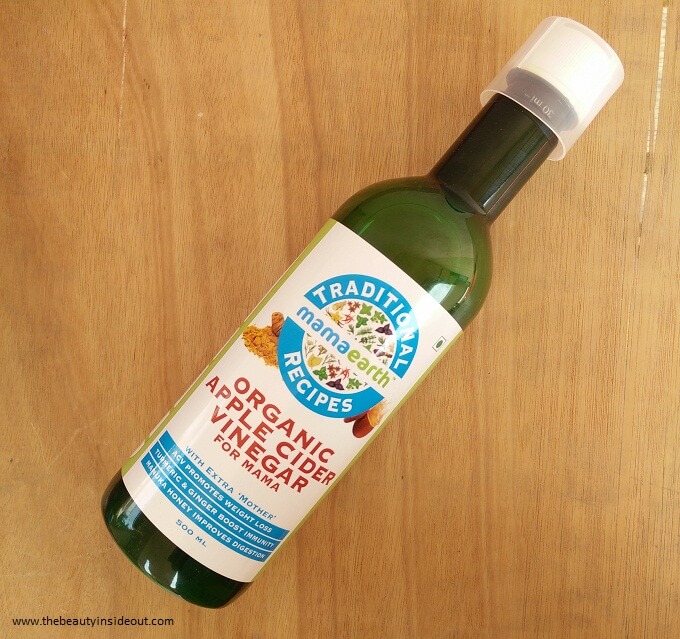 Color : Mamaearth Apple Cidar Vinegar has a dark yellow hue with a hint of brown to it. Upon mixing with water, it becomes light yellow-green sort of a color.
Fragrance: It smells like Vinegar with a predominant ginger smell.
Taste: It's not the most tolerating flavour. You need to develop taste if you are drinking ACV for the first time like me. It tastes sour like vinegar.
Experience: I've been consuming this for the past three weeks on and off as it took sometime for me to get adjusted with its taste. Since the past week I've been drinking it regularly, once in the morning, diluting 1 tablespoon in a glass of water, which is about 200 ml. Following the instructions I do not consume anything before and after drinking this.
My sole purpose of consuming this was for the various health benefits Raw and Unfiltered ACV offers, rather than weight loss in particular. For weight loss management, I would suggest to consume this along with proper diet and regular exercise regime for better results.
For me, I found this helpful for my acidity problems. Adding this into my diet made a noticeable difference. It improved digestion and relieved my constant heart-burns and other acidity related symptoms. I also felt my energy levels boosted and an improvement in my metabolism.
Pros:
Raw, Organic, Unfiltered and Unadulterated ACV.
Contains 'Mother' which keeps enzymes and nutrients intact.
Enriched with Manuka Honey, Turmeric and Ginger Root.
Improves metabolism and boosts immunity.
Free of artificial colors and preservatives.
Cruelty-Free
Cons:
Taste; Apple Cidar Vinegar's taste is something that would not be liked by all. And so is the fragrance.
Rating: 4/5
Recommendation: Yes. Mamaearth Organic Apple Cidar Vinegar is an excellent health drink that improves immunity, boosts metabolism, reduces appetite and aids in weight loss. I would highly recommend getting this for its pure and unadulterated form of apple Cidar Vinegar with extra 'Mother'
I hope you find this review. Habe you tried this product? Did it help with weight loss? Share your experiences.
Also check out
Until Next Time,
Stay Beautiful♥
*PR Sample