While I have tried a handful of Korean beauty products, the Innisfree Capsule Recipe Pack is my first product from the brand. The cute packaging and the concept of sleeping mask is what intrigued me to pick up this variant. Read on to hear out my opinion on this product.
Product Description:
A sleeping pack containing organic Jeju fresh green tea to keep your skin moisturized and clear while sleeping! Organic Jeju Fresh Green Tea and Green Tea Seeds for more refreshed and moisturized skin. Dual Moisture-Rising Technology derived from organic green tea and green tea seed oil. The Green Tea extracted from Fresh Green Tea leaves harvested on Jeju Island is rich in amino acids and minerals that help keep the skin moisturized. The seed oil retains moisture inside the skin to keep your skin hydrated for a longer period. Natural Green Tea Antioxidants: The nutrition capsules, filled with natural ingredients, provide antioxidants to your skin and quickly brighten skin tone.
Ingredients: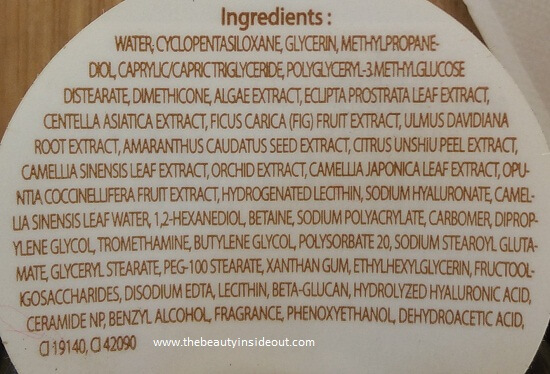 How to use Innisfree Capsule Recipe Pack – Green Tea: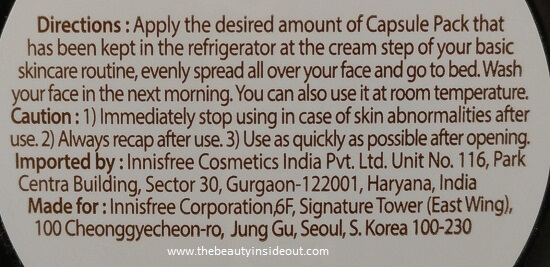 Price: 150 INR. Available on Nykaa.com
My take on Innisfree Capsule Recipe Pack – Green Tea :
Packaging : The Innisfree Capsule Recipe Pack comes in a cute little plastic tub with a green color label glued to the lid. Once you open the top lid, there is a white sheet that has to be teared open for the first usage, after which you can just replace the top lid and store it in the refrigerator for subsequent uses. Though you need to use a spatula or dip your fingers to pick up the product, I can really forgo this con for its adorable packaging. The product details are mentioned at the back of the tube, including ingredients.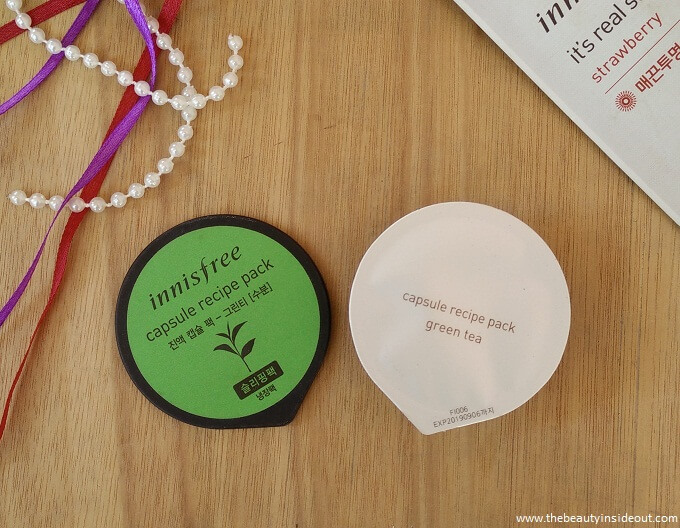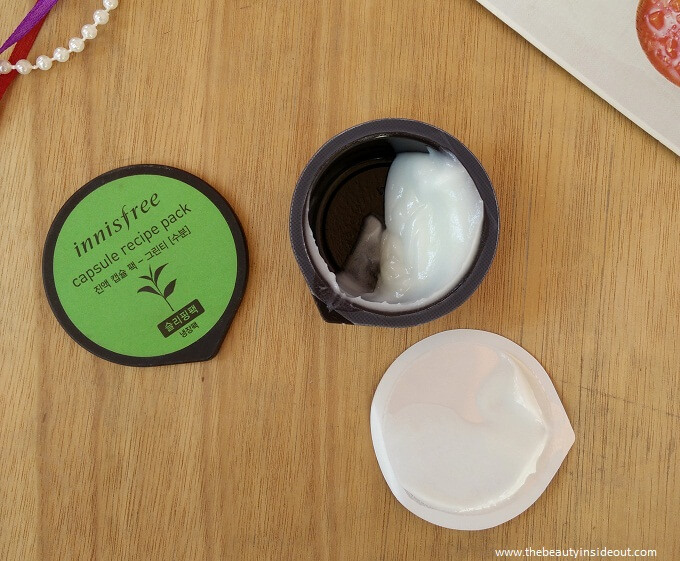 Fragrance: The green tea variant has a faint floral fragrance which is almost negligible once you apply it on your face.
Texture: The sleeping pack is white in color and has a smooth, gel like texture. The consistency is semi-thick and easier to get a hold of it.
Efficacy: This was my first ever sleeping pack and so I was pretty excited to use it the day it arrived at my doorstep. After my usual routine of cleansing and toning, I skipped using a moisturizer as I had the notion that this pack would double as a moisturizer (And yes I was right!), I took a blob of the sleeping pack and applied it on my face. It felt cooling and soothing on my skin (I store it in the refrigerator by the way) .The pack spread easily and needed a good massage. The formula is a bit heavy and even after massaging for a minute, the mask still felt semi-sticky on my face and failed to soak in completely. But then did I just forget that this is a sleeping pack!!!! Gladly as time goes by, the stickiness is no more and the sleeping pack gets fully absorbed into the skin leaving my skin immensely hydrated and moisturized.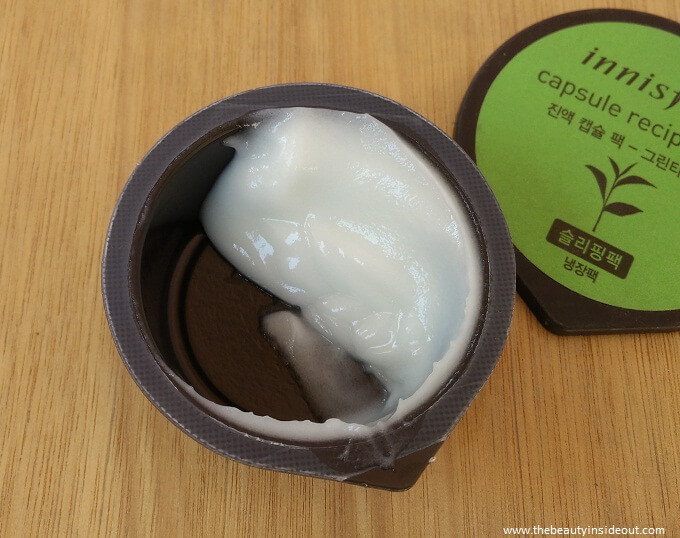 The next morning, I woke up with glowing skin. My skin was a little plumped and brightened too. I just wash off my face with plain cold water and I could feel the left over sleeping pack residue getting washed away as it felt a bit slippery. And then I follow it up with a swipe of rose water and finish off by applying a layer of Aloe Vera gel. I followed this routine for 5 days straight and I could surely see a difference in my skin. It was more smoother, my skin tone was close to even and I could flaunt that glowy skin without any makeup on throughout the day. I was also surprised that this sleeping pack did not break me out, as the formula was quite thick and heavy on the skin.
Only once did I try applying this as a face mask during the day. I couldn't stand the greasiness and washed it off in about 10 mins or so. I did not notice any changes in my skin when used as a face pack, so I would not really recommend using it as a face mask. This is a sleeping pack so just use it as a sleeping pack! If you want a face mask, they have other variants for that.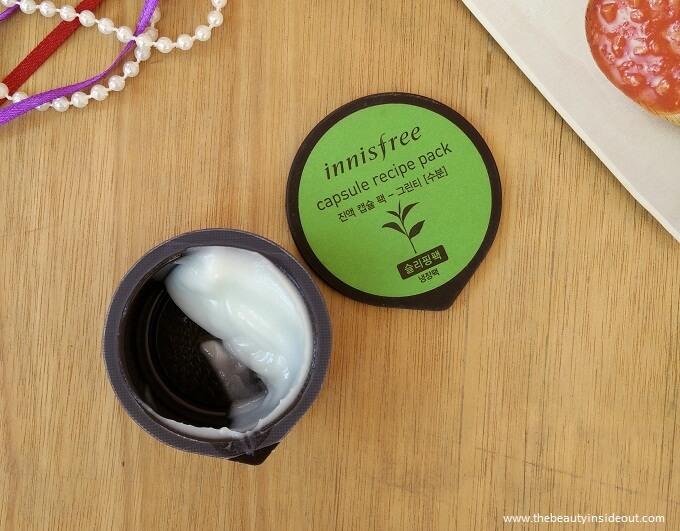 In a nutshell, I'm super happy with the results of this sleeping pack and I'm surely going to pick up other variants too. The tiny little tub lasted me 6 uses and though it is not very economical for 150 INR, I would still recommend trying this.
Pros:
Cute travel friendly packaging.
Hydrates and Moisturizes skin.
Soothes and Calms irritated skin.
Evens out skin tone and brightens up a bit.
Gives a radiant glow.
No breakouts.
Suitable for all skin types.
Cons:
Rating: 4.7/5
Recommendation: Yes.
I hope you find this review helpful. Have you tried this? Share your experience with us.
Looking for other Korean Beauty products?
Until Next Time,
Stay Beautiful♥