Its been quite sometime that I have started using soaps all over again. Shower gels have taken a back seat and I love how my skin feels clean sans the slippery residue, which almost all the shower gels leave. Although hygiene issues are there, ensuring proper storage in a dry place can sort that out. Even though I adore my handmade soaps, now and then, I pick up some commercial soaps to try out and that is how Patanjali Multani Mitti Soap came into my hands. Keep reading to know how it performs.
Product Description: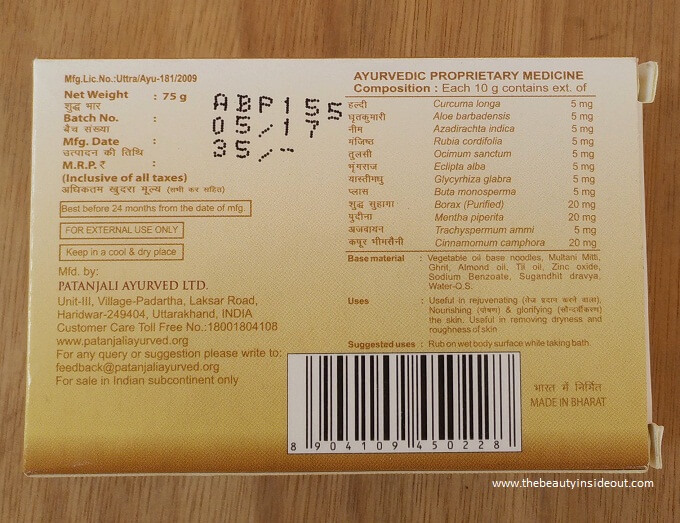 Ingredients: Turmeric, Aloe Vera, Neem, Manjishtha, Holy Basilm, Bhringraj, Yasthimadhu, Palas, Borax, Pudina, Ajwain, Pudina, Kapoor or camphor
Base Material: Vegetable Oil base Noodles, Multani Mitti, Ghee or Ghrit, Almond Oil, Til or Sesame Oil, Zinc Oxide, Sodium Benzonate, Sugandhrit dravya, Water.
Price: 35 INR for 75 gms.
My take on Patanjali Multani Mitti Soap:
Packaging: Patanjali Multani Mitti Soap comes in a cardboard box with ingredients mentioned in Hindi and their respective scientific terms at the back side. I would have preferred it to be in English for easier comprehension. The actual soap itself comes in a plastic wrapper with price, batch no and expiry date mentioned. The oval shaped soap is machine cut and has the brand's name 'Patanjali' imprinted on it.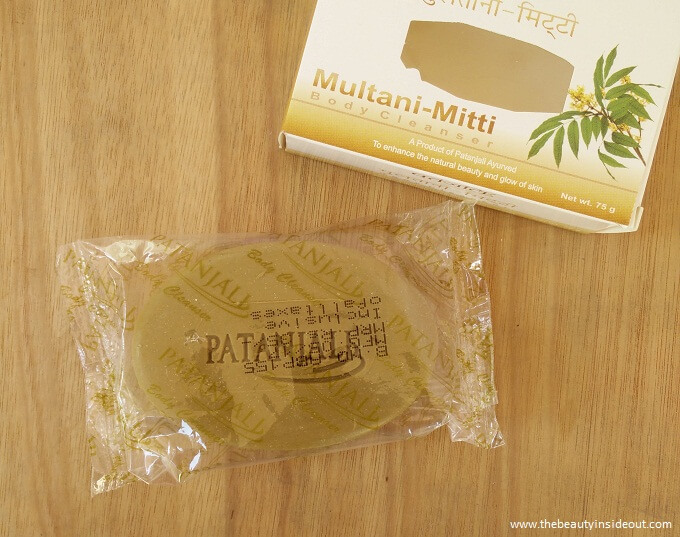 Color: Patanjali Multani Mitti Soap has a muddy and earthy color, similar to the color of Multani Mitti.
Fragrance: The fragrance is herbal and medicinal. It is on the stronger note and certainly not to my liking. Gladly it does not linger post cleansing.
Texture: This is an exfoliating soap with scrubbing particles on it. The granules are neither too mild nor too rough on my body skin. Yet they aren't suitable to be used on a daily basis.
Effectiveness: I started using this soap after I finished up my Ecoberry Charcoal Soap which is an amazing handmade soap made with Butters and Oils. This one being an ayurvedic soap which means it isn't completely natural, but still has satisfactory composition of natural ingredients in it. I was sure that I shouldn't compare both the soaps or be judgemental with this soap as both are in a totally different league.
Coming to its performance, the soap produces minimal lather, not very frothy or creamy, just a mild lather. Since the soap has granules in it, it is best to use directly on wet skin for some scrubbing effect. The soap washes off easily with no slippery residue left behind. It performs really well to get rid of dirt and impurities from my skin while gently exfoliating the pores. It is commendable that, although it's Multani Mitti based which is supposed to be drying, I did not find it overly drying on my skin. It is not moisturizing as such and I couldn't skip moisturizing as well, but it undoubtedly does not dehydrate the skin causing irritation or itchiness.
Overall Patanjali Multani Mitti Soap is a decent soap that do what it is meant to do (read: cleansing) without making a whole in your pocket (read: budget friendly). The only thing I don't like is its fragrance.
Pros:
Great packaging.
Budget Friendly.
Cleanses as well as exfoliates the skin.
Does not dry out the skin.
No skin irritations experienced.
Cons:
Strong fragrance.
Not an everyday soap due to the presence of scrubbing particles.
Not completely chemical free.
Patanjali tests their products on animals.
Rating: 3.5/5
Recommendation: Yes and No. Yes for its performance as a body cleanser. No for people who prefer a nice smelling soap.
That was all about Patanjali Multani Mitti Soap. Have you tried this? Share your thoughts.
Also check out
Until Next Time,
Stay Beautiful♥