Often compared as the dupe for the famed Urban Decay's All Nighter Setting Spray, the L'oreal Infallible Makeup Extender Setting Spray finally made its launch in India few months ago. It's considered as one of the most affordable drugstore fixing spray that actually works to keep your makeup intact for longer hours. But does it stay true to its claim. Read on my experience with it.
Product Description:
Locks in makeup for a just applied makeup look all day long. A Lightweight mist, barely there feel. Dermatologist tested. Non-comedogenic. Keep your makeup looking fresh hours after application: no melting, fading or touch-ups necessary, This lightweight, oil free setting spray locks in your total makeup look, Face, Eyes, and Lips, preventing color from smudging or settling into fine lines for all-day staying power.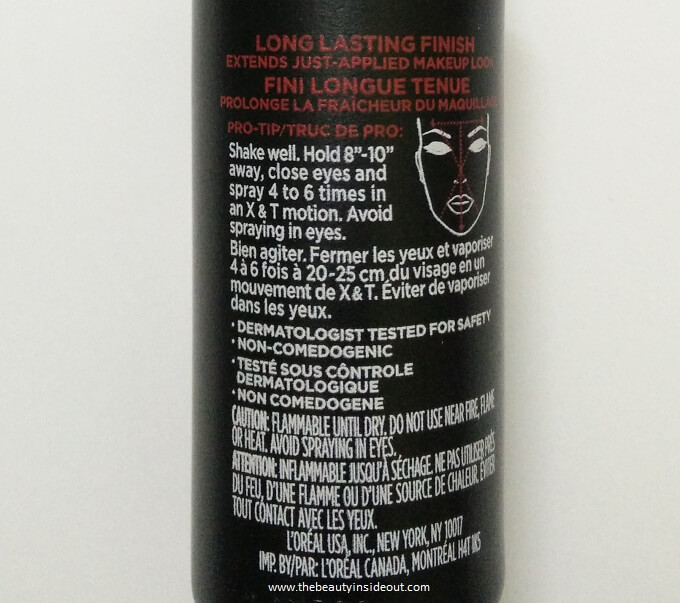 Ingredients: Aqua/Water, Eaualcohol Denat, Pvpdimethicone PEG-7, Phosphate Phenoxyethanol, Polyhydroxystearic Acid, Isononyl Isononanoate PPG-3, Benzyl Ether Myristate, Poloxamer 407, Ethylhexyl Isononanoate, Sodium Benzoate, Sodium Cocamidopropyl PG, Dimonium Chloride, Phosphate, Potassium Sorbate, Aloe Barbadensis /Aloe Barbadensis Leaf Juice, Limonene Lnalool, Parfum/Fragrance
Price: 999 INR for 100 ml. Ok this might not be affordable! But then setting sprays are expensive and this is one of the cheapest among them. You can buy it at a highly discounted rate HERE.
My take on L'Oreal Infallible Makeup Extender Setting Spray:
Packaging: The product comes in a black, matte, plastic bottle with a translucent cap. It has a pump dispenser with a spray type nozzle. The pump works flawlessly spritizing micro fine droplets of the product evenly on the skin. I'm thankful that it does not spray big chunky droplets that makes my face super wet at one go. All necessary details are mentioned on the back side of the bottle including usage instructions, expiry date, etc.
Fragrance: It has a soft fragrance which dissipates in the air within a few seconds of spraying.
Texture: Apparently, the product is a clear liquid and feels almost water like on the skin.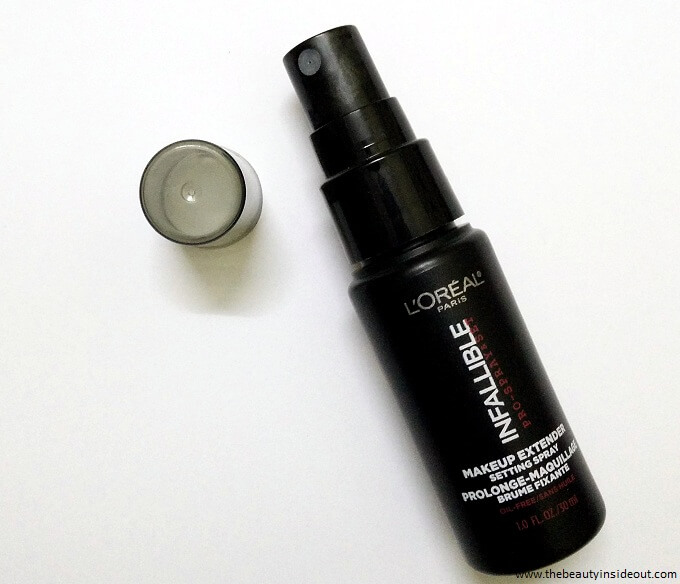 Application: As instructed, I spray the product in an X and T motion, keeping a distance of 10 to 15 cm away from my face. It gives a dampness feel instantly but it isn't very goopy on the skin. It takes about a minute to completely dry and then the makeup is set and I'm all good to go.
Performance: For me, primers and setting sprays both work to extend the longevity of my makeup. However primers are one step ahead that fills out pores and helps to smoothen out my skin prior to applying my base makeup. While setting sprays only help to extend the longwear of my makeup in addition to slightly altering the end look. That's why you can see myself rarely using them. I reach out to them only on special occasions when I need that extra longevity and when I use lots of drying matte products, like over my matte L'Oreal Infallible Foundation, my go to powder foundation from The Body Shop – All in One Face Base or any compact powder for that matter. Spraying this setting spray over them do extend the staying power by an extra two to three hours.
This setting spray is slightly hydrating and turns my flat matte makeup into a beautiful soft matte finish. When used on top of velvety/semi matte makeup, it gives a beautiful glow with a radiant looking finish. However, it doesn't work that well with dewy makeup resulting in a more oilier and shiny finish. The makeup extender helps to sort out any cakiness and prevents dry patches that usually clings onto the skin after few hours of makeup application. Using this setting spray did make a difference on my makeup look. But still, I feel this is not a must have or everyday product!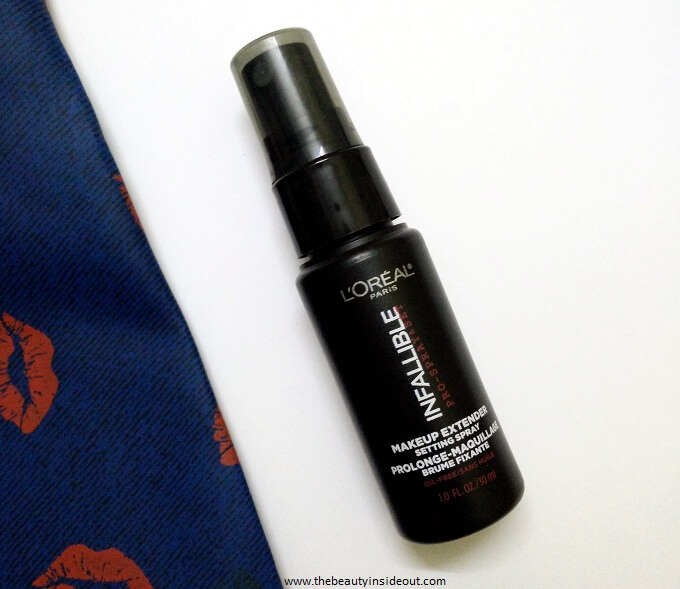 Overall, L'Oreal Infallible Makeup Extender Setting Spray is a product that performs excellently with mattifying products. They tend to work great over mineral/ powder foundations rather than creamy and liquid foundation. The Extender Spray helps makeup to stay intact at one place for good long hours, satisfying the whole purpose of using a setting spray.
Pros:
Handy packaging.
No weird chemical-ish fragrance.
Micro fine texture that dries up quickly.
Sets makeup at one place.
Extends the longevity of makeup.
Gives a refined finish.
Suitable for a majority of skin types.
No new breakouts or skin irritations experienced.
Cons:
Contains Alcohol, so might not suit sensitive skin types. (By the way, most setting sprays do contain alcohol )
Not suitable to be used over dewy makeup.
Rating: 4.2/5
Recommendation: Yes. If you are looking for an affordable drugstore setting spray that extends the longevity of your makeup by a few hours, then this is for you.
That was all about the L'Oreal Infallible Makeup Extender Setting Spray. Have you tried this? Share your thoughts in the comments section below
Also check out
Until Next Time,
Stay Beautiful♥