I am a big lover for Maybelline's entire Baby Lips range since their first launch here in India. This range has an enormous number of shades with various moisturizing capabilities plus they are quite attractively packaged. Except for the Candy Wow collection, I have used at least two variants from each collection of Baby Lips. Recently, there has been a new inclusion in the Baby Lips family called Candy Rush collection. This range has 4 fruit inspired variants with translucent tint. Today I am sharing my experience with the Gummy Grape variant from this collection. Read on to know more about this new Baby Lips.
Product Description:
Maybelline Baby Lips Candy Rush range is rush of candy colour with a kick of sweet flavour. It has SPF 20 to protect the delicate lips from harsh sun rays. Its Vitamin E and Coconut Oil enriched moisturizing formula lasts up to 16 hours and supples up dry and thirsty lips.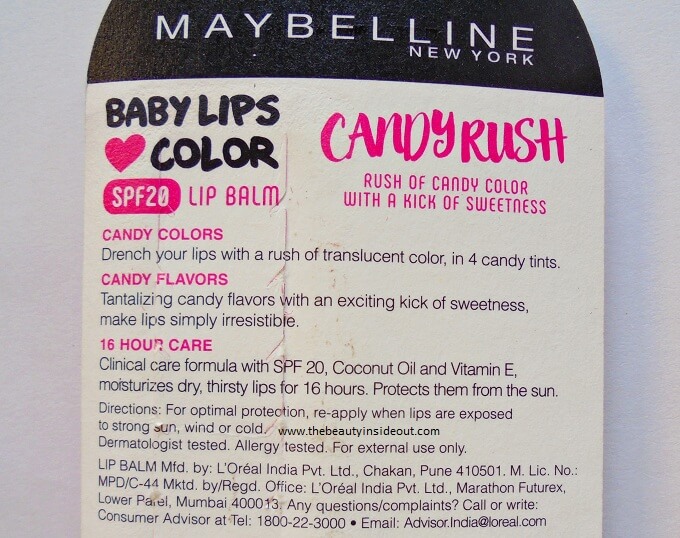 Shades Available : 4
Cotton Candy
Watermelon Pop
Gummy Grape
Orange Jujube
Price: Rs.190 for 4 gm. You can get it online as well as in beauty supply stores
Ingredients: Not mentioned in the packaging
My Take on Maybelline Baby Lips Candy Rush in Gummy Grape
Packaging: This lip balm comes in a twist-up bullet where the base of the balm stick needs to be turned to expose the balm like a lipstick. The balm bullet has a tiny lid to secure the lip balm from getting contaminated and messy. This lid does its job quite nicely so I never face any messy staining or wastage situation where I keep it. The packaging is quite similar to other regular Baby Lips balms; there is not much to say about it. However, the colour coding becomes the main attraction here. The lip balm bullet comes in a vibrant fuchsia outer packaging. The balm stick body is coloured in whitish violet and the shade name and product name is written in the same neon fuchsia to increase the contrast. I am not ashamed to declare it's just the perfect eye candy for me!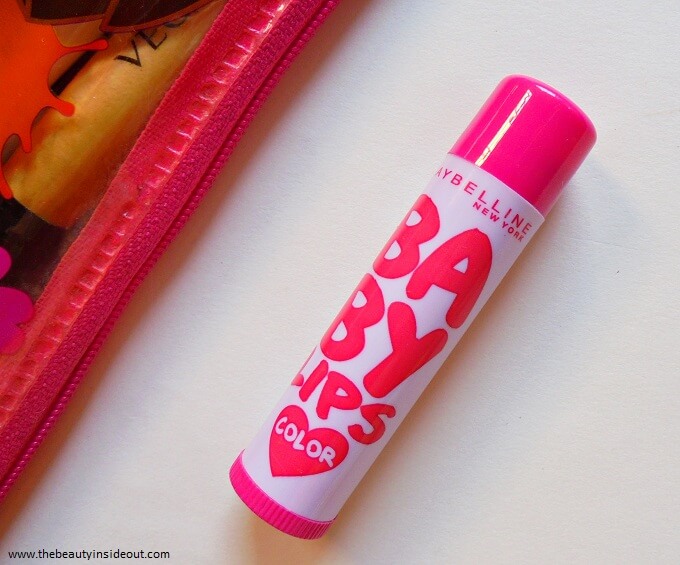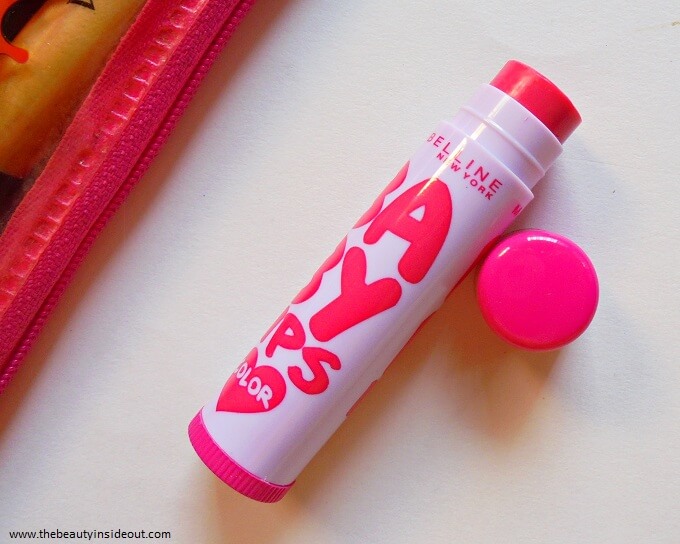 Shade- Gummy Grape: Gummy Grape is a blue toned pink colour. The shade is quite vibrant. It gives a natural pink tint to less pigmented lips but it will hardly show its true colour on dark lips.
Pigmentation: The colour-payoff of this chap-stick is just okay. It is not very pigmented like the Bright Out Loud series of Baby Lips. The colour pay-off is comparable to regular coloured Baby Lips. The packaging was a vibrant one so I expected the shade of this lip balm to match that neon vibe. I am a bit disappointed here! The shade does not look that pigmented in hand swatches but, its colour depth increases to some extent when it is applied on the lips. This particular shade gives translucent coverage to my medium pigmented lips. It will look like a light pinkish tint on darker lipped ones.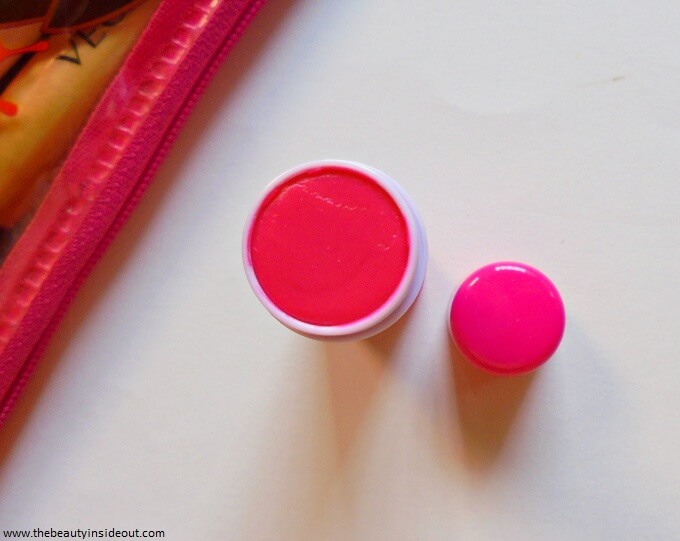 Texture: The texture of this lip balm is smooth, moisturizing and non-greasy. Its moisturizing power lays somewhere between the light weight and heavy category. It does not leave very sticky residue behind but is still enough to moisturize and heal dry lips.
Fragrance: This product has grape fruit smell that we often find in jelly candies. The fragrance is not very loud on this one and does not have the artificial feeling (which most lip balms seem to have!).
Staying Power: Now, this is the most interesting part of this lip balm. This lip balm shows an amazing staying power of 7-8 hours if it is kept undisturbed. With meals or drinks the stay time becomes less. The swatches you are seeing have been taken after 7 hours of application and trust me the colour remained just the same.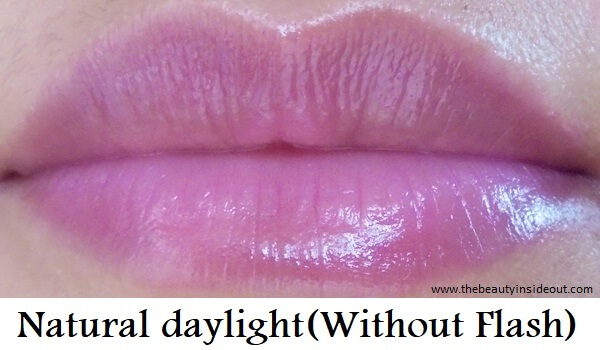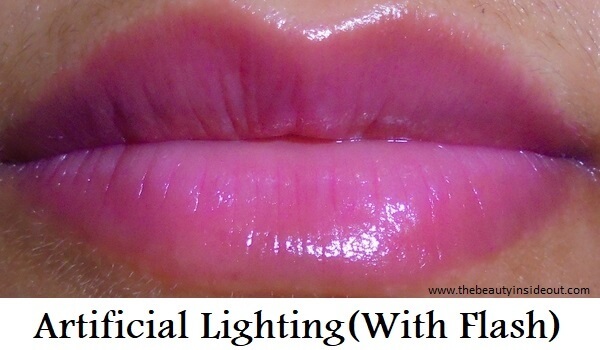 Pros:
Moisturizing formula with SPF 20
Light blue-toned pink tint
Heals chapped lips
Plumps and softens lips
Helps to get rid of lip pigmentation due to dryness
Attractive packaging
Widely availability & budget-friendly
Easy to carry
Cons:
Complete ingredient list should have been there in the packaging
Better pigmentation was expected from this new Candy Rush range
Rating: 4.25/5
Recommendation: I would recommend Maybelline Baby Lips Candy Rush in Gummy Grape to someone who is searching for a budget-friendly moisturizing non-sticky lip balm with bright pink tint.
That was all about the Maybelline Baby Lips Candy Rush Lip Balm. Have you tried this? Share your thoughts.
Also check out
Guest Author: Sreeparna