L'oreal Paris launched the New Extraordinary Clay Haircare Range a while ago. This range is not new internationally, so some of you might have already used products from this range. The range has a Shampoo, Conditioner and Scalp Refresher. I got the L'Oreal Extraordinary Clay Shampoo alone as the other two products are not my cup of tea. I mean I don't use conditioners and refreshers at all. The shampoo is formulated with clay and is meant for people with oily roots & dry lengths. Let's get into the product details first before heading to my experience with the shampoo.
Product Details:
The secret of clay for 72 hrs of pure roots and hydrated ends.For the first time, L'Oreal Paris Laboratories have combined 3 refined clays to create its first re-balancing range revealing perfectly balanced hair.Enriched with extraordinary power of clay that deeply purifies and hydrates your hair. Tailor made care to resolve the problems of oily roots and dry lengths. Scalp and hair feel fresh and clean even 3 days after shampoo. For best results, indulge in the full Extraordinary Clay ritual: Shampoo, Conditioner and Hair Refresher.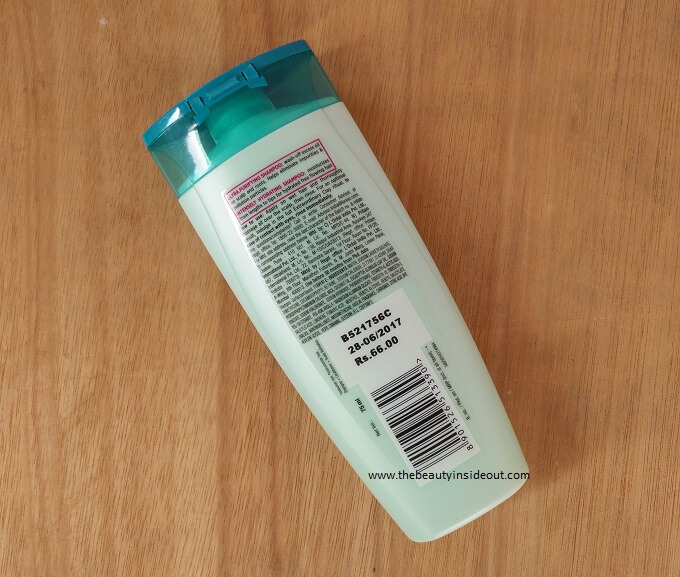 Benefits :
Ultra Purifying : Washes off excess oil on scalp and roots. Helps eliminate impurities and pollution particles.
Intensely Hydrating : Moisturizes from lengths to tips for hydrated free flowing hair, leaving hair fresh for up to 72 hours.
Features :
Scalp feels deeply purified for 72 hours with freshness and light, lifted roots.
Dry hair feels hydrated right to the ends for fluid, free-flowing lengths.
Revitalises the hair with softness, shine and bounce.
A delicate Clay texture for hair purity, hydration and beauty.
Ingredients: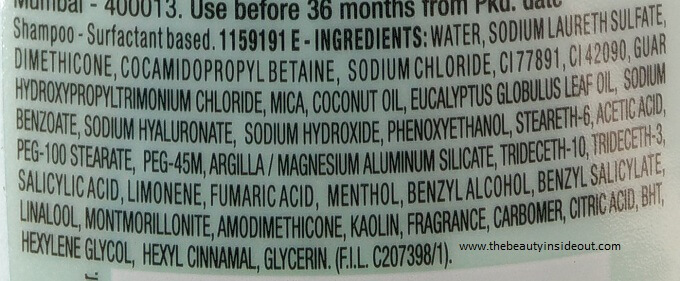 Price: 66 INR for 75 ml, 150 INR for 175 ml, 282 INR for 360 ml, 450 INR for 640 ml. Widely available both offline and online.
My take on L'Oreal Extraordinary Clay Shampoo:
Packaging: The packaging is pretty basic. Comes in a bottle with a flip open cap. What makes it unique is its attractive turquoise color of the bottle. It gains all the attention in my bath shelf. The bottle is also quite sturdy for travel purposes. It has details like claims, ingredient list, expiry date, just like all other L'oreal shampoos.
Fragrance: The shampoo has an invigorating citrusy fragrance. Not at all overpowering. It just smells so nice and refreshing. I love it.
Texture: The consistency is on the runny side. But not too liquidy that it'll overflow, it's just perfect. It has a smooth pearly appearance with a light blue-green hue to it.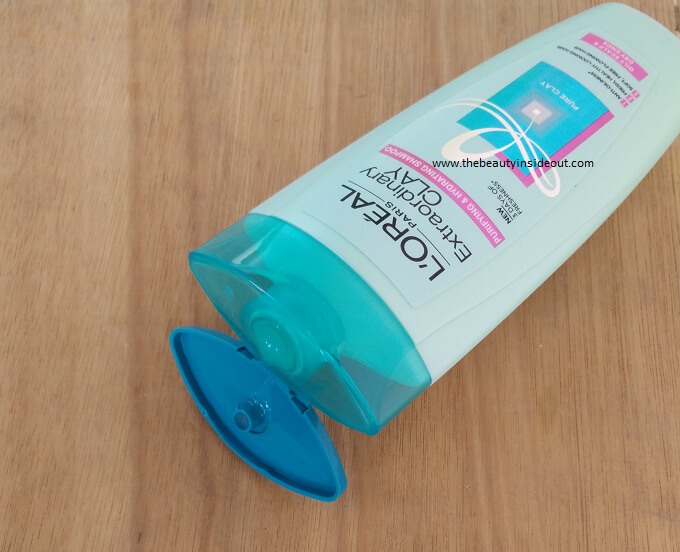 Experience: L'Oreal Extraordinary Clay Shampoo is designed for oily scalp and dry lengths. This is exactly what my hair type is. The shampoo has a gentle formula. It lathers fairly well and removes dirt & oils without overly drying out my hair strands. I am a pre-oiling person so I don't use a post shampoo conditioner. I didn't have the need too as the shampoo was quite hydrating on its own. The shampoo leaves my hair smooth and soft to touch. It has Dimethicone in it so it's obvious to leave my hair silky.
What I love most with this shampoo is the energizing cooling sensation it gives while shampooing. I can relate the sensation to Head and Shoulders Shampoo. It is minty and very refreshing. The shampoo has Eucalyptus oil, that says why it is cooling.
Also Read
The shampoo is able to clear out my dandruff to a great extent while being gentle on my scalp. However, it does not eradicate re-occurrence of dandruff. As claimed, it retains freshness for 3 days after which my scalp starts becoming oily & dirty.
What I don't like? The shampoo is not free of silicones and sulphates. The international version is silicone free though. Why not here??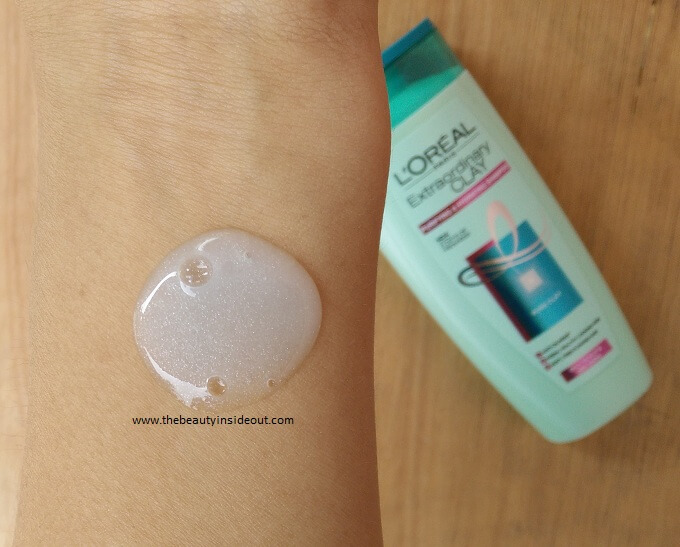 Pros:
Affordable.
Available in various sizes.
Attractive turquoise packaging.
Cleanses scalp from impurities.
Gives a cooling sensation while shampooing.
Refreshing fragrance.
True to its claims.
Removes dandruff from scalp.
Cons:
Not sulphate and silicone free.
Rating:4/5
Do I recommend? If you can forgo the sulphates and silicones in it, yes I will recommend the L'Oreal Extraordinary Clay Shampoo for short term use. It is a gentle clarifying shampoo that removes oil & impurities. It is least drying and will also keep your hair fresh for 3 days as claimed.
Also Read