Mamaearth is one of the recent brands that gained immense popularity in the past one year. And, they sure have made their products with careful thoughts. Mamaearth holds Asia's First Toxin Free Brand Certificate. Myself I've tried a couple of their baby care and mama care products. Up for today's review is the Mamaearth Under Eye Cream. Let's get started with the product details.
Product Description: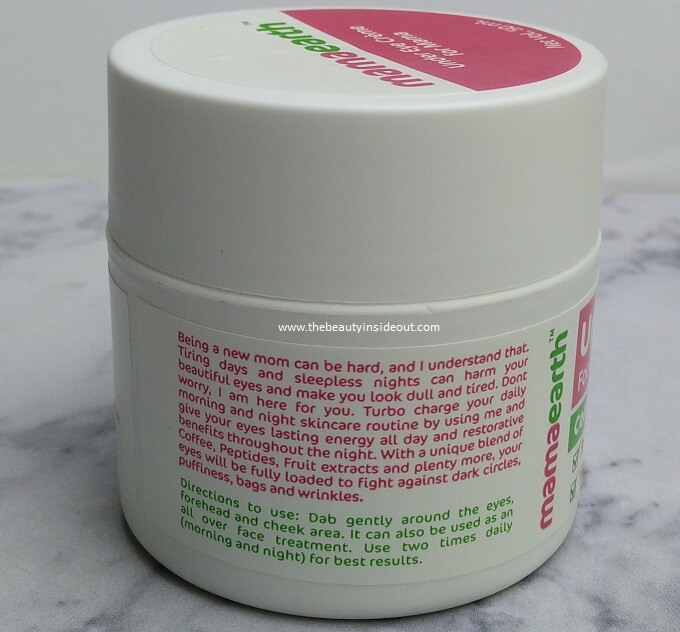 Ingredients: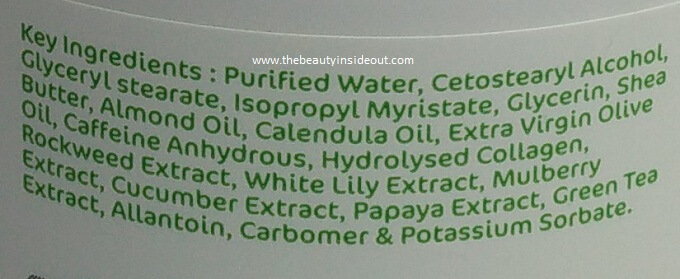 Price: 599 INR for 50 ml , Buy HERE .
My take on Mamaearth Under Eye Cream:
Packaging: Frankly, I detest this packaging. Thankfully they have revamped the packaging now. Yes, the one I have comes in a messy tub packaging. Whereas the newer version comes with a fuss free pump packaging. This tub actually looks like the smaller version of the C3 Face mask tub. I need to dip my fingers into the tub each time for the tiny amount that I need. Details about the product are clearly stated on the packaging.
Fragrance: It has a mild herbal fragrance. The scent is non-bothering and vanishes soon after application.
Texture: The cream has a medium consistency. When used as an under eye cream, you would need just a teeny tiny dollup of the product. So this tub is going to last until you get bored of it.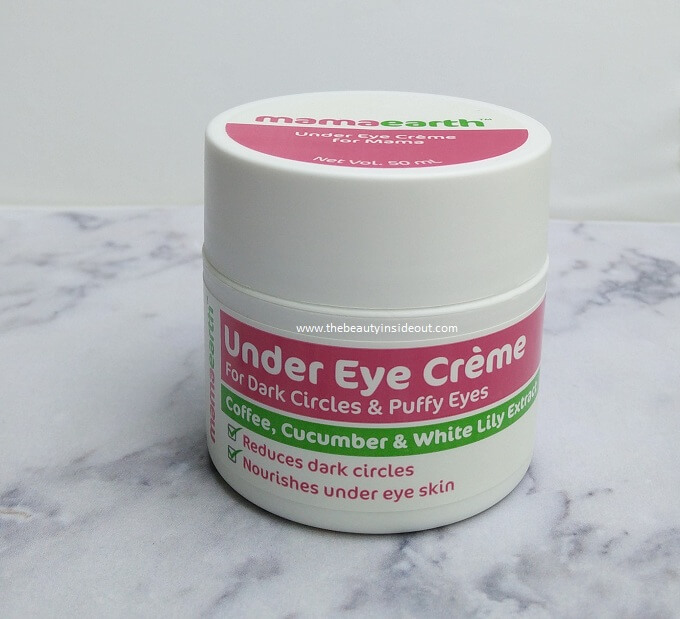 Experience: Let me first tell you that I do not have any under eye concerns like dark circles or crows feet or anything of that sort. So I might not be the right person to test this product. So I had given this to my mom who has dark circles. She's been using this continuously for more than 2 months, day & night. And she found visible reduction in her dark circles. She also uses this as an all over face cream. This keeps her skin moisturized and hydrated to a great extent.
Before giving it to her, I did test it for a week. Here is what I think. The cream had a oily feel while applying which settles down to a soft to touch, supple skin after 10 minutes or so. Whilst using this, I always woke up with a well hydrated under eye area. While on other days, my under eye area would be dry. Mamaearth under eye cream can be used as a preventive measure for every under eye concern.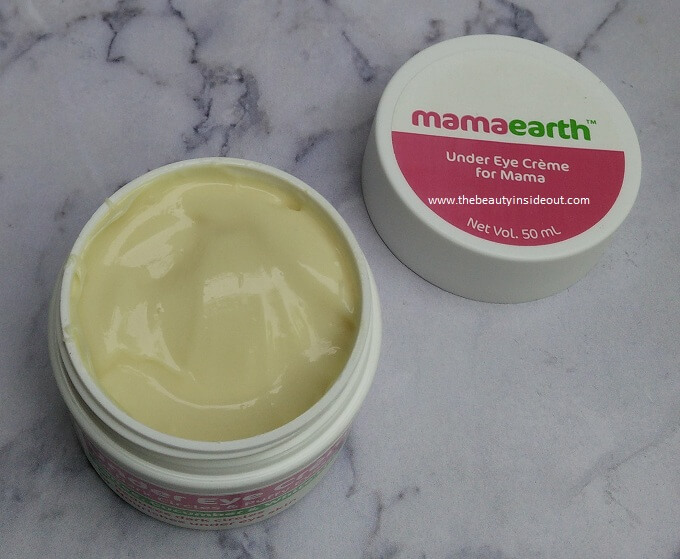 Pros:
Certified Toxin Free.
Contains coffee, cucumber and white lily extracts.
Mild Fragrance as that of natural floral extracts.
A little goes a long way.
Reduces Dark Circles.
Doubles up as an all over face cream.
Nourishes Under Eye Skin.
Hypoallergenic and Clinically Tested.
Cons:
Tub packaging. (Now revamped)
Pricey.
Takes time to show results.
Rating: 4/5
Do I recommend? Yes. Mamaearth Under Eye Cream works for dark circles when used continuously twice a day. It takes time to show results. But it works. Also, a tiny amount is enough for under eyes, so this is going to last really really long.
Looking for other reviews?
*PR Sample