You might be wondering why am I reviewing a summer product in this cold rainy season. Because face packs can be used all year round regardless of it being an anti-tan pack or a pore clearing pack. I love face packs as they give instant glow and make my skin feel refreshed. This VLCC Clear Tan Fruit Face Pack is a free product that came along with the VLCC Fruit Facial Kit. This is also available as a full sized product. I've been having this for quite a long while and has been using it on and off in all seasons, just so that I can finish it off. Ready for the review. Hop on.
Product Description:
Formulated with natural fruit extracts of cucumber, pineapple and mulberry, this clear tan fruits face pack from VLCC leaves skin radiant and supple. Benefits – Deep cleanses the skin. Effectively washes away impurities and tan. Lends a satin smooth feel to the skin. How to Use – Apply on clean, dry skin before exposure to the sunlight.
Ingredients: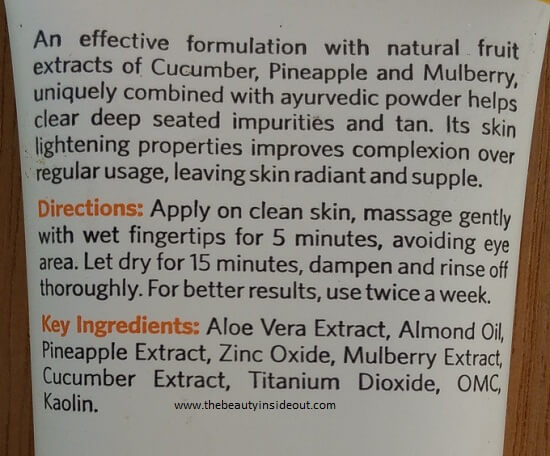 How to use VLCC Clear Tan Fruit Face Pack:
Apply on clean skin, massage gently with wet finger tips for 5 minutes, avoiding eye area. Let dry for 15 minutes dampen and rinse off thoroughly. For better results use twice a week.
Price: 225 INR for 100 gm. Buy at highly discounted rate HERE.
My take on VLCC Clear Tan Fruit Face Pack:
VLCC Clear Tan Fruit Face Pack comes in an opaque orange colored tube with a screw cap. The tube has a medium sized hole which disperses the product out. This sample pack is handy and can be travelled around with it. Details like usage instructions, key ingredients is at the back of the tube and price, date of manufacture, batch no is on the crimp of the tube. Overall, I like the hygienic packaging.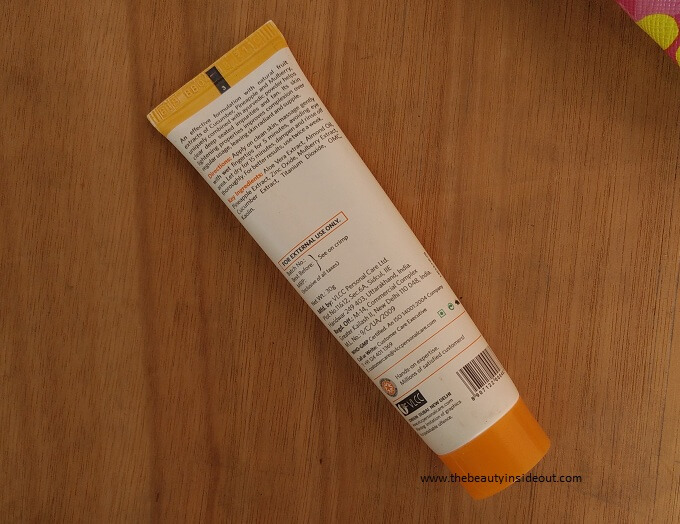 The face pack has a bold fragrance which I did not like. It is herbal, muddy and has a hint of cucumber. The scent can easily irritate people who are sensitive to strong fragrances.
The ready to use face pack is off white in color. It is mud based and has Kaolin Clay in it. The consistency of it is quite thick. Every time, I had to put in some effort to take the product out of the tube. The thick, creamy formula gets stuck on the tube and dries inside of it as days go by.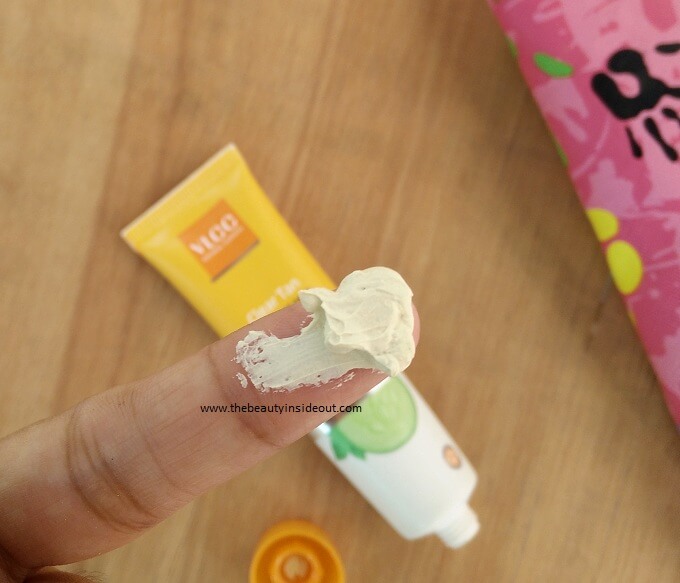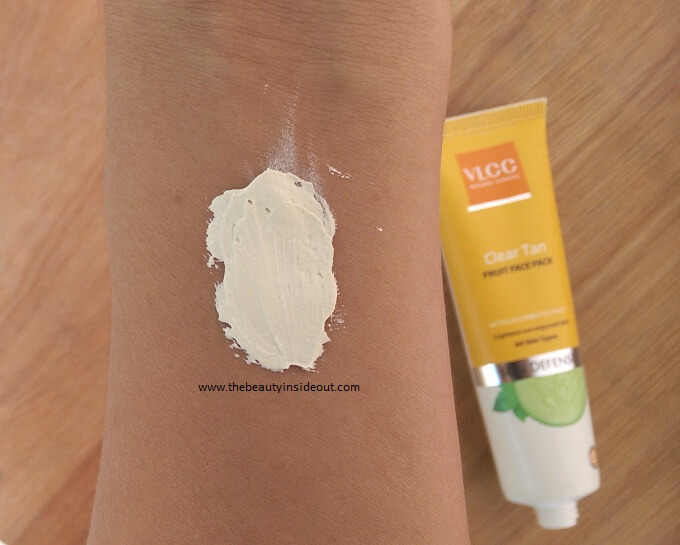 I always start by cleansing my skin and apply it on damp skin. As per the instructions, I massage the face pack for 2-3 minutes and let it dry. I massage with a little of water or rose water to make the pack damp. Otherwise the pack almost dries while massaging. I let the pack sit for less than 15 minutes. I either use a wet sponge to remove the pack or rinse off with water directly. The former method gives better results for me though.
The immediate result is a clean, fresh and polished skin. The face pack isn't overly drying which I like. As for tan removal, it gives average results. It takes 5-6 usages to remove fresh tan. And doesn't really work on severe tan. Overall, this is a decent face pack that gives a refreshed and glowing skin.
Pros:
Hygienic, travel friendly packaging.
Herbal formula containing various fruit extracts.
Face packing session would take less than 15 minutes.
Gives a clean, clear skin.
Is not overly drying on the skin.
Not tested on animals.
Cons:
Incomplete ingredient list.
The consistency is not easy to work with.
Strong fragrance.
Does not work for severe tan.
Rating: 3/5
Do I recommend? No, you can try other cost effective DIY's for tan removal. Or if you particularly want a readymade product to remove tan, go for Biotique Papaya Tan Removal Scrub, it shows results much faster.
Looking for other Reviews?