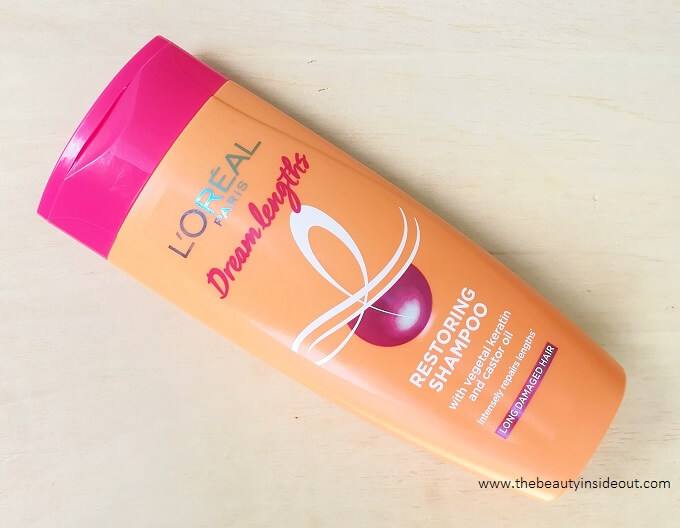 L'Oreal Paris Dream Lengths Restoring Shampoo
A decent drugstore shampoo that does its job of cleansing perfectly without drying out the hair. It prevents breakage and split ends due to dryness, thus preventing unnecessary shedding of hair.
Rating: ★★★★☆
L'Oreal Paris recently launched the L'Oreal Dream Lengths Range with three products namely the Dream Lengths Restoring Shampoo, Dream Lengths Detangling Conditioner, and Dream Lengths No Haircut Cream. This range is targeted towards those who want to grow their hair. This entire range looks like a marketing gimmick, as we all know that shampoo can not make your hair grow. But if you keenly look at the product description, it doesn't claim to make your hair grow rather it claims to prevent hair breakage so you can save your hair length that grows naturally. Anyways, since I was out of my previous shampoo, I bought this new launch just to try it out. This is a very popular shampoo worldwide that goes with the name L'Oreal Paris Elvive Dreams Length Shampoo. Read on to know my experience with it.
Product Description: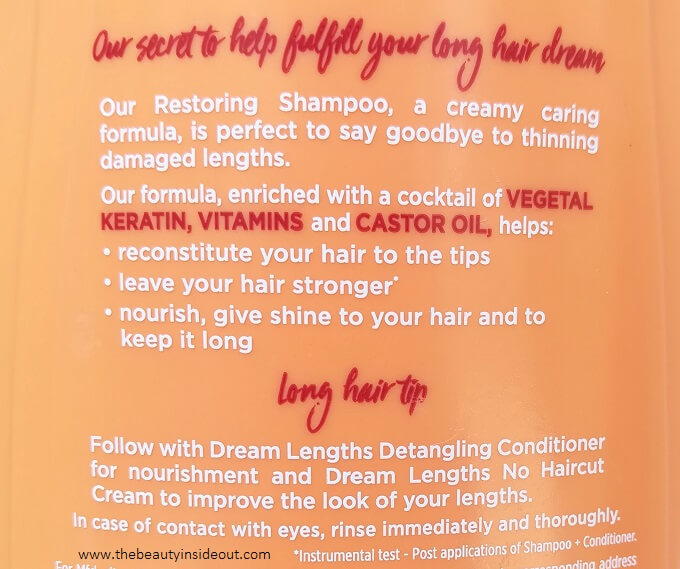 L'Oreal Dream Lengths Shampoo Ingredients: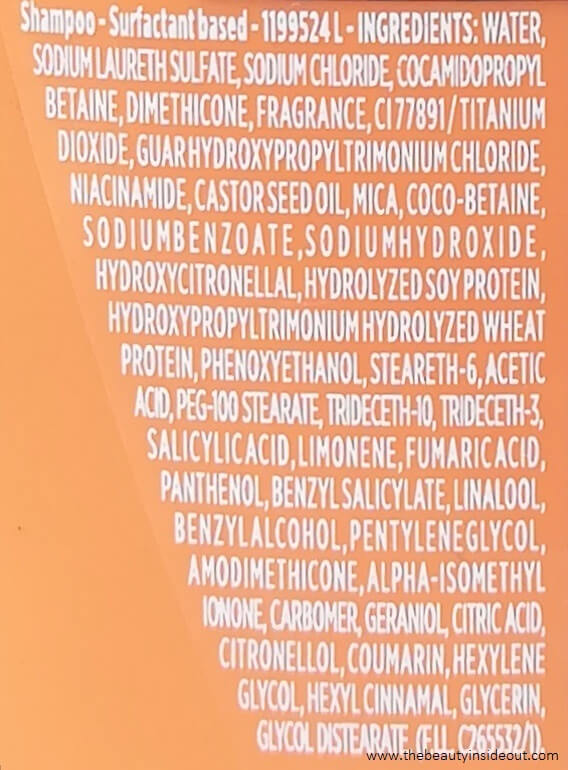 The Dream Lengths Shampoo is not Sulphate Free and Silicone Free. It's Paraben Free though.
L'Oreal Dream Lengths Restoring Shampoo Review
Packaging: Well, the shampoo bottle is quite eye-catching with the color combination of orange and pink. The bottle design is like any other shampoo bottle with a flip cap. Pretty basic but serves its purpose with no issues at all. The backside has more details about the product along with the full ingredients list.
Color & Texture: It's a white-colored, smooth gel-based shampoo with a pearly appearance. It requires just a coin-sized quantity to produce a rich lather.
Fragrance: The shampoo has a sweet fruity fragrance which reminds me of Garnier Shampoo. It's not too strong to cause a headache. The fragrance is nice and lingers on the hair for a day post washing.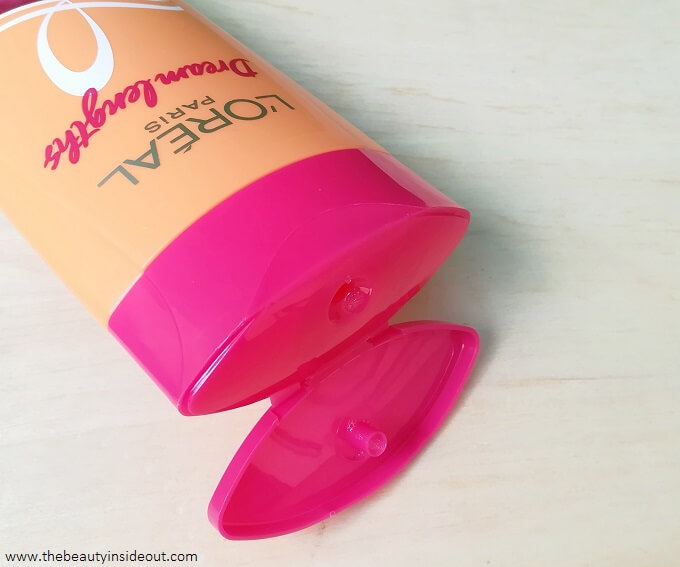 My Experience:
I have straight fine hair that is mid-back length. So I don't use a conditioner after wash as they make my hair look limp. But I have the habit of applying a bit of oil throughout the week to tame fizziness. So whenever I shampoo, my hair is mostly oiled but not soaked heavily in oil. A single wash is usually enough with drugstore shampoos.
I have been using the Dream Lengths Shampoo for more than a month. Honestly, I don't have anything bad to say about this product but at the same time, there isn't anything remarkable as well. It lathers well, cleans the scalp well, and rinses off easily. The shampoo doesn't dry out my hair causing frizz and tangles, in fact, it does add a bit of volume to my fine hair. I do think that other hair types like wavy and curly hair may need to condition their ends as it's not too hydrating as well. For them, the L'Oreal Extraordinary Clay Purifying & Hydrating Shampoo would be a better option.
I like the formula of both the shampoos but this one doesn't weigh down my fine hair. This shampoo doesn't impart that false shine and silicone smoothness. If you like a silky smooth finish, this may not be your choice. I like how it leaves my hair clean, balanced, and manageable. It didn't cause me more hair fall or dandruff problems. As for hair lengthening, if you follow a good diet and hair care routine, this shampoo should help you to keep your length.
Related Reviews:
Pros:
Enriched with Vegetal Keratin, Vitamins & Castor Oil.
Cleans the scalp and hair efficiently.
Is not overly drying.
Leaves the hair lengths balanced.
Available in various sizes.
Cons:
Not Sulphate & Silicone Free.
Rating: 4/5
Would I Recommend? It's a decent drugstore shampoo that does its work. You can give it a try once. However, I would not consider this to be a great product to repurchase or recommend.
Have you tried this shampoo. Do share your experience in the comments section below.