With the controversies that are going on with the effectiveness of sunscreens, I decided to pick my next sunscreen from L'Oreal. I was inclined to buy the Aqua Essence Variant, but since that seems to have a strong fragrance, I went with the Matte & Fresh variant. Also, the summers have set in, I am looking for mattifying products to control excess oil. Let's get into the details of the L'Oreal Paris UV Perfect Matte & Fresh Long UVA SPF 50+/PA++++.
As far as I know, L'Oreal launched the UV Perfect Range of sunscreens in Asian Countries, so it's not usually readily available in western countries. It comes in 4 variants.
Anti Dullness
Aqua Essence (Blue Bottle) and
Matte & Fresh (Green Bottle)
Product Description: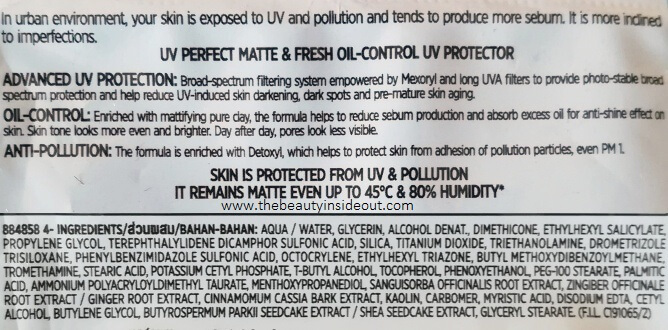 L'Oreal UV Perfect Matte & Fresh Ingredients:
L'Oreal UV Perfect Matte & Fresh has about 8 sunscreen filters, which is quite impressive, with one being a physical filter.
Terephthalylidene Dicamphor Sulfonic Acid (UVA filter) & Drometrizole Trisiloxane (UBA & UVB filter), both of which are L'Oreal Group Exclusive Chemical Filters commonly called Mexoryl XL.
Ethylhexyl Salicylate, UVB filter.
Phenylbenzimidazole Sulfonic Acid, strong UVB filter.
Octocrylene, UVB &UVA filter.
Ethylhexyl Triazone also called Uvinul T 150 a new generation chemical filter.
Butyl Methoxydibenzoylmethane also called Avobenzene which is a UVA filter.
Titanium Dioxide, physical filter with both UVB and UVA protection.
Apart from the UV filters, it has got
Glycerin, a humectant
Ginger Root Extract, an antioxidant and soothing ingredient.
Tocopherol, which is nothing but Vitamin E, an antioxidant.
As per COSDNA, it does have a couple of comedogenic ingredients. The sunscreen has Alcohol Denat as the third ingredient and one fragrance ingredient.
Although it seems to have a long ingredient list, it has some solid sunscreen filters to protect your skin.
L'Oreal UV Perfect Matte & Fresh Price
It's mostly available on discounts. I got it for 386 INR from Amazon.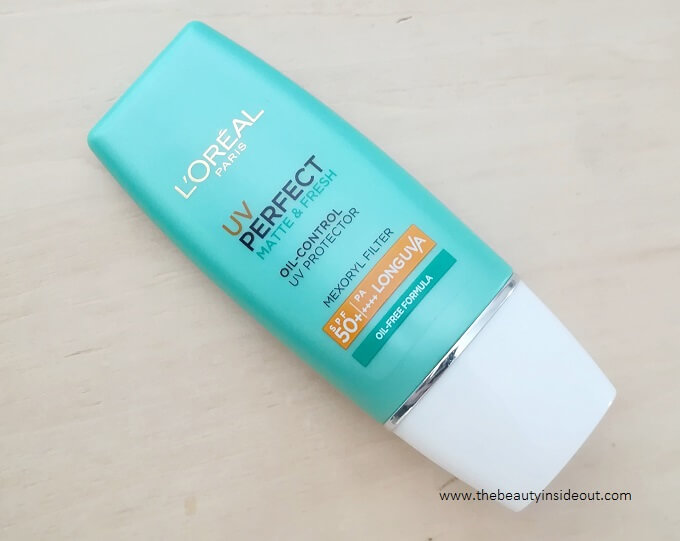 L'Oreal UV Perfect Matte & Fresh Review
Packaging: All the L'Oreal UV Perfect Sunscreens come in a similar rectangular tube with a nozzle dispenser. Though the tube looks big, it's actually very small. It has just 30 ml of product. I found it quite inconvenient to press the thick plastic tube each time to dispense the product. Particularly when it's half empty. In order to finish the product, I definitely need to cut open the tube. The tube came in a plastic wrap which had various details about the product.
Color & Texture: It is a white, creamy product. It's looks quite thick in consistency but blends in like a gel cream product.
Fragrance: This could easily pass off as a fragrance-free sunscreen. I couldn't smell anything while applying. When closely sniffing the product, there is a faint gum scent. Nothing strong or overpowering. I barely noticed that it had a fragrance.
My Experience:
My experience with this sunscreen has been good. I really liked using this sunscreen for two main reasons,
One – It's very comfortable on the skin. I completely forgot I had sunscreen on my skin. It doesn't make me sweat or make my skin oily. The sunscreen has a silicone feel to it, but at the same time, it does not have that super slippery silicone layer sitting on top of the skin. It feels quite nice and smooth on the skin and acts as a great base for makeup. I didn't notice any pilling with this, but then I didn't layer too many products, to begin with, since it's getting hot and humid lately.
Two – There is literally no white cast at all. Not even the initial white cast. It goes on like a moisturizer. It spreads and blends easily. You hardly need a minute to apply this. I usually take two finger length product, press on all fingers except the thumb and press it on my face, and blend. The sunscreen gives a shiny finish for a few seconds which settles down to an oil-free, soft matte finish.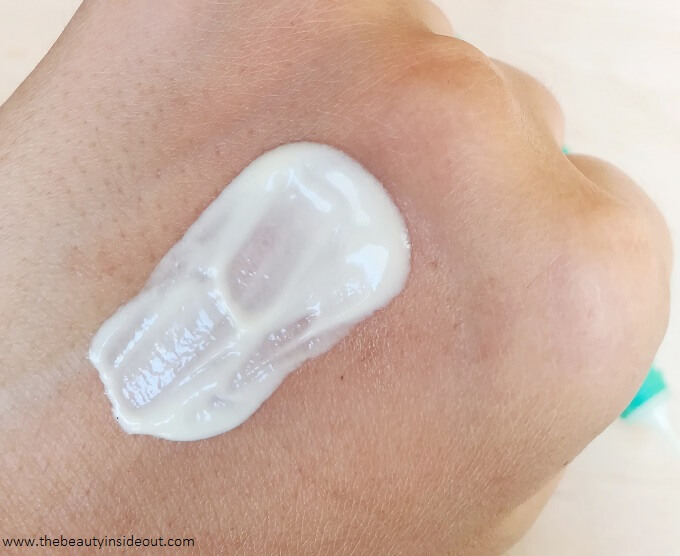 L'Oreal UV Perfect Matte & Fresh Side Effects
The alcohol in it might irritate sensitive skin types. I didn't experience any unusual sensations or breakouts with this product. I do use Micellar Water to remove the sunscreen, although it's not water-resistant, and follow a proper skincare routine at the end of the day.
Pros:
Good UVA and UVB filters.
Non-greasy, non-oily formula.
Comfortable soft matte finish.
Perfect for oily and combination skin types.
No white cast at all.
No noticeable fragrance.
Blurs out pores to a certain extent.
Cons:
Contains alcohol.
Quantity is less, so gets used up fast. There are no bigger packs available, so you need to buy them frequently leading to plastic wastage.
Rating: 4.5/5
Would I recommend it? Yes, I loved using this sunscreen. It's one of the best sunscreens for oily skin that doesn't make my skin greasy or have any white cast. I would recommend this sunscreen. But I seriously wish they come up with bigger packs.
Have you tried this sunscreen? Do share your experience in the comments section below.