Garnier is one of the well-known drugstore brands that's loved for its affordable products. I've tried many Garnier Products in my skincare journey. While I find many of their products to be average, there have been some good ones too like their Micellar Water. Their popular range is the Bright Complete Vitamin C Range (previously called Light Complete). The Garnier Vitamin C Serum Gel is a new launch from this range. I've tried their Vitamin C Serum Cream from this range as well. So here is my take on this new launch.
Product Description:
Infused with Vitamin C and Lemon Fruit Extract, Garnier Vitamin C Serum Gel is a non-sticky ultra lightweight refreshing gel to give you instant brighter skin.
Benefits:
Lightweight oil-free, non-greasy formula.
Paraben-free and Silicones Free.
Made with 96% natural origin ingredients.
Skin stays matte and oil-free for 12 hours.
Removes dullness from your skin.
Instantly brightens the skin.
Dermatologically Tested.
Suitable for all skin types, even sensitive skin.
How to use it?
Spread the gel evenly on cleansed face and neck. Avoid delicate eye areas.
Garnier Vitamin C Serum Gel Ingredients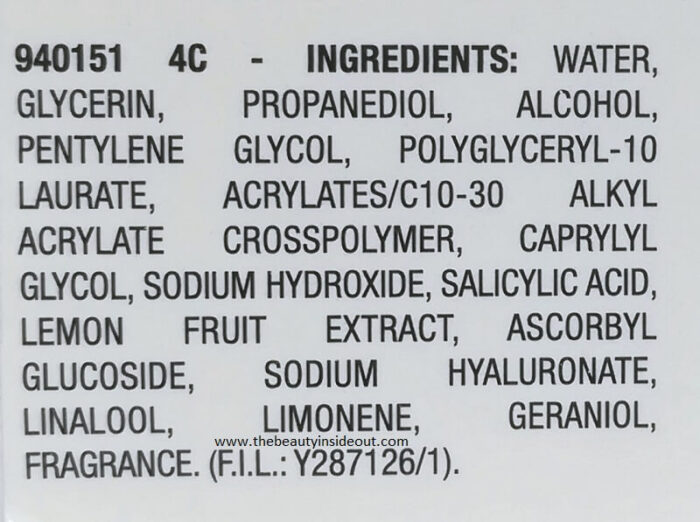 The Garnier Vitamin C Serum Gel majorly composes of Glycerin and it does feel like using glycerin on the skin with that mild stickiness.
It doesn't seem to have any striking ingredients, apart from Salicylic Acid, Ascorbyl Glucoside (Vitamin C), Lemon Fruit Extract, and Sodium Hyaluronate. All of these are toward the second half of the list.
Apparently, it has 0.2% Salicylic Acid (mentioned on Amazon). If so, the amount of Vitamin C is much lower than that since it comes after Salicylic Acid. Less than 0.2% Vitamin C is negligible to show any results on the skin.
The last four ingredients – Linalool, Limonene, Geraniol, and Fragrance are fragrance and masking ingredients.
The serum gel is free of Parabens and Silicones. But it is not Alcohol-Free.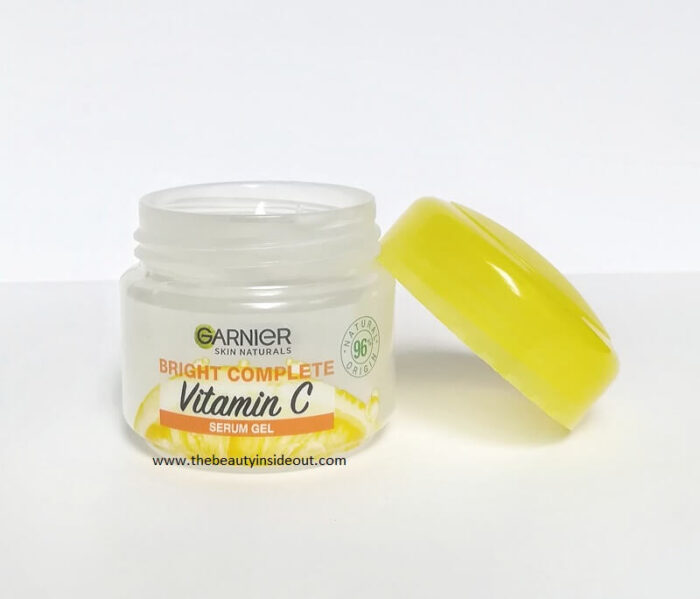 Garnier Vitamin C Serum Gel Review
Packaging: The packaging is the same as all other Garnier tubs I've used. It brings back my teenage memories when I used to store small studs and earrings in them. The tub quality and design are still the same.
The plastic tub came packed in a carton box that has all the relevant details of the product. The aesthetics of the tub is nice, but a tube would have made its usage even more convenient. Who likes to dip their fingers in a tub each time?
Color & Texture: The Garnier Vitamin C Serum Gel is a clear gel. It's just like any other gel with a medium consistency. It pretty much looks like an Aloe Vera Gel.
Fragrance: It's not surprising that it has the same scent as other products in the Vitamin C range. The scent has a synthetic citrus note to it. Thankfully it doesn't last long once the gel is applied to the skin.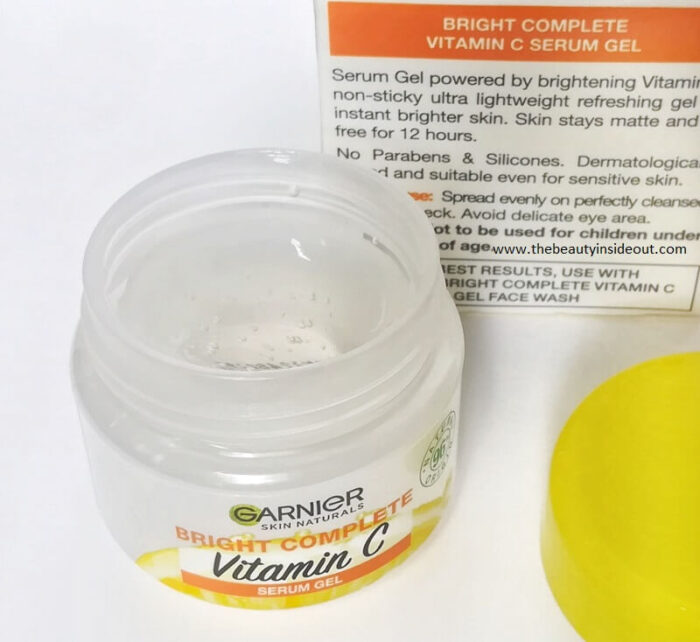 My Experience
Gel-based moisturizers rarely ever go wrong for my skin. They are one of the safest formulations for oily skin folks. Garnier has been in the market for decades and it's just now that they have launched a gel-based product. They were always into cream formulations – be it their day creams or night creams. It was high time they launched one and I'm glad they did.
I've been using the Garnier Vitamin C Serum Gel for the past few weeks now. I use it both day and night. Just a dollup of the gel. It spreads and blends smoothly and gets absorbed in a few seconds. The gel does have an initial sticky feeling and tends to have a film-forming feeling if applied more. But all is well after a few minutes of application. The serum gel settles down into a comfortable oil-free, non-sticky, matte finish.
The Garnier Vitamin C Serum Gel instantly hydrates and moisturizes the skin. It does not brighten up the skin but at the same time, it does not make it dull either. It retains the freshness of my skin after washing my face with a face wash.
I've used this serum gel in conjunction with serums, sunscreens, and other skincare products. And it does work well with them without any issues such as pilling.
It claims to give you oil-free matte skin for 12 hours – that totally depends on the weather and your skin type. My skin became oily on hot humid days after a couple of hours. But it stayed matte when I was in an air-conditioned environment.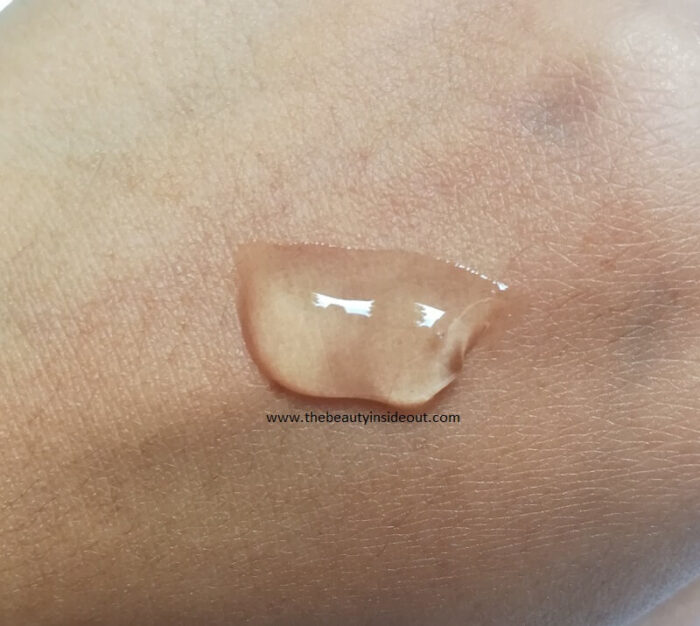 Overall, the Garnier Vitamin C Serum Gel is a basic glycerin-based gel that can be used as a moisturizer by oily skin types. It doesn't provide any major skin benefits but does the job of hydrating the skin and making it plump and supple perfectly.
Personally, I liked the Ponds Super Light Gel more than this as a hydrator. And it even costs less than this serum gel.
Pros:
Minimal ingredients.
Contains Salicylic Acid, Hyaluronic Acid in addition to Vitamin C.
Light gel texture.
Dries to down a comfortable matte finish.
Instantly hydrates the skin.
Perfect for oily skin.
Paraben and Silicone Free.
Cons:
Contains Alcohol and Fragrance.
Doesn't brighten the skin.
It's too basic! Nothing extraordinary.
Rating: 3.5/5
Would I recommend it? I don't see myself repurchasing it. If you are someone who likes gel-based products, you can give them a try once.
What do you think of this serum gel? Have you tried it?